Q&A: 'Justified's' Erica Tazel - A Star On And Off-Screen
Timothy Olyphant might be the star of FX's Justified, but he's far from the only one. Actress Erica Tazel has made the most out of her first series regular role as the no-nonsense Rachel Brooks.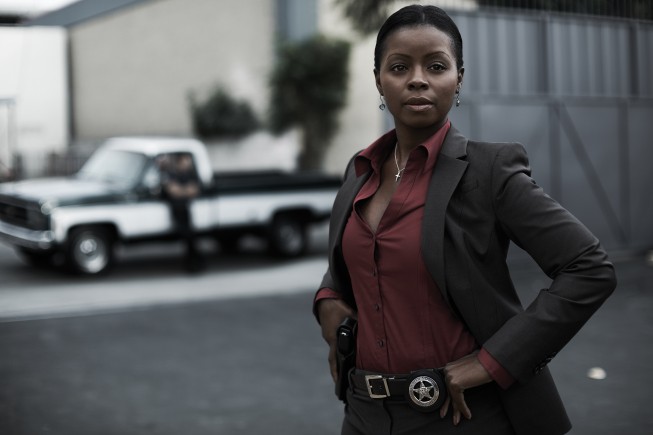 From the pilot episode, Rachel has proven an effective balance to Raylan's more outside-the-lines approach, and we've seen their relationship grow along with her character. One of the highlights of season two came in "For Blood or Money" where we got to learn a lot more about Rachel, who has become one of Justified's most pleasant surprises, and that's because it's obvious how much thought and effort Erica has put into bringing her to life.
Yet as much of a joy as she is to watch, she's an even better person to get to know. Erica recently sat down with me to talk about life on Justified, how tonight's episode will give even more insight into the brassy Rachel, and her volunteer work off-camera.
This is your first series regular role. How has the experience been for you?
It's been completely exciting and new and scary and strange in one nice little package. I'm surrounded by an amazing cast. I say that they're my teachers and Justified is a classroom I go to every day. I'm so blessed that my first series has been on for three seasons now.
We're learning more about Rachel's backstory, first in the beginning of last season and now in tonight's episode. What's in store for her this evening?

I'm excited about tonight's episode. For me, it reasonates back to the pilot episode, where Boyd blew up the church and we investigate, and Raylan is introduced by Art to Rachel and Gutterson. Art makes a comment that "these are my two best marshals," and that's something that's always stuck with me. We get to see Rachel as a Marshal, really in the field handling her business and handling situations sort of solo.

Have you contributed to the development of her backstory?

Absolutely. There are things I do on my own that no one knows except for me and then there are instances where, like last year when we meet her mom and brother-in-law, that came out of a conversation. I pretty much just got a piece of paper out and I shared it with Graham Yost, our showrunner, just to let him know. I never expected to have an episode about it.