Q&A: Josh Sussman Of 'Glee'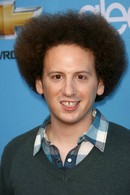 From "Wizards of Waverly Place" to "Drake & Josh", actor Josh Sussman is a regular on TV's most popular shows. Now, alongside Hollywood's brightest stars, Josh is making audiences laugh as Jacob Ben Israel on FOX's smash hit "Glee". Starpulse caught up with this Screen Actors Guild Award winner for the latest scoop on his time at William McKinley High.
When you first landed your role on "Glee", did you ever imagine the show would be as wildly popular as it is now?
I had no idea. We filmed the first 13 shows before the show started airing in the Fall. The only hint we had was when the pilot was previewed after "American Idol". That was huge. But then, there was going to be 4 months until "Glee" was on again. We didn't know if people would remember it or not. They sure did. Before the "American Idol" preview, I filmed about 4 episodes of the show. It was really fun and I thought the scripts were funny. I hoped people would like it. I think it would have been impossible though to predict it would become what it did.
What is your favorite part about playing the character of Jacob Ben Israel?
I love Jacob. Jacob is not shy to say what's on his mind. I enjoy having the opportunity to be completely outrageous. The only downside is sometimes people think that's how I am in real life.
Do you have any memorable or funny on set moments you can share with Starpulse?
During the episode "The Rhodes Not Taken" I was doing a scene with Lea Michele (Rachel Berry) where I was asking to see her bra. Before we started to roll I said "Hey Lea, you got something in your eye." I think that made her self-conscious because we were about to shoot. I then said "Never mind, it's just a sparkle." Then, she smiled.
Who is your favorite "Glee" cast mate to do scenes with?
I can't pick just one. I love working with all of them. Anytime I get to do a scene with Jane Lynch it's a thrill. They're all so amazing. I've loved everyone I got to work with.
If you could write the plotlines for Jacob for just one episode, what would you love your character to do and why?
I really want to see Jacob get some Rachel Berry action. Rachel and Finn just broke up. I'd love to see Rachel try and make Finn jealous by hooking up with Jacob.  Then Jacob will be so happy and burst into song. I would love to sing a love song and serenade Rachel. I also think it would be really neat if Jacob got to join the Glee club. Some people have found Jacob creepy. I hope we get to show another side to him.