Q&A: Jesse Eisenberg And Nick Swardson Talk Crazy Driving And Off-Screen Bonding For '30 Minutes Or Less'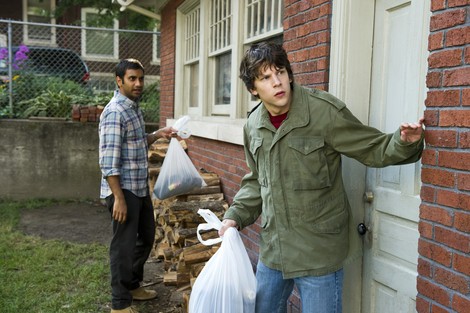 Director Ruben Fleischer and actor Jesse Eisenberg proved to be formidable combination with their 2009 horror comedy "Zombieland," which brought a unique sense of humor to the zombie apocalypse.  After dabbling in a couple of indies like "Solitary Man" and "Holy Rollers," Eisenberg went on to achieve mainstream success playing Facebook founder Mark Zuckerberg in the Oscar nominated "Social Network." 
Eisenberg's limelight didn't make him forget about Fleischer though.  The pair teamed up again to bring us the summer action comedy "30 Minutes or Less."  In the film, two wanna-be criminals (Danny McBride and Nick Swardson) kidnap pizza delivery boy Nick (Jesse Eisenberg), strap a bomb to him, and tell him that he has only a few hours to rob a bank.  With the clock ticking, Nick has to seek help from his ex-best friend Chet (Aziz Ansari), in order to handle the police, hired assassins, and flamethrowers.
I had the opportunity to chat with Eisenberg and Swardson in a hilarious roundtable interview recently, where we got to talk about crazy driving, off-screen bonding, and partying with historical figures.  All of my responses are indicated below, interspersed with a few questions and comments from other participating journalists. 
Evan Crean: Jesse, I read as prep for the role you actually rode around with a delivery driver who worked for the pizza place in the movie?  What was that experience like?
Nick Swardson: You did?  That's f*cked up.    
Jesse Eisenberg:  It was good because it, kind of confirmed for me all of the things in the script, that I wasn't sure about like the character's self-awareness.  The character going into potentially dangerous situations, and not thinking twice about it.  Like in the movie, I deliver a pizza to these guys in this dangerous scrap yard, and when I was out with the guy, I realized that you are doing kind of equivalent things.  You are delivering pizza in the middle of the night to drunk people who you know, live in weird places and you have to go into their house, and you don't know if they're going to answer their door. 
It made sense that this character would do that, and also might give me some insight into isolated lifestyle.  When you know you're in your car, you maybe start to develop a sense of righteousness and sense of bitterness, and dismissal of the world.  So I was able to kind of see some of that. 
NS: If you learn anything about this movie, it is, 'Don't deliver a pizza to a junk yard.'  It's like the most ominous junk yard ever.  When we shot there it was like (in grossed out voice) ugh, creepy. 
EC: You have some scenes where you really get to haul ass behind the wheel.  Did you get to do any of your own driving? 
JE:  Yeah, yeah, I did a lot.  I did probably a lot more driving than...
NS: You should've.
JE: Yeah. 
NS: There was a moment when director was like 'Jesse, Jesse, Jesse, don't, don't, don't…'  And Jesse was just like (makes tire screeching sound effect), whipping all over the junk yard.  Everyone was just like…were you like really fired up?
JE: Yeah, yeah.  I like driving; I don't drive since I live in New York.  I don't have an opportunity to drive like ever.  Also the director wanted to shoot this movie in the style of movies that the characters like, like 'Lethal Weapon' and 'Die Hard,' these movies that didn't have access to a lot of computer effects, you know?  That means that Aziz and I were in the car a lot.  There was very little green screen in the action scenes.  It ended up looking more realistic.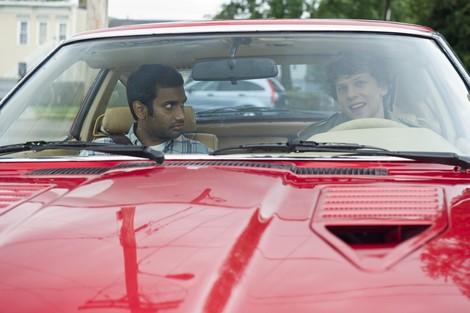 EC: You mentioned Jesse, that you normally don't drive very much.  I read that you bike quite a bit.  Some article said up to 30 miles a day?  Is that anywhere near accurate?
JE: I haven't done the proper calculations, but yeah I don't know.  Let's see about 20 blocks is a mile in New York City, so no that's not that much.  But it's how I get around in New York.  Also only in the last six months, people have recognized me in the street…I get so kind of frazzled when that happens, I mean I've biked for so many years, but it's a relief when people don't take pictures on their cell phones because you don't ride on the subway.
EC: What's your model of choice that you ride? 
JE: A hybrid bike, because in New York City you want to be able to go fast, but be able to go off curbs, so a road bike is too sensitive for that. 
NS: So it's a motorized bike? 
(Laughter from the group)
JE: No, it's not a Prius. 
NS: What's a hybrid bicycle?
JE: The road bikes have thinner tires, and the mountain bikes have thicker tires.  Mine are in between.
NS: Oh I see, it's a hybrid because of the tires.  It's not gas powered…
JE: No, no. 
NS: I got it.  I got it now.
Q: Did you and Aziz have to bond off-screen at all?
NS: I like that you said did you have to.  It's like (in facetious voice), 'You guys are bonding onscreen, let's have some off-screen bonding.' 
EC: Your moms arranged play dates.
JE: They sat us together in our diapers until we started touching… (laughter from the group)… Aziz was cast before me.  So I met him at my audition for it.  And it was immediately clear that he was very funny, very creative, and knew a lot about a lot about things I don't know about.  In the first line of the audition I came to him with the bomb under my jacket and I said 'Two guys strapped a bomb to my chest,' and he goes 'Very funny Wayne Brady.'  And it wasn't in the script and it wasn't something out of my memory bank, and I didn't know what (to say)…so that kind of served as a model for the rest of the movie. 
He's so funny and I heard kind of unique references and it was great that I'm personally so amused by him because my character is supposed to be dismissive of him and jealous of his choices.  Because I feel so amused by Aziz you can still see that I loved him despite all these feelings of annoyance.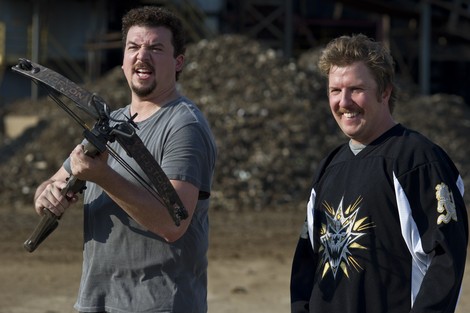 Q: Would the two of you work together on set, a lot?  Because in essence it's kind of two separate buddy comedies. 
NS: Jesse and I had some stuff together.
JE: Yeah, just the two scenes, the meeting where they strap the bomb to me, and the kind of blow out at the end. 
NS: There was the stairwell.
JE: Oh yeah the stairwell.  I was disappointed we didn't have more, because Nick was my idol.  Can I tell this?
NS: No (go ahead), I think it's a crazy story.
JE: So the only thing in the bedroom that I grew up in that remains from my childhood is an autographed picture of Nick from, 15 years ago? 
NS: Yeah.
JE: 15 years ago, cuz he signed an autograph because I was his biggest fan.  I memorized all his comedy so when I…
NS: Literally, 15 years ago.  The second TV appearance I ever did was on Comedy Central's 'Make Me Laugh.'  And he saw it.  And I remember my manager called me and I signed a headshot for him 15 years ago.  And he kept it with him his whole life.  Weird.
EC: I feel like I have to ask this.  I saw an interview with you Nick the other day where someone asked you what historical figures you would party with, and you said Abraham Lincoln, Martin Luther King, and Michael Dukakis.  I just need to know why.
NS: That's what I said?  Good grief.  I don't know why I said that.  Well Dr. King, and Abraham Lincoln, who wouldn't want to party with them?  I mean those guys, had to have had some pretty great drunk conversations.  You know what I mean?  They could probably drop some knowledge. 
Michael Dukakis, I worked for his campaign when I was a kid.  There was a campaign office by my house and when I was like 10 years old or something. And I would just like hang out there, and they were like 'Hey do you want to work for us?'  So they just put me to work, walking around the school putting up Michael Dukakis bumper stickers on everything.  I was like this pro-Dukakis little child and I knew nothing about his politics.  I just knew that Jon Lovitz did an impression of him on Saturday Night Live.  I thought that was good enough for me for him to run our country. 
JE: If every character was president…
NS: We'd have a lot of presidents…Will Ferrell…
JE: No, that Jon Lovitz played. 
NS: Oh, then we'd have a lot of good looking presidents. 
EC: Thank you very much guys.   
"30 Minutes or Less" opens in theaters this Friday.