Q&A: Jesse Blaze Snider - A Rock Star Of Many Colors
Don't judge Jesse Blaze Snider solely by the fact that his father is rock legend Dee Snider.
In fact, don't judge him solely by the fact that he's also a musician. While he is in the family business, he's also a successful comic book writer (Dead Romeo, Hulk, Thor) and TV host (MTV2, Fuse and AOL's Top 11 Countdown). In between his many ventures, Jesse took the time to sit down with me and talk about growing up in the spotlight as well as making a versatile name for himself.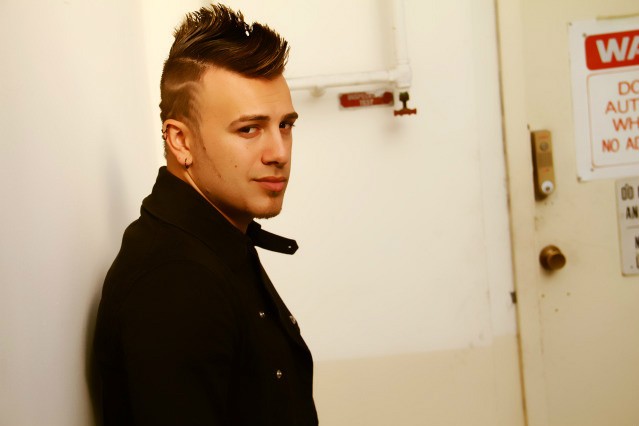 You're working on your first solo album right now. What can people expect from it?
I've been trying to kind of break some new ground. There's something I feel that's really missing in the music world right now and that is some pop-rock with attitude. I want to do something like Billy Idol - with the attitude and execution of rock songs. We're going to get a really hard rock-pop thing.
My father has been paramount in my life; I really wanted to get to a place in my musical career where I could do a wider variety of genres. It's going to be a lot of range. Don't be surprised to see a lot of different things. I really do blame The Muppet Show. I grew up with The Muppet Show. When Kenny Rogers was on, I started listening to country music.
What music would you recommend?
I'm a huge fan of Kimberly Cole, who is a pop star who I actually just wrote with recently, and I wrote with her because I'm such a big fan of her music. She has a song called "Smack You" with a great video. But also check out her whole album. I've really been just totally into it. Anything that's empowering, especially to women, just makes me really excited.
You sound as enthusiastic about her as me when I start talking about Maroon 5. So what do you think of them?
You're talking about a band that has three near-perfect albums.
Okay, so we can be friends. Moving on. Do you have a particular creative process, or is it more spontaneous?
It's an interesting question. I do a lot of different creative things. I'm a writer first and foremost. I consider myself a writer of songs and comic books. It's the same muscle but it's a very different part of it.
In general, I tend to just kind of let whatever I'm working on be in the back of my mind. I really just leave myself open to what I'm doing at any given moment. This stuff just tends to hit me. For whatever reason I do have a decent enough memory that I remember a lot of stuff. Sometimes it'll just be titles for songs or something I want to write about. It's relatively spontaneous but there's also an element of planning. If I know I have to do XYZ, that becomes the goal in my mind, and it's a subconscious thing.
You hit on my next question: you have such a varied professional portfolio, from music to comic books and TV hosting. Is there one thing that you see as your main focus, or do you want to stay as versatile as possible?
I'm definitely going to keep my varied portfolio going forward. I really do have a passion for all the things that I'm working on, music and comics especially. I'm a writer first and foremost. I consider myself a writer of songs and comic books.
If I thought I could get away with writing music until I was old and grey, that might be my thing. Music is really where my heart is. But unfortunately I know that the shelf life of a musician tends to only be so long. At least I know with comic book writing I can do that until the end of time. That's my backup plan.
But it's all writing. It's the same muscle but it's a very different part of it. I'm definitely a behind-the-scenes person. My brother is a filmmaker and I worked as a producer on his short. Every month, I'm the host of Qore on the PlayStation Network, and now the show is available free online.
So you could say you're both a rock star and a geek.
I've been a geek for a very, very long time. I wear the term "geek" as a badge of honor.
Having done all these different things, can you possibly pick one or two that you're particularly proud of?
I got to write The Hulk for Marvel Comics; I wrote a Hulk one-shot. Hulk was my dad's favorite character. I actually got to dedicate the book to my dad, and it was so nice to be able to say thank you to him and actually achieve that dream. The two things I did for Marvel were just a dream come true.
As far as music's concerned, what I am most proud of is about to come out this year, and I really mean that. This [album] has been the culmination of trial and error and a lot of soul-searching. I'm really proud of what we're about to release and what we've just released. We just did a video [for the single "Go With Me"] that's got some footage of my daughter and my son - see if you can pick them out between everybody else's children we put in the video. I'm really proud of it.
Anything still out there for you?
It's gonna seem silly, but I really genuinely would love to volunteer for the fire department. I played semi-pro football in Brooklyn and a lot of guys on my team are volunteer firemen. I always thought that was such a cool thing, to be willing to risk bodily harm to help other people. Up until now, I just haven't had the time to do the course and everything, but I really would like to.
Obviously, we have to talk about the fact that your father is a rock legend. Your family had its own reality TV series at one point. What has it been like for you to be in the public eye like that?
We don't have anything to be ashamed of, so we're not really concerned about exposing ourselves. Behind closed doors, we're just really good people. I've got a really nice family and we do our best to take care of each other.
The only problem is that producers of television shows tend to like to manipulate facts and intensify things in order to create drama. They like to make things seem like the stereotype normal people would be comfortable with. The reality is it's nothing like that. There's no overbearing mother; there's me and my mom fighting over things because we're both the same person.
The best thing that's come from it is people have really gotten to know me on a more personal level and they feel way more connected to me. They get who I am and they want to support me. You don't usually get that from just putting out a single.
Did it raise any concerns about having to distinguish your career from your father's career?
I used to say that it absolutely hurt you, and that is true to a degree. It does hurt you if you are trying to avoid it. If you are trying to avoid being the child of celebrity, it is going to hurt you. I changed my name, I did everything in my power, and tried to hide it for a very long time, and it did not help me.
Eventually, I just had to face the music, and ever since I did that, it's been a bonanza. It's been very helpful to me. Confidence is everything.
My thanks to Jesse Blaze Snider for this interview! Connect with him on Twitter and Facebook. And check out his video for "Go With Me" below.
(c)2012 Brittany Frederick/Digital Airwaves. Appears at Starpulse with permission. All rights reserved. No reproduction permitted.