Q&A: 'Jersey Shore' Cast Talks Season Finale & To Expect Lots Of 'Mike Drama'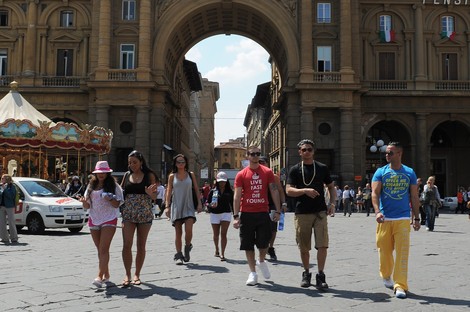 The season finale of Jersey Shore airs tonight and we're bringing you the low-down on all things Italy and the new season straight from Sammi, Deena and Vinny.

Starpulse: Alright guys, this season has been crazy! Can you tell me what we can expect in the Finale?
Deena: This season has been crazy but it's definitely going to be a lot of Mike drama!
Vinny: Um yeah I can't really talk for him anymore haha. I didn't see the finale so I don't know what's going to be shown but there will probably be some of that drama, as well as us having one last big party, saying goodbye to Italy and waiting for Jersey.
Deena: Yeah, we don't know if Mike's going to make it to Jersey or not!
Starpulse: I was JUST going to say! I was at the VMAs and I didn't see him walking the carpet with you guys and after everything that's gone down in Italy… I'm thinking he's not going to be there!
Sammi: I don't know! You'll have to wait and see!
Starpulse: Dangit! What's a funny story you guys can tell me that wasn't aired from Italy?
Sammi: Me & D would actually pull a lot of pranks on the guys.
Deena: Yeah, me & Sam filled up all of these water balloons and put them underneath Vinny & Pauly's bed so we were hoping they'd bring girls home and then when they were about to do sex all the balloons would pop.
Q&A: 'Jersey Shore' Cast Talks Season Finale & To Expect Lots Of 'Mike Drama'
Starpulse: Hahaha! Did they bring anyone home?
Deena: They didn't bring anyone home but the balloons did pop!
Vinny: They don't know what the hell they're talking about. They never pranked us. They always tried but you can never prank me and Pauly because were pretty creative with it. And anything they did would be kind of amateur compared to what we did. Even if they did prank us it wasn't even memorable. We take our pranking very seriously.
Starpulse: Deena, did you ever "do sex" with Pauly this season?
Deena: HAHA! You know what, no! Me and Pauly did not do sex. But, he's like my best friend and…
Sammi: They love each other.
Deena: Yeah, we love each other and I feel like it would turn weird if we do sex so it's better off that we didn't.
Starpulse: Ok, what's your whole deal with saying "do sex"? Where did that term come from?
Deena: I don't know! It's just the way me and my friends at home talk. You can even ask all my roommates I have my own language and they started talking like I do! I just don't talk the right way haha.
Starpulse: So update me on all the relationships! What's going on with you and Ron, Sam? And Snooki and Jionni?
Sammi: In Italy it was like amazing for me and Ron. It was more different than it had ever been before.
Deena: People forget like, even with Ronnie and Sam, it's like you're being filmed living in a house so it's harder to keep a relationship when all of that is going on. I think Jionni just wasn't used to the cameras and everything just spun out of control. But now they're fine and Snooks is happy so that's all that matters.
Starpulse: Deena, are we going to see you hooking up with more girls in Jersey?
Deena: Haha! You know what, when I drink I make out with girls. And I do things I normally don't do because I'm out of my element and the guys in Italy were idiots over there and I think girls are attractive so I was like you know what? Let me try it out.
Starpulse: What was your most favorite part of filming in Italy?
Sammi: I think being in the country in general, its so cool.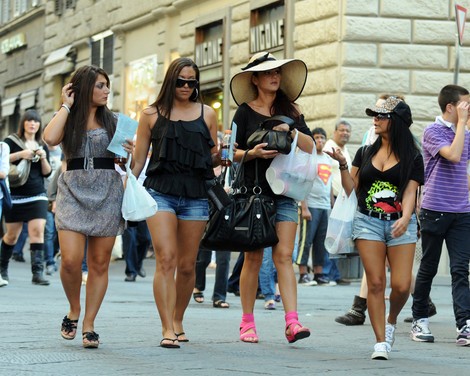 Vinny: I think just being in Italy in general and learning about the history and the culture; walking through the statues everyday that Michelangelo sculpted, walking on the streets that Leonardo da Vinci walked on, you know, I'm an artistic person so it's like amazing to me.
Deena: I really enjoyed Aperitivo. It was cool! It's kind of like our happy hour, but all you have to do is buy one drink and you got all this food for free!
Starpulse: What can we expect with season 5?
Deena: Jersey 5 is definitely going to be the season to watch because you're going to see us like getting used to Jersey and the states again and finding out new things about each other, were just so comfortable at this point… four months into it! And in jersey I was single and ready to mingle.
Vinny: There's a lot of going back and forth with pranks—crazy, crazy, crazy pranks that you'll see. Italy wasn't that bad, Jersey will have a lot more fun and games, a lot more drama, there's something really serious that we go through but most importantly, it's coming back to America.
Tune in to the season finale of Jersey Shore tonight at 10:00 PM ET/PT only on MTV!