Q&A: Jeff Hephner Talks 'Boss' And His TV Fandom
Something must be going right for Boss: Starz renewed the Kelsey Grammer-led political drama for season two well before next Friday's series premiere. I recently sat down with star Jeff Hephner to find out what's so intriguing about Chicago politics and how his character, Ben Zajac, fits into the picture.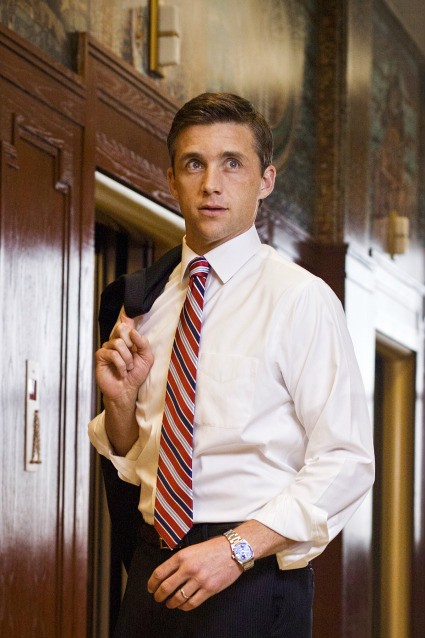 Ben is an idealist, who grew up in Chicago and whose passion for his hometown caused him to leave a lucrative law career for the murky world of public service. His charisma is not scripted; it's courtesy of Hephner, who is as affable and charming as they come. If that's not endearing enough, he's also one of the biggest TV fans I've ever had the pleasure of talking to. His enthusiasm for the small screen is infectious.
He brings that energy to the role of Ben, who's equally passionate about making a difference in the Windy City. But will those around the ambitious Ben get the better of him? Let's hope not.
If you can't wait until next Friday to watch Boss on Starz, starting today you can stream it via the show's official website, Facebook and on demand. Until then, here's what Jeff had to tell me about what you'll be seeing...
We always hear what the critics have to say about new shows, but let's be different. What do you love most about this show?
I love two things: I love the writing and I love Kelsey's performance. He's so amazing in this role. This is an incredible opportunity.
Without spoiling too much, give us a general idea of what we can expect for your character Ben in this first run.

Because he's drafted to run for governor by the mayor, he's gonna get caught in the whole web that Mayor Tom Kane has spun in the city of Chicago. He's an ambitious guy and he gets caught up in power. It's him finding his place.
There have been so many shows and movies in the political-drama genre. So what would you say makes this show different from the rest of the pack?
That's a tough question because when you deal with a broad stroke like politics, it's not necessarily the truth. People feel like they've done that and seen that. It's going to start differentiating itself. It's this whole tale that revolves around power. And the fact that we get to do it on cable takes it places we wouldn't get to.

You're working with Kelsey Grammer, who's a TV veteran if there ever was one. What's it been like working with him? Have you learned anything from him?
It was a great opportunity to be around him. When you see him in this show, when you see the force that he is, that's what's truly required to carry a show. He put this on his back. It works because he works. He's also a skilled leader, and to have a person like that behind the wheel is important. It allows everyone else to open up creatively.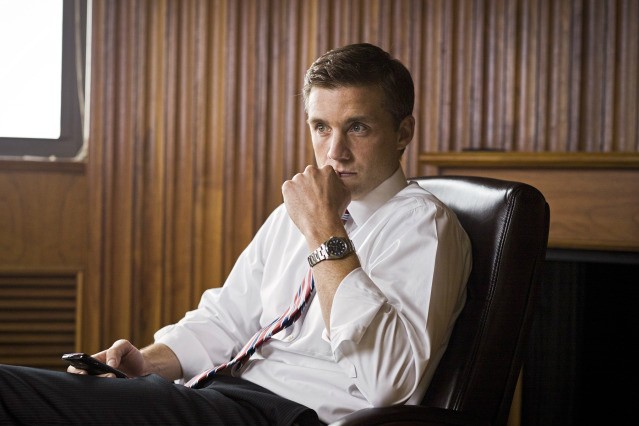 You shot on location in Chicago, which has been home to previous great TV shows like ABC's Cupid and FOX's The Chicago Code.

We had so many of the crew from there [The Chicago Code] on our show and they were still bummed. That was a good one.
What was it like for you filming in Chicago?
It was great. I was born in Michigan, so I was close to family, and I loved that. When you film in a city, you get to see parts of the city that people that live there don't get to see, and it was great to have that access. And the actors - there's such a great theatre scene in Chicago. Every time we brought in local actors, they were dynamite.

You only have eight episodes in season one, which is a slim order even compared to the half-seasons most shows get nowadays. Was that a challenge for you?
I think it was more of a challenge for the writers. We did get stuff a little later than you normally would. In that compressed time frame everyone knew we were in and out. It was perfect in the sense that you weren't burnt out yet. Sometimes when you get to episode fifteen, sixteen in a season people are worn out. We were still buzzing with energy.

Headlines were made awhile back when it was announced you were getting a season two before we've even seen the first season. Aside from that being a weight off your shoulders, does it change how you approach your work at all?
It does take a huge weight off. In this business, particularly in my position, I'm always hustling for work. Not so often do I get to go, "Oh, in the future I'm going to have this." Then it allows you to start thinking about your work. I can focus more on that and possibilities for my character. I know that I'm going to have ideas that I'll bring forth.
Last season, you were on The CW's Hellcats. They couldn't be two more different shows - did you learn anything from working on that series that you brought to this one?
Hellcats was a great show in its own right. It had a nice following and I enjoyed working on it and it was just a shame that it just disappeared. What I gained was a rhythm of work. When you take a break as an actor, it's hard to keep your rhythm going. I went from one show right to the next without much of a break in between.  Switching gears was difficult because I didn't have any time.

You've done a lot of television over your career. Is there a TV role that you particularly enjoyed? Is there a show you'd love to tackle?
I did a show a couple years ago called Easy Money that I got very attached to. It's something that has stuck with me. It was a great learning process and I put it up on the same level with Boss. I've always been a TV fan since I was a kid. There's shows out there like Sons of Anarchy, Justified, Mad Men, Breaking Bad...I could make a list. But hopefully I'll still be doing Boss.

Give a recommendation to our readers. What are you watching?
One of my favorite shows of all time is Northern Exposure. That was one of my all-time favorites. It's witty and clever. I got it at one of those points in my life; it kind of opened me up to some things that I wasn't seeing. I was fortunate enough that the people who wrote and produced that show also wrote and produced Easy Money and it was going in that same direction.

My thanks to Jeff Hephner for this interview! Boss officially begins next Friday at 10 PM ET/PT on Starz, but you can see the first episode now on the official site and official Facebook page, as well as on demand. Season two begins production in early 2012.