Q&A: Jason Derulo Talks About His Debut Album & Touring With Lady Gaga

When does Jason Derulo have time to sleep? His #1 hit songs "Whatcha Say?" and "In My Head" are getting serious airtime the radio, and probably on your iPod. He can sing, dance, act, and has written songs for some of the biggest names in pop and hip hop - when he was as young as sixteen!
Derulo recently toured with Lady Gaga (and hinted to an upcoming tour of his own), created a web series based on his rise to fame and contributed his time to Haiti relief. To top it off: this talented performer's debut album came out on March 2!
Despite all of his talent and success, Derulo is humble, thankful and grounded - and clearly great at time management. He talked to Starpulse about his highly anticipated new album, his rise to fame, and what Lady Gaga told him that he'll never forget!
Let's talk about your self-titled album that just came out on March 2nd. It's your debut! You've had #1 and hit singles, but how does it feel to have accomplished something as big as releasing your own CD?
This is the most blessed time in my life – it feels great. I've been working towards this since I was a kid – nothing has fallen into my lap, so to see my dream realized is absolutely incredible. It's all thanks to my fans.
You recently performed with Lady Gaga's Monster Ball tour – what was the most exciting part of that?
The Monster Ball tour was amazing. I was on it for a month and a half, and Lady Gaga had some very special words for me. She told me, "Jason, I've met a lot of people, and I want to let you know that you have talent. You're going to be a star." That meant so much to me. She also started out as a songwriter, and worked hard for everything she's achieved, so for her to recognize the same thing in me felt great.
When can we expect a Jason Derulo tour?
[Laughs] Since my album just came out, I'm going to be doing promo shows for that, including TV shows and playing at some colleges. You can expect a tour maybe as soon as two months from now!
Speaking of Lady Gaga, she's a strong advocate for causes she believes in, and is a spokesperson for MAC and AIDS awareness. Are there any causes close to you that want to bring awareness to with your fame?
Absolutely. I have such a soft spot for people who are ill. I want to do what I can to comfort them and help. I was growing my hair out for about 5 years and donated 14 inches to Locks for Love [a charity that makes wigs for children with cancer]. I also played for Haiti relief. I really wanted to help; it really hit home [Derulo's parents are Haitian].
You wrote songs for P Diddy, Cassie, Sean King, Lil' Mama and more when you were as young as sixteen. It must be a whole different story from penning lyrics for other people to writing them for yourself.
Yes - the difference when you're writing songs for another artist is that you're trying to stay true to their musical vision and what they do, and that's also what their fans expect. I love that aspect of it, and I also love being able to write songs for myself and about my experiences.
A lot of the songs on the album deal with love: the good parts, and the mistakes we can sometimes make while in it. Is writing about the experiences you've had therapeutic?
Definitely. If something didn't work out well, or something is bothering me, writing about it will make me feel better. There are also a lot of positive things about love, too!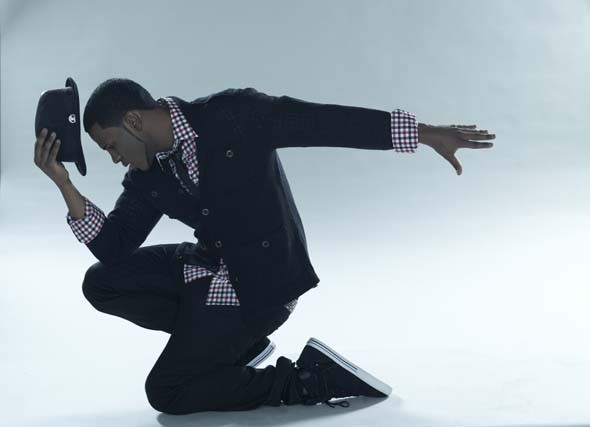 For sure! Clearly you're passionate about music. How has your background shaped your career? Did your family help you realize your goals?
Absolutely. I knew I wanted to act and dance and sing, and I would take classes for it. Even if my mom maybe couldn't afford it, she would somehow find a way. She never told me my dreams were impossible, or that I couldn't do something. I believed in myself, and so did she. That's helped me so much.
On your website [JasonDerulo.com], fans can watch you in a series called "The Walk to Fame". It's such a great series – are you interested in acting someday?
I've actually studied theatre, and I love to act! If someday I get into it more thoroughly, it'll be because of a passion I've always had for it, and not just because it's a transition people are supposed to make from music. I love both! [Laughs]
Your single "Whatcha Say" hit #1 on the Billboard charts in November. Do you remember where you were and how you felt when you found out?
I was in my bedroom, and my label called to tell me. It was amazing, and I was so thankful. The great thing is, though, I love both sides of it – numbers are important, but the fans and how supportive they are is what makes that number. It was such a great moment.
Speaking of your fans, they really love you in the UK!
I was recently in the UK, and it's great because [the single] "In my Head" just reached #1 there! Europe is really fun, and I love all of my fans everywhere.
You seem to really appreciate them, and try to connect with them via your Twitter [JasonDerulo] and your website.
I think it's so great that I can do that! Five years ago, that wouldn't have been possible, and it's amazing that we can talk to musicians and the people we admire. I try to connect with my fans as much as possible. I always try to sign autographs, and I also understand the paparazzi – they're just doing their jobs.
If Twitter had been around five years ago, who's the one celebrity that you would have Tweeted at?
Madonna, for sure!
Also a successful songwriter and performer! So your single "In My Head" is climbing the charts, you've toured with Lady Gaga, and you just released your debut album. You've obviously worked hard to get here and have lots of talent. How will you keep humble?
In this industry, sometimes people can get on a high horse, especially the ones where success seems to have just fallen in their lap. I think it's different for me, because in my case, I worked really hard, all of my life, to get here, and I'm grateful for everything. For example, some people go all out with their CD release parties, spending lots of money and trying to make it some big event. I had one for my album couple of days ago, and we held it at the label owner's house and just invited the people who helped with the album, close friends and family. It was fun, but low-key. I like to focus on what's important. To me, it's all about the music!
Clearly, you're a busy person right now. I'm sure your female fans want to know: does your schedule leave any time for a lady in your life?
[Laughs] I hate to use that cliché about being married to your work, but in a way, I am. I'm driven and focused, but that doesn't mean that if the right thing came along, I wouldn't be open to it. But as of right now, I'm single!
Do you have any advice for people, young or old, who dream of having the kind of career and success that you do?
The best advice I can give is to want it enough that you'll work harder than everyone in the world. Everyone wants to be the best, so you have to push yourself to work hard enough to get to the front of the line. Never give up on your dreams. It's about perseverance.
Anything you'd like to say to your fans before we sign off?
I want to say thank you from the bottom of my heart, for all of your support. My fans make this all possible, and I'm truly grateful.
Thank you so much, Jason, congratulations on your new album and all of your success!
***
You can buy Jason's debut self-titled album anywhere where CD's are sold, or on iTunes by CLICKING HERE.

Visit his website (JasonDerulo.com) for news and exclusive videos, and you can follow him on Twitter at JasonDerulo!
Story by Melissa Liznick
Starpulse contributing writer