Q&A: James Roday And Dule Hill 'Psych'-ed For Season 6
Are you ready, Psych-O's?! The new season of Psych begins tonight at 10 PM ET/PT on USA - and I'm kicking things off with some help from stars James Roday and Dule Hill!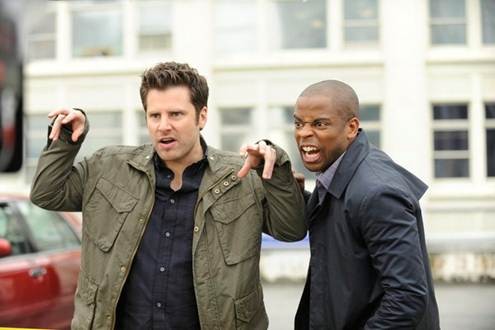 I hear you have big things planned for your Halloween episode later this month. What can you tell me?
James Roday: Halloween is the vampire episode. And I think it's airing the week of Halloween. [With] Kristy Swanson, the original Buffy, and Corey Feldman, one of the Frog Brothers from The Lost Boys, and Tom Lenk, a regular on Buffy the Vampire Slayer TV series. We went double Buffy.
Dule Hill: And Blacula makes a guest appearance also.
James: Blacula and the vampire Lestat.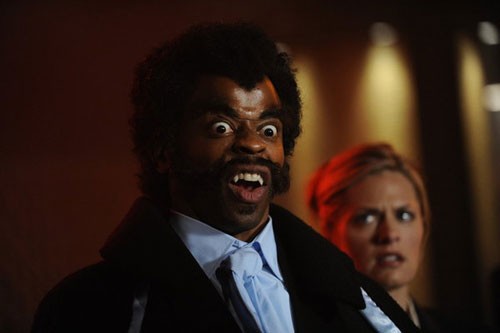 You've also got William Shatner upcoming.
James: The man is - I mean he's an icon, obviously, but watching him work was an honor in and of itself. I mean he's a machine. He was totally invested. He had - and this is not me editorializing or exaggerating - he had the heaviest load that we've ever given a guest star on our show. He pretty much drives the entire episode. He had the same schedule as Dule and I.
And it was just remarkable. I mean not only did he know everything, he had questions, he had thoughts, he had concerns. You know, he was modulating his performance. He really, really wanted to knock the role out of the park.
And then to top it off, when the weekend came and you know, and Dule and I basically beach ourselves and recharge our batteries so that we can get back to it Monday morning, [Shatner] flew to Calgary and did two live shows on Saturday and Sunday, and then flew back to Vancouver and was back at work at 6:00 am Monday morning. The man is 80 going on 20. It was humbling and it was a really honor just to watch him work and pick his brain and be around him.
What's some of the stuff you wanted to do that didn't make the cut this season?
Dule: I know [creator] Steve Franks has talked about it for a couple of seasons now and it hasn't actually happened yet, but I hope that in Season 7, we can actually make the musical episode happen. That's how I started in the business, doing musicals, so it would be great to bring that to Psych and be able to sing and dance in an episode, and not just in a Psych-Out.
James: Agreed. You know it's tricky, it's not something that you could throw together. Other shows have tried it to varying levels of success and I think because Steve has such a love for music - you know, his band sings our theme song - it's really important to him to hit a home run with it. I think it really hit him this past off-season, just how much work it's going to take to do it right, and that's why he postponed it. But I think he's committed and I expect it to happen next season.
You've been working on this show for a long time now. What have you learned about yourselves from being Shawn and Gus for six seasons?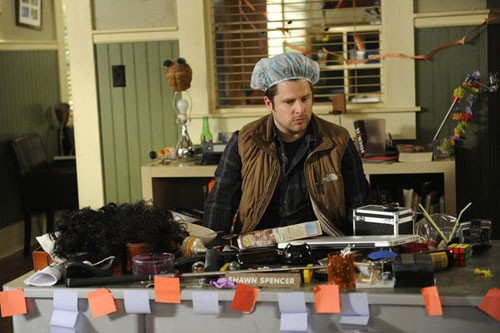 James: That it takes less takes and less stairs for me to get winded when we're in pursuit of bad guys.
Dule: I probably learned something about the [rain]. I mean I like Vancouver, but the love kind of starts to fade as my seasons go on. You know, the rain gets a little worrisome.
James: I get surprised two or three times a year, when our writers come up with something for the purposes of one episode that Shawn has supposedly had as part of his character for much longer than that, a strange way of talking or a fear of something.
A lot of times we'll just sort of invent something for the purposes of an episode as a theme. And I'm suddenly sort of thinking, "Wow, that's odd. I didn't have that last week." They've done that to me a couple of times this season.
All of a sudden there was an episode where Shawn has a great fear of death and doesn't know how to deal with it, which is odd because of course we were around death every week. But it served the purpose of the one episode that it's in, so we rolled with it.
Dule: I'm learning how to expect the unexpected when dealing with the Psych writers, so I don't really get too surprised when things come around. But having that mentality also leaves the room wide open for the writers to do what they do and come up with all these amazing stories and roles for us to get into.
That's kind of my motto of each season is, "Expect the unexpected." When you have Andy Berman, Todd Harthan, Steve Franks, Saladin Patterson, you know, all these cats all in one room, you can expect something crazy's going to come out of there.
You guys are pretty heavily committed to Psych. What do you get up to when you're not working on the show?
James: If Dule will allow me to sing his praises, he will be appearing on Broadway in New York, starting in December, in a play called Stick Fly opposite Mekhi Phifer and Ruben Santiago-Hudson and a trio of wonderfully rich Broadway stage actresses. Everyone should make a point to circle in their calendars and get to New York to see the man on stage.
Dule: It should be a good time. And it's produced by Alicia Keys, who I just found out is doing the music for the play. So even if we're terrible, the music will be good.
James: You know, I think a lot is made of my affinity for horror films, which is absolutely true, and I think indicative of some of the episodes that I've written and directed. But I'm equally maniacal and fanatical about sports, which may not be as evident, especially since some of our sports episodes leave a little to be desired.
But fantasy sports is sort of, probably, my biggest vice in life. And right now, you know, we're in the football season and I'm managing no less than five - that's right, five - fantasy football teams. So there you go.
My thanks to James and Dule for this interview!Don't miss tonight's season premiere of Psych - and as a special bonus, you can join me live at the Starpulse Psych Premiere Party on Twitter! I'll be live tweeting during the East Coast airing - check the @starpulse Twitter account for updates and don't hesitate to Tweet and say hello!