Q&A: Irina Shapiro Debuts Supercharged Hits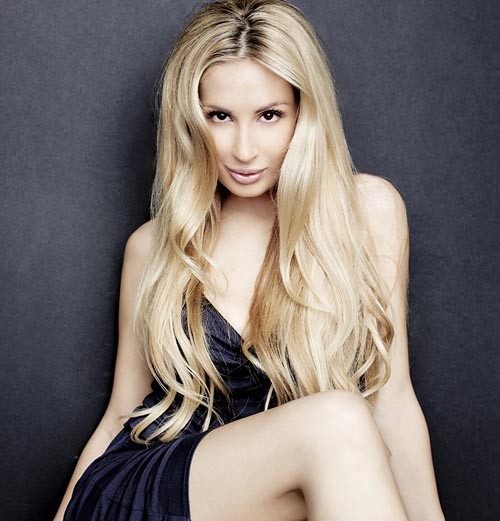 Making the big move to America to pursue one's dream career can be tough and unpredictable. For Irina Shapiro, the opportunity to move landed her right where she belongs.
Russian born Irina always knew music was her niche. Her passion to perform started at a very young age, with her mother stating that Irina was singing at the age of three. Irina partook in many musical hobbies, such as theatre, choir, writing poems, piano and violin lessons. Though she went off to pursue her education in psychology, she never let go of her hobby to write and would use her free time to write songs. Where did that land her? She was given the honor of writing songs for Russian artists, songs that she would often hear on the radio.
Not long after, Irina and her family moved to Miami where Irina embraced a city full of energy and upbeat music. Little did she know, the atmosphere of Miami would soon be an influential factor in her musical career. Irina then went on to hire a manager after a trip to LA, with whose help she has had the opportunity to jump start her music career.
Today, Irina is splitting her time between LA and Miami while she works on her music. Her first single "Something About You" hit the Billboard charts and reached 40, an accomplishment many musicians never make. Right on track, Irina recently released her next single "One Last Kiss" and is hoping to debut more music in the near future. She gives Starpulse a first look into her life and what the future holds.
Did you have any musical influences that helped mold your musical path, such as an artist you idolized?
I've been raised on techno, house music, and also rock. My idol is Bon Jovi. He performs on stage with such a great energy and every time I watched him live [he] was such a big inspiration for me. Also, I love Kylie Minougue. She is amazing and sexy. She's the purest thing of feminine and sexiness.
Do you categorize your music in a specific genre?
I think my music is energetic, electronic, sexy and dance-pop. You can dance, feel crazy and feel freedom. I want to bring people confidence.
You are currently in Miami. Do you get some inspiration from the Miami scene?
In Miami it's like a big celebration. You have to party in Miami and there is no other way you can live here. That is an inspiration because you have to be happy. You can be happy here because of the sun, the beach, the weather and the people who are always smiling. Our energy comes from the sun and the beautiful ocean and that is the biggest inspiration. When you lay on the beach, new thoughts and ideas are crossing your mind.
So the Miami clubs play your dance tunes, right?
Alot of my friends hear my songs on the radio and in the clubs. It's been such a great pleasure for me. I feel blessed that something from my heart is out.
Did you write both "Something About You" and "One Last Kiss?"
Yeah. I always write my songs and co-write with genius artists and songwriters. There is such a big difference between Russian and English. I have to get used to the lyrical language here. So, I'm learning step by step and I always write my songs with somebody else. I feel that teamwork is better.
Could you tell us a little bit about your latest single "One Last Kiss?"
In "One Last Kiss" the statement is "make love, not war." We try to show in the video that it doesn't matter what race you are, which language you speak, or where you are from. You have that one last kiss between your love… and it will fill you with a positive emotion, love and happiness. We have one life to live. I was trying to unite different races. [In my video] you can see that there are the Russian girls who are meeting the American soldiers and it doesn't mean that do they speak in Russian, Chinese, etc. They just fall in love. This is the most important thing. This is the united thing.
Are you currently working on more songs?
The next single is "Believe." It's a more social song. It's about the steps in life you have to take.
Will these songs lead up to a full-length album?
Right now, in the market it's very smart to pull out [music] single by single. I'm keeping that formally in mind. But, the more I hear this question, I think I'll have to take my rock stuff from the past and dance stuff from present and combine it for one album.