Q&A: Interrogating 'Take The Money and Run's' Paul Bishop
With the glut of police shows on TV, many people think they're smarter than the cops. ABC's Take The Money and Run allows people to test that theory  - pitting them against real detectives and real interrogators. One of the latter is 35-year veteran Paul Bishop, who is himself also a screenwriter and novelist. Recenty, Paul dropped by to talk about his role on the new game show, as well as his own creative exploits.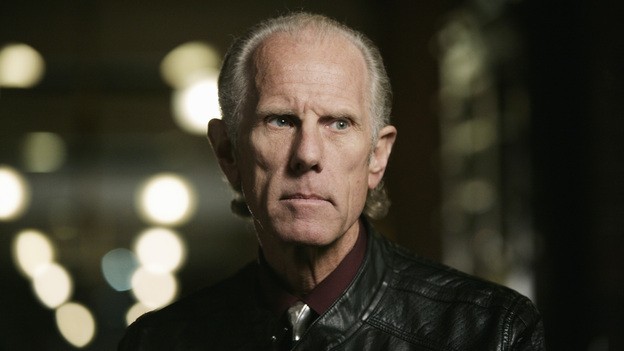 First things first: you don't just play one on TV, you're a real interrogator. Tell our readers a little bit about you and your law enforcement background.
I have 35 years in now. I've spent 27 of them investigating sex crimes.

What made you interested in being part of this game show?
It was interesting because I had pitched a fiction series to [Jerry] Bruckheimer. As part of that pitch, I had interrogated one of the executive producers in the office, and she remembered me for this. I couldn't have designed anything better.
How do you prepare going into an interrogation? Do you go easier knowing that this is a game and not a real case you're handling?
We can't go easier because we'd never get anywhere. We first observe the suspects when they're in holding. We try to make some general assessments about their character right away. We make a game plan, and then we do initial interviews to get a baseline - to get you used to talking to us. Those innocuous questions [like] "where were you born?" aren't so innocuous. They're so we see what you look like when you're telling the truth.

What's the most common mistake that players have made thus far on the show?
They have an "A" lie that they're going to tell us - the big lie - but no backup lies. Professional liars, when their "A" lie falls apart, they have a "B" lie and a "C" lie. they're not used to lying and that gives Mary [Hanlon Stone] and I somewhere to go. It's really interesting how much you can get into a person's head just by pulling your chair up close and speaking in a real even tone. People want to tell you what they've done, believe it or not, either because of guilt or because they want to brag.

What's been your favorite experience so far with the show?
This week's episode with the two Cuban officers. It was professional love at first sight. Unlike last week where there was some contention, that was a tremendous teamwork effort. If we get a season two, I'd like to visit some other major cities - New Orleans, Denver - [and] maybe do some things where we offer partial money to one of the hiders to turn on the other.
There are so many cop shows out there on TV. It seems like people think watching one episode of Cops or CSI somehow gives them an advantage over the real thing.
I love it when people act that way in real life. It makes them perfect prey. Like when they think you're going to run an expensive forensic test on their $5 vandalism.
Are there any of those cop shows that you think give particularly accurate portrayals?
We do get close to what it's really like. I think in the early days Law & Order hewed closer to the truth, but the longer they went on, they had to reach further for stories. Also, Homicide: Life on the Street and The Wire.
You've written for TV and film yourself. What got you interested in doing so? Any upcoming other projects?

I did write for Diagnosis Murder and a number of shows on the Discovery Channel like The New Detectives. And then ten novels. I've been writing for as long as I've been in law enforcement. It's the product of a voracious reading habit. I was a successful nonfiction writer who wanted to write fiction. I have a new book coming out at the end of the month called Felony Fists. (Check out Paul's complete run of novels at Amazon.)

Does that experience give you a unique perspective on the production side of Take The Money and Run?

What I learned from being in the writer's room and in production is to get the crew on your side. They are so important to the show's success. I'm so fortunate because we have the crew from The Amazing Race and they are amazing. Once we explained to them why we needed things, they were more than eager. It was important to Mary and I to understand [them] and to make their job as easy as possible.
What do you want people to take away from the show?
We do want to show the best sides of a team working together. Mary and I joke that we're separated at birth. I wouldn't want to do this with anyone else. We want people to be entertained. One week they can root for the hiders, the next they can root for us. We want them to go back and forth.
What TV shows or movies would you recommend to our readers?
I have very eclectic tastes. Midnight in Paris I just loved this year. I can watch something like The Mentalist because it has no connection to police work, and just enjoy the performances. Also, Lie To Me with Tim Roth. I understand that it's just been cancelled, but I'd recommend everyone goes out and gets the first two seasons.
My thanks to Paul Bishop for this interview! A new installment of Take The Money and Run airs tonight  at 9 PM ET/PT on ABC.