Q&A: Interrogating 'Nikita' Star Xander Berkeley
On Nikita, Xander Berkeley is calling the shots - but off-screen, I got him to answer a few of my questions about season two!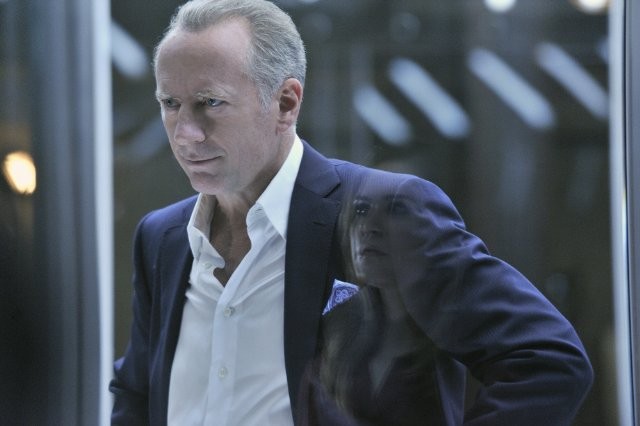 When we left the series, Xander's character Percy revealed his master plan for regaining control of Division: either he got his power back or his Guardians would execute the members of Oversight. After a brief hiatus, tonight we'll get to find out whether or not the devilish (literally and metaphorically!) man in the prison box succeeds.
Unlike his alter ego, Berkeley is an incredibly nice guy. He is also one of the best character actors of his generation. He's given memorable performances in smaller parts (Gattaca) and bigger ones (he was robbed of an Emmy for his work on 24). You might not recognize him, but that's only because he disappears so well into each role.
Here's what he had to say about Nikita, including working in confined spaces and being on another show with his wife, actress Sarah Clarke.
If you missed it, you can also read my earlier interview with Xander from season one.
What's it been like acting in the same small space nearly all season?
I don't know what it looks like, but it's actually been fun for me. I like a challenge. I started out a lifetime ago in the theater and that white space is really at its essence a theater space. When you're stripped of props and costume and set, in a way, the way you are in there, it pulls your focus in and makes you very minimalist. That was a fun challenge for me. That was an interesting thing to play.
And I think Percy himself found it a bit of release to have a little break. He always knew he was going to get back into power. But for the first time he didn't have responsibilities.
They let me out not a minute too soon. I'm back in the action. I'm having a ball.
You had a fantastic scene with Melinda Clarke in the last episode ("Sanctuary") where Percy confronted Amanda with her unrequited love for him. Have we seen the last of that issue?
You know, deep feelings do come back, don't they? I'm sure they'll come back changed by what she's done to me or tried to do. You've seen her try to stick a needle in my neck. He's not going to forget that soon. But those feelings, that relationship, however twisted it might have been, is at the core of their dynamic.
A lot of your scenes this season have been with her. Is there a character you'd like to have more scenes with?
I'm getting back into the action with Nikita, which is a lot of fun now that I've gone rogue. Last night I got to hang out and act with my dear friends Shane [West] and Maggie [Q] all at once, which was a lot of fun.
Peter Outerbridge, who plays Ari, I'd very much enjoy [working with]. There've been a lot of fun times just with the guest stars they bring in.
Plus, this season we got to see your wife on the show playing Alex's mother Katya, which was a treat for those of us who remembered you both from 24.
My wife is coming back on the show. I can't wait to see what she gets to do. That'll certainly be fun again.
With shows like that and Nikita, are you one of those actors who likes to know what's coming or do you prefer to be surprised?
I have grown to enjoy more and more just going with the flow, so you're not thrown if that plan changes. I don't like to run over to the monitor and see what something looks like when I'm shooting it. I like to see the show cut together. I think the same thing is true with the different ideas the writers get.
Give me one thing from the remainder of season two that you really enjoyed or are really proud of.
I feel pretty proud of keeping the atmosphere alive in that box. It was a bit daunting at first, to feel like, "Wow, I'm going to be stuck in here." You usually have something to ground you in the space. The sparseness of it was a challenge and I feel like I rose to meet that challenge. I really enjoyed working with the different directors to come up with different ways of doing it.
What's one thing you'd like to see for Percy going forward?
Opera. (laughs) There is a sort of operatic scale that Percy sees life on. He wants to get back into Division to take control of Division again, but he really wants not to be trapped underground anymore.
I think he wants power back pretty clearly, and he wants to play on the world stage. He wants to be a player in that arena. He's very curious about new world capitals and the places where purse strings and power strings are pulled.
My thanks to Xander Berkeley for another wonderful interview! See if Percy gets what he wants when Nikita returns tonight at 8 PM ET/PT on The CW, and then tune back in to Starpulse for my review of "Clean Sweep."
(c)2012 Brittany Frederick/Digital Airwaves. Appears at Starpulse with permission. All rights reserved. No reproduction permitted.