Q&A: 'InSight' Director Richard Gabai
For every movie that you hear about, there's probably at least a dozen that you don't. It shouldn't surprise you that some of those flicks that don't get a big release or promo push are really, really good. Maybe even better than those big blockbusters that do get all the attention.
I recently spoke with Richard Gabai, director of InSight. The flick stars Natalie Zea (of Justified fame) as an ER nurse who begins experiencing the memories of a young stabbing victim whose life she tries to save. She partners with the detective working the case (Sean Patrick Flanery of Boondock Saints) to find some answers, and unsurprisingly, discovers a lot more along the way.
Richard was kind enough to talk to me about putting together a small film with some top-class talent and smart writing, yet out of the glare of big Hollywood spotlights.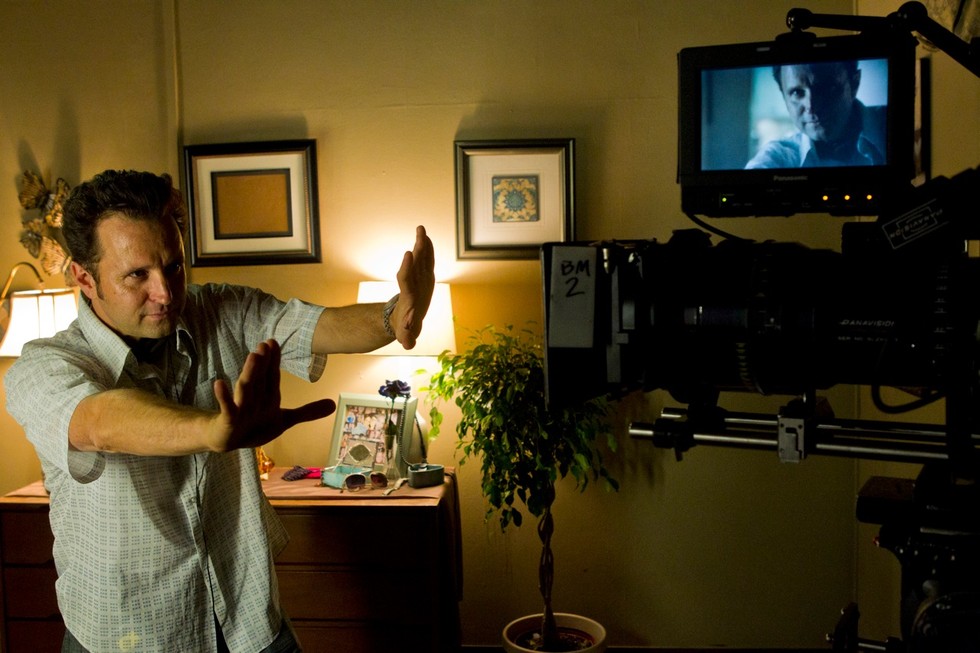 Let's start at the beginning. What brought you to the film? What interested you about the script that you said, "I want to direct this"?
The script was brought to me by my friend Scott Peck, who's the director of photography on the movie. As cliche as it sounds, the second I started reading the script I couldn't put it down. I kept thinking I had it figured out and I kept being wrong. I'd never really read anything that compelled me so much. It's both a traditional psychological thriller and a murder mystery, and at the same time, deals with some bigger issues like life and death and truth, without being preachy.

You have a really fantastic, if not necessarily "big name," cast for this movie - including Justified's Natalie Zea, Sean Patrick Flanery, and Chuck's Adam Baldwin. Can you talk about how you found them all, and what it was like working with them?
The first time I read the script, a couple of actors that I'd worked with before came to mind. I'd done two films with Christopher Lloyd and one with Veronica Cartwright.
As it turns out, Natalie Zea and I had a common friend who was going to work on the film with me. He said, "Do you know Natalie?" I sent Natalie the script; she loved it, we met for a cup of coffee and it was done. Adam Baldwin and I have a few common friends. He loved the role of the psychiatrist. I'm a lifetime Adam Baldwin fan. Thomas Nichols and I had a common friend and I really thought he'd be great.
Nobody was on board for the paycheck. The actors did not come on board for the paycheck. The only actors that came through casting were Sean Patrick Flanery and Max Perlich. Max Perlich is one of those guys who everybody knows his face and not everybody knows his name. I really lucked out. It was really an ensemble that had came together like it was meant to be. I'm proud really of this film; the cast has a lot to do with it.
The blockbuster movies we know and love can take forever to shoot. You shot this movie in 15 days. What's it like to wrap a whole movie in just over two weeks?
To quote another movie, it's fast and furious. It's fun. A friend of mine is an ER doctor, and he said, "It sounds like me in the ER." You know what you want to do and it's just right to it. We stay incredibly focused; we really have our day planned out. By the time we have one shot, I'm already thinking of the next shot.
There's a few scenes in the movie that I wish we had a little bit more time to spend on, but overall I'm really happy. It's a credit to the crew - the art department has the hardest job on set because they're constantly making and ripping down sets at an unbelievable pace. Dr. Barrett has this loft apartment and they made the entire apartment, and we also used the space for another set. It's really a great tribute to the crew. I worked with really talented, dedicated people.
What was your biggest challenge in making the film?
As an independent filmmaker, I think the hardest thing is putting together the financing and making the math work. Since we don't make a lot of money on any single project,  I always have to be working on something. It's not like I'm trying to make just one film. I plan on making this film and the next film and the next film. I like thinking about the next movie, and I think I contribute most when I'm on set.
You've been an actor and a writer - how much does your experience in those disciplines play into your directorial work?
A bunch. A whole bunch. I really think understand the actor's process; I feel I know where they're coming from and I have a good rapport with actors. I wanted to make movies initially because I didn't want to wait for my phone to ring as an actor. There have been time periods when I've just worked as an actor for a time, and other times I've just been a filmmaker, and switching off in both disciplines really seems to compliment each other.
In retrospect, now that you've seen the final cut and had time to think on it, is there anything about InSight that you'd change? Something you'd add or take out? Something you wish you'd done?
Honestly, films are never finished. They're abandoned. You could literally work on it forever. I'm kind of happy this film is now on its way and living it's life. There's little things, but nothing worth talking about. If I had a bigger budget, there are things I might have made more of, [but] I think it's kind of the film that was meant to be.
Conversely, do you have something you're particularly proud of? A favorite scene, a shot, something that went exactly right?
Yes. That's a great question. There's a portion of the script that was slated as seven or eight scenes, because there's about five rooms that are involved in it. Kaitlyn is taking care of her mom, the Veonica Cartwright character, and she comes home and can't find her mom. She searches through the house. It was scripted as "She looks into this room, she's not there." And we did it as a one-er on Stedicam. Katie, my favorite camera operator - she's the best Stedicam operator I've ever seen - she pulled off this shot. When you see the movie, you'll know the shot.
Our score was written by Lisa Gerrard, who's a Golden Globe winner. She loved the movie and came on for the film, and not the money. My friend who did the sound mix, John Hays, is a two-time Oscar winner. And the freaking movie sounds incredible.

You've been really hands-on as far as getting the movie promoted and interacting with the fans (via Facebook). What has it been like having that instant feedback from the audience?
It's a blast. Social networking is the best thing that's happened to independent filmmakers. We actually get to communicate with the people we're trying to entertain. Most of the people that have been contacting us are fans of Sean Patrick Flanery. Boondock Saints is practically a religion. The cult following behind it is unbelievable. Sean has sixty-some thousand followers on Facebook and I don't know how many on Twitter.

Give me a film recommendation. What are you watching?
I'm a huge fan of Mad Men. I have been since day one. In terms of favorite films, the one that made me want to play guitar and make movies was The Buddy Holly Story. For lack of a better cliche, I'm a big fan of all that stuff everyone likes. I'm a huge fan of Hitchcock and Scorsese and Spielberg.
My thanks to Richard Gabai for this interview! For the latest on InSight, check out the movie's official website and Facebook page. The film hits DVD and Video on Demand in January.
(c)2011 Brittany Frederick/Digital Airwaves. All rights reserved. No reproduction permitted.