Q&A: 'Hung' Star Charlie Saxton
HBO's Hung has just started its third season - and before tonight's new episode (10 PM ET/PT), I caught up with star Charlie Saxton! Read on for Charlie's thoughts on his character Damon, his time in theatre, and the movie role he'd love to have...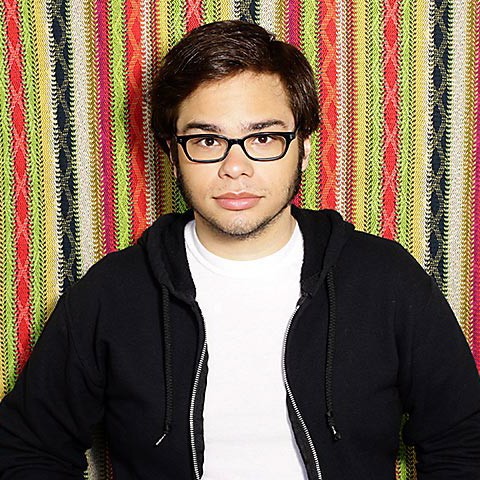 We're two episodes into the third season of Hung. What can you say about what we can expect for Damon in season three?
Damon's kind of stepping out of the spotlight, if you will, because he's been getting himself into too many crazy situations. He's re-evaluating himself and figuring out what makes him happy. He and his sister [Darby] decide to start a band this season. For the most part, Damon's trying to enjoy his last few years as a high school student.

Now that you're three seasons into your character, have you thought about what you'd like to do with the role, if you had creative control?
Obviously, he'd join the family business, of course. (laughs) No, I'm just joking. I think I would like Damon to not settle down, but a steady girlfriend would be good. It could bring drama and conflict along the way.

In addition to your role on Hung, you're currently finishing a new play at the Odyssey Theatre Company in Los Angeles. How differently do you approach theatre work from film or television?
Ultimately, they're so different because film and TV, you do one scene for a day and you move on. Theatre you just do the same thing over and over, and so it's very easy to fall into this kind of pattern. If you're not careful, it's really easy for your performance to get stale, and for the show to seem kind of repetitive. You always perform each show as if it was your very first show, and make sure that energy and that organic feeling that you first had, that it's still special.
One of the things I like about theatre [is] everybody does as much as they can help out. Nobody says "I'm just the actor." If there's something that needs to be done, people do tend to help out. That's what keeps the theatre community together.
Having worked in all three mediums, do you have a favorite between them?
It's tough. The way we shoot Hung, it's not like a sitcom. It's basically like shooting a really long movie. So I've never really, truly experienced filming a TV sitcom is like. I think I prefer the way we shoot Hung, because it's a little less stressful. In a play, you have to memorize two hours worth of dialogue and two hours worth of blocking. For the most part, you do three, four scenes a day. It's a lot easier.
Is there a dream role or project that you'd love to tackle someday?
Absolutely. At the moment I'm doing anything I can to be cast in Ghostbusters 3. Any role I can get, I'll take. People tell me when I take my glasses off I look like a young Dan Ackroyd.
You've worked with your mother, who's an actress, in two different projects. What's it like working with your parent?
My mom teaches acting; she's also an acting coach. She basically has been working with me since I was little and she knows my technique and my style. It's really fun because she and I can bounce off each other. She's also very helpful.
So not embarrassing like most people's parents can be?
(laughs) Oh, no. We were just on the set of Parks and Recreation a couple of days ago and she just kept bragging to Amy Poehler.

Is there a particular role from your body of work that you're the most proud of?
Hung, as I think it's shown my widest range over the past couple of seasons. One of my favorite parts so far was a guest role that I just did on a show called Workaholics on Comedy Central. I had a lot of fun doing it; it's one of my favorite TV shows to begin with. It was a pretty good representation - not to give anything away, but I have a pretty interesting part.
What do you do when you're not working? What are some of your hobbies or other interests?
I'm a nerd otherwise. I go to the movies, play video games. I actually like to cook. Nothing too crazy. I'm not a big party animal or anything like that. I'm not a big clubber. I just like to relax; when I'm working it's always busy and hectic.

You're from Philadelphia...so how much did that Phillies loss in the National League Division Series hurt?
Oh, man. I'm still mourning the loss. It hurts very badly. It's even worse because I'm going to be coming back to Philadelphia in a couple of weeks and my friends and I were planning on going to the NLCS [National League Championship Series].
Give a recommendation to our readers.
This is a bit of a violent film, but I definitely recommend this film called Hobo with a Shotgun. It's very bloody but at the end of the day, it's got a lot of heart.
I went and I saw my friend's band The Wonder Years. They just performed at the House of Blues on Sunset, and they have a record that just came out. They're an awesome band, and they're great guys, and they're from Philadelphia, so how can I not recommend them?
My thanks to Charlie Saxton for this interview! You can see him every Sunday in new episodes of Hung (10 PM ET/PT on HBO).