Q&A: 'Happy Endings' Guest Star James Wolk
ABC's Happy Endings is celebrating Valentine's Day early - and giving us the gift of James Wolk as Max's (Adam Pally) ex-boyfriend, Grant.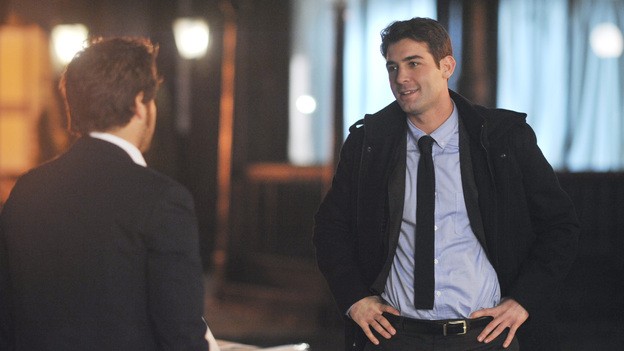 Best known as the lead on FOX's critically acclaimed but very short-lived Lone Star, James recently dropped by to talk about what it's like to work on a show that you're a fan of and what he thinks of the holiday.
What attracted you to this character?
I was a fan of the show prior to being on it. I had just finished working on a play and we started to talk to the Happy Endings folks. There was interest from both sides, which was exciting, because I thought it was very fresh. Adam Pally's just a really funny, talented dude. I thought I'd be great to jump on and do some comedy.
So what did you enjoy most about the experience?

 At the risk of sounding like I'm trying to sound like the show's that amazing, the most fun part of it is just being on set. It's so hard not to laugh in between takes. It's so hard not to laugh when they call cut. The actors are all great.
What was it like for you to work on a project that you're also a fan of?
 It's great. It's trippy at first because you're like "Oh, I love this world." Then you're like, "Can I get into this world?" But I'll say this cast, these creators, were so welcoming. This was a really refreshing and different experience.
This is the Valentine's Day episode, so what are your personal feelings towards Valentine's Day? Love it or hate it?
I like it. It's like New Year's. You just kind of want to enjoy it. I have a wonderful girlfriend I'll just be having a low-key Valentine's Day with.
I remember you from Lone Star, which was some great drama. Drama is tough, but comedy can be so subjective. So which of the two is harder for you?
There's a certain rhythm to comedy that is almost like you're dancing and you just go on autopilot so to speak. There's something just beautifully enjoyable about comedy in that respect. It's a joy to be able to do that. Drama, you get to go to depths that you haven't gone to before.

Is there something else you're particularly proud of that you'd say curious fans should check out?
There's a film I did called Front of the Class, about a teacher who had Tourette's. That was a beautiful blend of drama and comedy. There's some great moments of levity in the script.
Speaking of fans, what TV shows are you a fan of?
I like Homeland a lot. I'm a fan of Shameless and I worked on that this season. That was a blast. My goal for 2012 is to watch more [of] The Voice.
What else is coming up for you? Do you have a dream role that you'd like to pursue?
There's a film I just did For A Good Time, Call... and we just got picked up by Focus Features and it's a really great comedy.
I would say right now, I'm just looking for great characters and great scripts. My overall goal is I love actors who throughout their career are able to speak to the human condition, make people laugh, make people cry, and embody characters whether it's comedy or drama.
My thanks to James Wolk for this interview! Catch his first appearance on Happy Endings tonight at 9:30 on ABC.
(c)2012 Brittany Frederick/Digital Airwaves. All rights reserved. No reproduction permitted.