Q&A: Grammy-Winning Guitarist Earl Klugh Comes To Thornton Winery
This Sunday, Temecula's Thornton Winery continues its Champagne Jazz concert series by welcoming Kenny G and Grammy-winning guitarist Earl Klugh.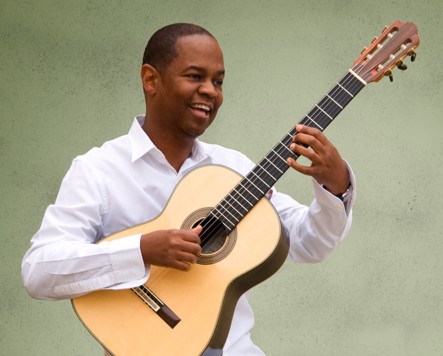 "I've known Kenny from the beginning of his career. He's always been fun. I don't think we've ever done anything together live," said Klugh of the man he'll be sharing the venue with this weekend. "We've done a few things in the past; nothing very much, but I worked on a couple of projects [with him]. Kenny's a good guy. I really like him. He's very easygoing."
Klugh has collaborated with many notable musical artists across multiple genres, including Brian Culbertson, Chet Atkins and Bob James, and he endeavors to meet other artists when he can do so. "There's so many people I've already worked with," Klugh said. "All of the people that I've enjoyed their records, I make it a point to try and meet them somewhere down the line. If [I] have the ability to go to a show and go backstage and tell somebody how much [I] like their music, I do that."
In addition to his collaborative resume, Klugh has been an active solo artist since 1970, with his self-titled debut album arriving in 1976. He's recorded over 30 albums and has 12 Grammy nominations, winning one award in 1981 for Best Pop Instrumental Performance that he shared with James.
"I'm partial to some of the albums I did back in the late 70's and 80's. Those were my favorite records because it was all right at the beginning," he explained. "I would record like two albums a year, which is a lot. That's kind of how it was when I first started. Everyone did at least an album a year, sometimes two." No doubt that pace would challenge many of today's musical artists.
A new album may be in the future, although it's not all that's in Klugh's immediate plans. "We're touring right now. We're doing overseas stuff coming up," he added. "I've been working lately on a solo album that I've been doing, just guitar, and I'm having a lot of fun with that. I think I'm going to try and get some collaborations with some other guitarists."
Given Klugh's standing - in 2006, Modern Guitar magazine wrote that he "is considered by many to be one of the finest acoustic guitar players today" - it might surprise you to know that he started his musical career as a pianist. "When I was five years old I started taking piano lessons and I really enjoyed it. The interesting thing was I wanted a guitar. I took piano lessons for about five years before I could talk my mom into giving me a guitar," he said with a laugh. "But it was really good because the piano is such a versatile instrument. I'm glad that I did do that because [the] keyboards on my records, I've done a lot of that myself."
When it comes to his own taste, "I listen to everything from country music to classical music. My mom was born in Mississippi so I have a real love of country music and the traditional jazz music," he said. "I enjoy the other side of things, I guess because I get a chance to listen to something that I don't have to be involved in. It's great just to listen to how things were in the 50's [and] 60's. You learn a lot."
As for Sunday's show, Klugh has plenty of material. "I've got about 150 songs. It's crazy, but that's a good thing," he said. "I remember George Benson told me, 'Be thankful that you have 150 songs you can play.' It gave me a good insight because I respected the fact that people were coming out and listening to me play. I really feel blessed."
Last month, Thornton Winery played host to Bobby Caldwell and David Benoit.
Tickets for Sunday's concert are still available via the venue website.
For more on Earl Klugh, visit his official website and follow him on Twitter (@EarlKlugh).For more from Brittany Frederick, visit my Starpulse writer page and follow me on Twitter (@tvbrittanyf).
(c)2012 Brittany Frederick/Digital Airwaves. Appears at Starpulse with permission. All rights reserved. No reproduction permitted.