Q&A: Gordon Ramsay Dishes On Season 9 Of 'Hell's Kitchen'
Our favorite chef is back (again)! While we're still watching season two of MasterChef, Chef Gordon Ramsay returns for the ninth (?!) season of his first FOX series, the aptly titled Hell's Kitchen. As the show's two-night premiere kicks off tonight (at 8 PM ET/PT, followed by a new MasterChef), Chef Ramsay sat down with me to dish about what we can expect from this season.
You can also revisit our previous chats about Kitchen Nightmares and MasterChef.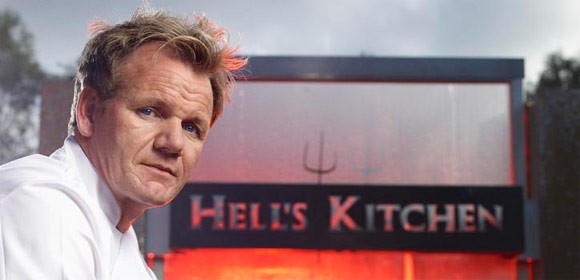 This is the ninth season for Hell's Kitchen. What do you think is the secret to the show's longevity?
Gordon Ramsay: You know what, no one's walking on water thinking that they're untouchable. We keep it real, I suppose. No one gets carried away. The prize this year is a prominent business position of head chef, a phenomenal prize, but the level of creativity is second to none. I strongly believe that you will start to like some of the stuff that we've done this year because it makes perfect sense. We brought it closer to the real world.
What is going to set season nine apart from the previous eight?
The producers this year, more than ever before, we've really gone out of our way, not just to involve the charity aspect but highly creative, [spur] of the moment challenges that really put these guys in the premier league of where the restaurant sits. And that's why I want to keep it real. My fight is always against FOX, they want a show and I want a restaurant.
[There's] the delightful Wolfgang Puck coming in this year and really demonstrating some amazing stuff. This is one of the most prominent chefs in the country today. We did something quite unique this year; I brought quite a lot of returning chefs back, not to just highlight where they are, [but to] put them up against the existing chefs in the competition to basically raise the bar. We turned it up in a big way.
How do you develop the challenges for the chefs each season?
I study. I look at the different challenges that we face on a daily basis with restaurants, chefs, customers, problems. I look at the waste percentage. I look at the creativity in terms of the seasonality. This year we did an amazing charity event and we had the most amazing ingredients that were fresh and in season.
Then I want an individual flare coming from the control of cooking protein, filet, almost blindfolded in a way that you'll identify the textures and you're cooking with your eyes closed. In my mind the palate is paramount, and if you don't know how something should taste, then you shouldn't be cooking it. I focus more on what it should taste like first, because you've got to understand what it tastes like before you can cook it.
What can you tell us about this season's crop of hopefuls? Anyone that we should keep our eye on?
This season the chefs over studied the tapes, which I never do, and everyone says, "Hey, oh my God did you see what happened?" No, do you honestly think I'm going to go back and watch it after really living it and being there live. I have no problems going live on a daily basis. I don't think FOX would want me to go live for two hours a night on Monday and Tuesday, God forbid. (laughs)
There is one extraordinary lady, her name's Elise, out of Pittsburgh, and she is rare. She's a unique, rare chef. I'm not going to say anything more. But watch out for this one because you're not going to be tired of her name. The confidence is extraordinary, and I can say she can back it up with the talent, so it's quite a phenomenon.
Speaking of confidence, there's always a contestant or two that seems to come in cocky, and this season is no exception. What would you say is the single biggest mistake that these chefs make?
I think the biggest mistake they make, to be honest, they take it for granted. Whilst I want them to shine as individuals, shining as a team and a great leader is far more important than being egotistical and telling the group straight out. I like that kind of inner calmness with vision, and individuals that can motivate a team.
When the chips are down, never, never, ever start blaming. When chefs start pointing fingers it's always the beginning of the end for me. That's the one mistake because they focus on their individual ego as opposed to the passion of the team. They should be collaborating together, as opposed to trying to outsmart one another. Get your head down and let the food do the talking.
Contestants aside, you also have a fantastic staff on Hell's Kitchen. Can you talk about working with them?
Sure. Andi Van Willigan, that girl's amazing. Andi worked for eight years alongside Michael Mina, one of the most prominent chefs in California. Scott Leibfried, that guy's been there since day one. In any business, any structure it's not about a sous chef being number two or executive chef or executive sous chef, there's no such thing. We have a team and we're bloody good as a team. I'm not saying they make me look good, but they give me untold support.
And when I'm not there during the day my standards are implemented on a daily basis; they're like two head chefs so there's three of us running it. The foundation behind me is quite extraordinary because of the teaching that goes on. And that's where my [sous chefs] come in. You see 42 minutes or 43 minutes and that's edited and all that stuff, and that's television, but there's 150 hours of footage for 42 minutes and the training is extraordinary, and that's what you don't get to see behind the scenes.
We talked during our chat about Kitchen Nightmares about how long that show has left in it. How many more seasons of Hell's Kitchen do you think we'll see?
I'm getting too old for this, to be honest. I feel right now that I am. I'm not saying it's my last season, but I love it, you know I love it. It's a passion, it's heated, it's frustrating, it's rewarding, and then it's gratifying when one of those doors open.
Listen, when it doesn't go right I still take the shit. When it does go right, I still take the shit. I'm damned if I do and damned if I don't. What I do know is that we have an amazing, talented group of chefs. This year, more than ever before, season nine is going to put a stake in the ground in a big way.
My thanks to Chef Ramsay for another fantastic interview! Hell's Kitchen season nine begins with a two-night premiere, tonight and tomorrow night at 8 PM ET/PT on FOX.