Q&A: Getting To Know Singer-Songwriter Bean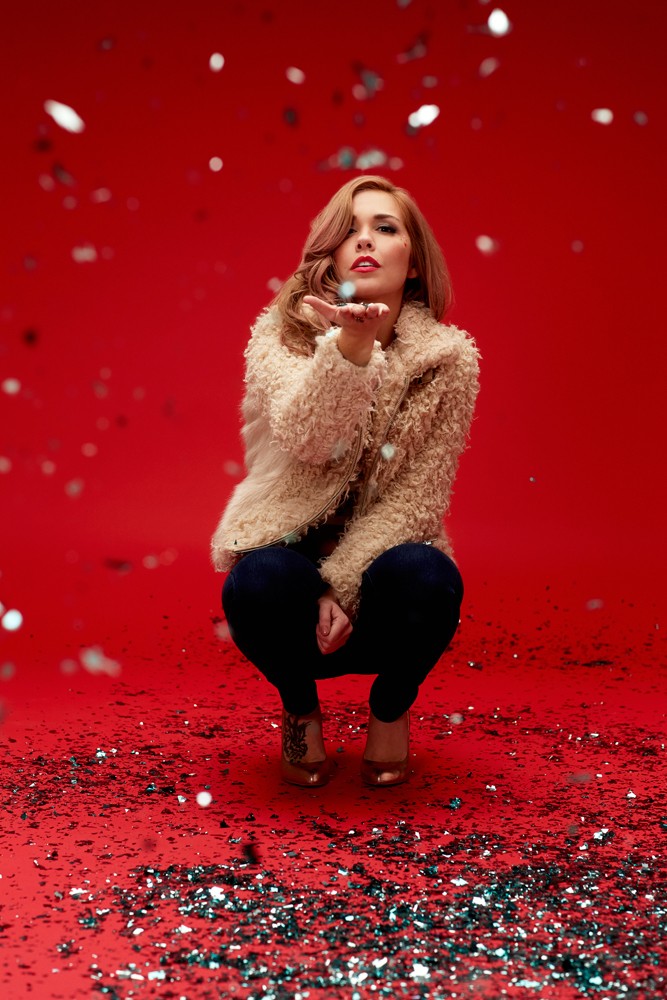 Noelle Bean, who goes by Bean in the industry, is a star on the rise. The Dallas native, currently residing in LA, is a pop singer-songwriter whose music is upbeat, soulful and retro. With an EP already under her belt, Bean's music has been featured in various commercials and has been referred to as a mix between Adele and Amy Winehouse, by Teen.com. The young and talented singer has already charmed the music industry with her doo-wop-style and catchy lyrics. She is currently playing a few shows in the near future, after already performing at SXSW and touring with the likes of Austin Mahone, Hot Chelle Rae and Megan & Liz.
Seeing that there is talent to be heard from the young singer, Starpulse got an exclusive interview with Bean to feature her as an up-and-coming artist.
According to your website, your high school music teacher sort of started the trend of referring to you by Bean. Did you know since then that you wanted your stage name to be Bean?
I never really thought about "Bean" being my stage name until I realized that almost everyone I knew, musically, was picking up on the nickname. When I was in school, kids use to tease me all the time saying, "Your last name is Bean! Haha!" Granted, it never really bothered me, but I think it's hilarious that it just so happens to be what I'm now referred to.
When did you have that moment where you knew you wanted to be a singer?
Right out high school, I began working for an apartment complex. It was a character building job that taught me so much. After about 6 months, I realized that a desk job was just not for me. I put in my two weeks notice and swore to myself that I was going to learn how to play guitar. So I did! And today, I write music and love every bit of my job.
So you have resided in Dallas, Nashville and LA. Which one would you pick over the others?
Nashville all the way baby! Tennessee will always be my home.
How would you describe your music (style, genre, etc.)?
Simply, I'm the female version of Bruno Mars with my own awkwardly original spin.
How would you describe your fashion sense?
My fashion sense is classic and chic. Basically, a modern day Bridgette Bardot meets Audrey Hepburn. Don't be fooled though, I love sweatpants and t-shirts just as much as the next girl.
Where do you get inspiration from when writing your lyrics?
I'm easily inspired by anything that has my heart, be it family related issues, a boyfriend or a long distance friendship. There is so much to feel in this world which makes it so easy to never get uninspired. Honestly, I could write about a random tree if I thought it was pretty and distinctively captivated me enough.
You have performed in coffee shops to touring with well known artists. Which do you prefer, the intimate setting of something like a coffee shop or a stadium?
It's hard to say because I love both so much. There is something so very magical about being on stage with thousands of people's eyes on you and groups of hands waving in the air to the rhythm of a song created by you. It's the most outrageous and almost out-of-body experience ever! I couldn't imagine ever losing that sense of wonder.
Which song of yours is your favorite to perform live?
I love jamming out to any song I get to sing on stage, but one in particular that tickles my fancy is a song I wrote called "Rollercoaster." It describes the ups and downs of being in the music industry. Sometimes you have bad meetings and things can fall through, but even at my lowest point on the roller coaster, I'm still doing what I love, which is making music.
If you could perform anywhere, where would it be?
Madison Square Garden! One day, please Lord.
Who would you like to collaborate with?
I would definitely die to collaborate with my favorite band of all time, Coldplay. Chris Martin's voice is like butter on a roll. 
What are some of your favorite bands or artists?
Besides Coldplay, Lorde, Taylor Swift, The Beatles, The Temptations, The Zombies, Third Eye Blind, Red Hot Chili Peppers, Oasis and Birdy. It's a pretty long list.