Q&A: Elyse Levesque Looking To Start New Chapter After 'Stargate Universe'
Elyse Levesque is one of the most down-to-earth, sweet and funny actresses I've ever interviewed. And yes, I'm aware that every writer says that. But this writer actually means it. 
Hailing from Regina, Saksatoon, Canada, the statuesque 25-year-old has played the role of Chloe Armstong on Stargate Universe for over 2 years, and is about to start a new chapter in her life now that the SyFy series has been cancelled. 
She's looking forward to the challenges and embracing the future with a refreshing level of optimism and humility, and gave Starpulse the scoop on her career, her modeling stint and the weirdest thing she's ever done to get a role!
Starpulse: When did you know you wanted to be an actress?
Elyse Levesque: I was hooked my very first day on set. I was 11 years old and I was working on this children's television series in my hometown called "Incredible Story Studio". I remember thinking this was probably the coolest thing you could ever do and that I couldn't wait to come back the next day to do it all over again!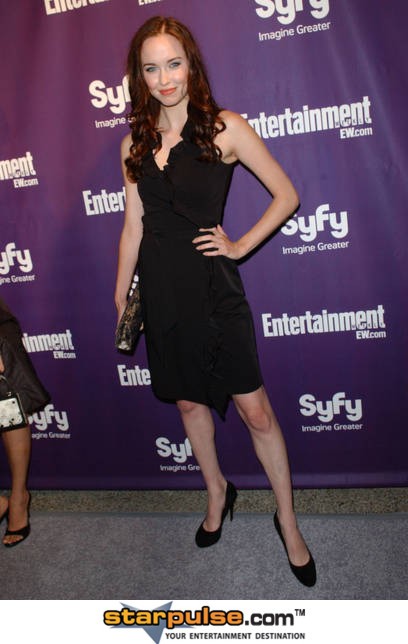 SP: What's been your favorite role to date, and why?
EL: Without a doubt, Chloe Armstrong on Stargate Universe. Never before have I had the opportunity to play a character for such a length of time. It really gives you a chance to know the person and it's amazing what fun you can have when you start to trust yourself in a character. I got to go to so many places emotionally with her. It was definitely a challenge and I think I learned a lot from playing her.
SP: What did you like most about working on Stargate Universe? ?
EL: I think the thing I enjoyed the most about SGU were the cast and crew. We were all very close, so going to set everyday was such a pleasure. We laughed a lot- more than is appropriate for something that is supposed to be "work"! I've taken away many wonderful friendships from my time on that show.
SP: Do you see yourself continuing in TV or Film?
EL: Television really has changed [since I started in it]. There are so many great projects out there right now, so I'd be thrilled to be doing both. Ultimately, I do want to do films, but as long as I'm working on projects I'm passionate about, that's all I can really ask for. 
SP: What kind of things do you enjoy doing in your downtime?
EL: I love doing yoga, painting, watching movies, curling up in a cafe with a book or a script. I like to do things that are comforting during my downtime and that don't require too much thinking! 
SP: You've done some modeling in the past, how did you get into that?
EL: I modeled for about 2 years all over Europe and Asia. The first place I went was Taipei when I was eighteen. It was a huge culture shock, but I think that's what I loved most about modeling. It took me to places I wouldn't otherwise go and I was living there in the community for months. And meeting people from different parts of the world taught me things I couldn't have learned in school. My two favorite places were Greece and Italy. Those places just made sense to me. I loved the culture, the food, the shopping, the people, and the history. 
SP: As many of your fans are already aware of, you're Canadian! How is the entertainment industry there different from the United States?
EL: I feel like the Canadian industry is a bit more down to earth. It's yet to adapt that high profile, glamorous image of the US. In some way that's wonderful because Canada is more nurturing with actors careers and I think is a bit easier to break into the business. On the other hand, it can only take you so far. I think you have to make the move to the States to take your career to that next level.
SP: What's the weirdest audition you've ever been on?
EL: I had to die in the arms of a casting director once. That was awkward. 
Follow Elyse on Twitter!