Q&A: Duff McKagan - From Making Rock History To Finding His Story
Duff McKagan is keeping busy. Fresh off Guns 'n' Roses' nomination to the Rock 'n' Roll Hall of Fame, he's released his memoir, It's So Easy (and other lies), just before heading off on a sprawling tour of Europe and Central America with Loaded.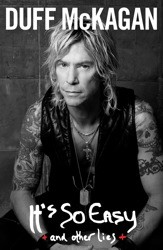 It's definitely easy to see why he's in such high demand. Putting aside the fact that he was the bassist for one of rock's great bands and has gone on to numerous others besides, Duff has a second career as a talented writer. He's contributed weekly columns on a range of topics to various publications for years. In It's So Easy, he makes himself the subject with a surprising and unflinching clarity. He isn't interested in looking good; in fact, it feels as if he's making amends for the bumps in the road.
I like him not necessarily for his accolades, but for the battles that he fought, and is willing to talk about. We all have our fights, but rarely is someone willing to speak up and say, "Hey, you're not the only one."
Duff was equally as candid and approachable when I spoke with him recently about writing the memoir. There was no lightbulb moment, he told me, rather the process to a book was a journey, not unlike the finished product.
"In 2007, I was asked to write an article for Men's Italian Vogue about Hollywood in 1987," he told me. "I think they wanted a fashion story. But in 1987, it wasn't about fashion, so I didn't write about the clothes. I wrote about my experience, which was the street, and drugs, and sex, and struggle. An editor at Seattle Weekly had read it, and there was a Thursday column that had just come free, and they asked if I'd like to try the column.
"By the fourth week I'd suddenly found I could articulate my thoughts, my views, my understandings, everything. By week seven, Playboy offered me a weekly column also. So I started thinking like a columnist. Something that in usual life you would just pass by, I'd observe it and maybe write about it.
"I really started taking the piss out of myself and my life," he explained with a self-deprecating smile. "I started writing these side stories, and they were stories about, how did I end up in the hospital? It didn't just happen. There was a series of events that finally led to [it]. And how did I get out of there? I started writing to that. I gave it to my editor at Playboy, who edited this book, and he sent me back this 18,000 word document and it was kind of my story.
"It was stunning to see," he said. "It took my breath away. Suddenly I understood myself a bit better. Being a writer and being reflective all the time, it was a challenge to write a book. To have a narrative where the reader can really start to see the unfolding of a guy's head and it being put back together. It's not a tell-all. It's just sort of this private journey that I discovered many years later by writing."
It's a journey that isn't just about his time with GNR, though there's certainly enough in the book to satisfy curious fans. Where Duff succeeds is that he's written on a human level. He's conscious of the fact that parts of his life are on levels that most of his readers can only think about, but the thoughts and feelings that he shares are ones we can understand, and oftentimes connect with. As an aspiring musician and someone struggling with my own health problems, I found things in the text that I could grasp even though my knowledge of classic rock is suspect at best.
Yet I was sitting across the table from this legendary musician - ironically separated by only a couple dozen copies of his book waiting to be signed - feeling like he and I weren't that different. He'd written in such a way that it didn't feel like a celebrity commanding an audience, but more like a guy just wanting to talk.
I was in the room with a future Rock 'n' Roll Hall of Famer, but aside from the two security guys on the other side of the room, it didn't feel that way.
How did he step away from his fame and fortune? How was Duff able to write about things that happened decades ago with such clarity that it feels as if you're right there with him?
"It just kind of came," he confided. "Nobody remembers everything, and then I introduced drugs and alcohol into that. So the stuff I don't remember, I simply didn't write about. I didn't go out and interview anybody. I kept everybody out of the story. It's my own doing. It really is. I took responsibility for myself."
That responsibility didn't end when he reached points he'd rather forget, either. Yet where other celebrities might steer clear entirely, he was determined to get the full story onto the page, even if it meant taking an unconventional approach.
"I made even myself uncomfortable," he said. "I went to my friend's garage. He's got this old couch; it must be forty years old. It hurts your back. And I wrote some of my darker passages on this couch. I think I got a little dark for about a month. I was reading Cormac McCarthy and writing these dark passages. So that was challenging, to keep a focus through that and say, 'Get it out and move on.'"
Despite whatever difficulties he had, however, that didn't stop him from keeping up with both his columns, touring with Loaded, and being a husband and father. "There was a lot going on for a minute," he admitted with a good-natured laugh. "For fourteen months of a minute."
He might be a busy rock star, but that's not why Duff McKagan's story is memorable. It's worth reading because he's an honest human being.
It's So Easy (and other lies) can be ordered at a discount on Amazon or is also available at your local bookseller.
(c)2011 Brittany Frederick/Digital Airwaves. All rights reserved. No reproduction permitted.