Q&A: DJ Pauly D Of 'Jersey Shore' Gives Us His Thoughts On Deena & Catch Phrases
With the first episode leaving audiences wanting more, it is no wonder 8.5 million viewers tuned into MTV last week for the premiere of "Jersey Shore". From the juicy drama and hot cast to the catchy phrases you just can't help but use in your daily life, this reality show is a pop culture goldmine.
In honor of tonight's episode, Starpulse caught up with one of our favorite shore house veterans, DJ Pauly D, for a quick chat on everything from grenades and landmines to fame on the boardwalk.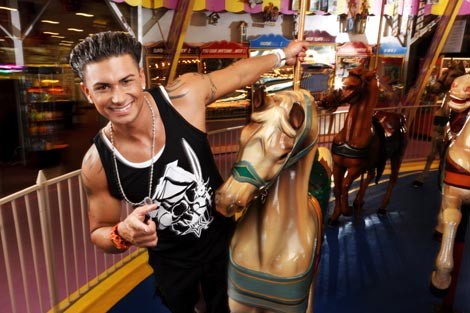 What were your first thoughts on new cast member Deena Nicole Cortese?
Deena is a lot of fun. Carefree attitude, loves to party: a perfect addition to the Jersey Shore house.
Now that you are all pop culture phenomena, do you feel you were treated differently (good or bad) in Seaside this time around?
I mean everyone knows us at this point and they know what we are filming, but that didn't change us. We were back where it all started, Seaside Heights, NJ, so we were loving that and just happy to party it up in Jersey again ...Ohh and all the trouble along with that lol.
There are grenades and landmines. Can you think of a name to call a girl in between those two?
Hmmmm, in between a grenade and landmine, would be a submarine ... either way, you need to be trained and prepared for WAR!
What can we expect to see for Pauly D this season? Anymore catch phrases?
You can expect my hilarious self to be the same loveable dude. I am just out there to have a good time, DJ, and bring tremendous amounts of humor to the shore house. Sometimes I even crack myself up, "Grenade Whistle" lol.