Q&A: Courtney Thorne-Smith Talks 'Two and a Half Men'
Courtney Thorne-Smith has made a name for herself in television, whether you remember her breakout role on the original Melrose Place, or her portrayal of Georgia Thomas on Ally McBeal, or her stint as Cheryl on the long-running According To Jim. These days, she's brought her experience and energy to Two and a Half Men as Lyndsey MacElroy, the on-again, off-again girlfriend of Alan (Jon Cryer).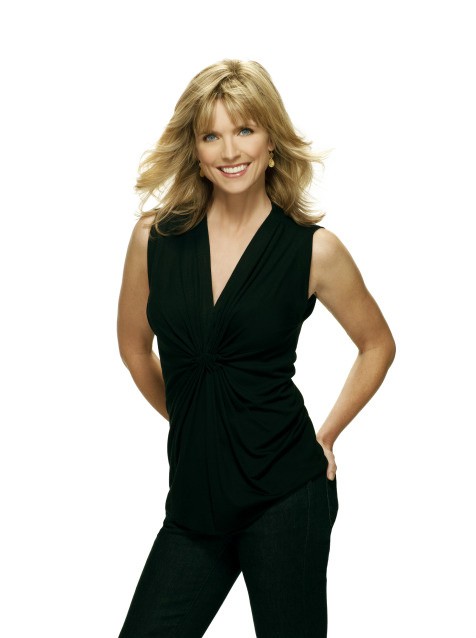 I recently talked with Courtney about what she enjoys about the role, her thoughts on the transition from Charlie Sheen to Ashton Kutcher, and if she can possibly pick a favorite part from her small-screen resume.
What's been great about playing Lyndsey?

What's nice now is we're not breaking up every other episode. Last season we broke up every third episode. This year we've actually been together. Jon Cryer is one of those people I really wanted to work with and I'm getting to. And the character has been so wild and fun and funny.

I've always been curious about this: when you're a recurring player, how much do you have to keep track of what's going on with the show you're on?

Oh, not at all. When I shoot, by the time I come back, those shows haven't aired anyway. It's just sort of stand-alone.

Two and a Half Men kind of got overshadowed by the off-camera drama this season. It sounded like a big deal to us, but how much does changing a lead actor like that really affect you as an actress?

It was a lot to go on but very quickly, Ashton got into the group. He stepped right in. We all miss Charlie, but everybody really likes Ashton.
And I think that the writing stayed at the quality where it's always been, and that's your safety net. When you're doing something funny, it's all okay.

Your last big TV role was According To Jim, where you were a regular. Are you enjoying having a recurring role now?

It's nice because now I'm a mom [and] I don't really have to balance it. Because of this work schedule, I took [her son] to school today. It's such a humane work schedule. I'm not in every episode, and they don't shoot every week. It was exactly what I wanted and what I needed.

What are you more recognized for: this, According To Jim, Ally McBeal, or Melrose Place?

It depends where I am. There's a very specific audience for each show. I would say Melrose and According To Jim.

Can you pick a favorite character that you've played?

I really can't. According To Jim has a special place in my heart. I got married there, I had my baby there. I'm still close to those people. There's so much time when you're sitting around with each other [that] it really does feel a lot like a family. Episodic [work] feels like that, but you're not always there at the same time.

You're also a novelist. What made you decide to write a novel?

It was something I always wanted to do. My husband said, "Why don't you just do it?" and there was something about the way he said it. I started writing and all of a sudden I started to write these characters. I just decided to commit, and at the end of the year I had a book. I loved it. As a writer, it was all mine.

Have either of these experiences - the novel writing or the fact that you've done so many shows - impacted how you look at scripts now?

If anything changes, it's just that I've gotten older and more sophisticated. I get sent scripts and it's very hard to read another script when you're doing this sort of material. I've gotten spoiled. I have a really nice life, thank God.

What TV shows are you a fan of?

I love 30 Rock, I love Psych, I really love The Good Wife. Game of Thrones I'm excited about. I really like Whitney. I like The Big Bang Theory. I think Mayim Bialik is great on Big Bang.
My thanks to Courtney Thorne-Smith for taking the time for this interview! You can catch her as Two and a Half Men resumes its season tonight at 9 PM ET/PT on CBS.
(c)2012 Brittany Frederick/Digital Airwaves. Appears at Starpulse with permission. All rights reserved. No reproduction permitted.