Q&A: 'Chuck' Star Yvonne Strahovski Takes Us Inside Her SoBe Shoot (Video)
Chuck star Yvonne Strahovski got herself painted in palm fronds and coconuts to promote Sobe's three new flavors of Lifewater.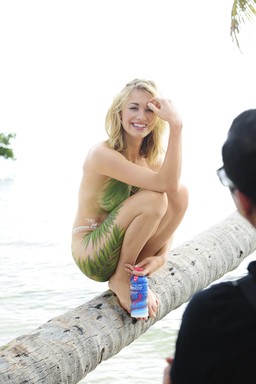 The South Beach-shot photo spread, which sees her in a 'skinsuit' of tropical-themed body paint to match the theme of Sobe's new Lifewater with Coconut Water, will appear in Sports Illustrated's annual swimsuit issue, which hits newsstands on February 14.
Below, Yvonne took some time out of her busy schedule - she was on her way to shoot the feature film I, Frankenstein with Aaron Eckhart - to talk with me about her first modeling experience, being a beautiful woman in the public eye, and what she'll take away from the experience that is Chuck.
For more video and behind-the-scenes photos from Yvonne's Sobe shoot, you can visit the website. Sobe Lifewater with Coconut Water is now available in stores. Chuck's series finale airs in two weeks (January 27) on NBC.
(c)2012 Brittany Frederick/Digital Airwaves. All rights reserved. No reproduction permitted.