Q&A: 'Chuck' Star Adam Baldwin & Co-Creator Chris Fedak Say Finale Is 'Epic And Special'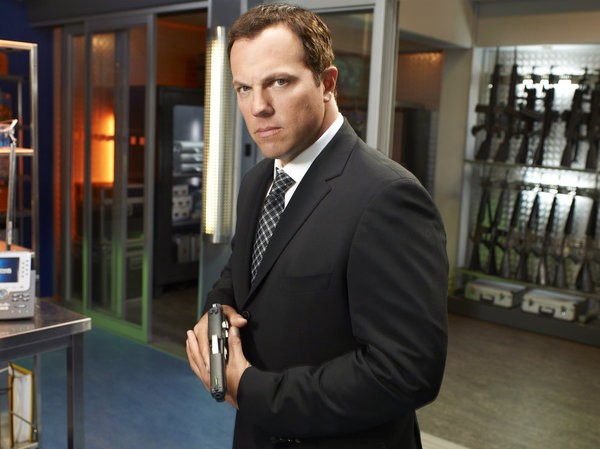 Adam, we certainly saw Casey evolve so much over the run, particularly in the last season or so. Are we going to see more of that in the finale?

Adam Baldwin: There's some resolution there with his relationships that come into play, which I found very heartwarming and dangerous at the same time. That was the thing about Casey. The biggest challenge for Chris and the writers [was] to keep him dangerous while at the same time being loveable, and I think they walked that fine line.
I kept asking "How do I play this guy down the line, yet still [be] maintaining him] within the realm of this romantic comedy?" Basically, it was this dangerous romantic comedy that Casey had to walk this line. It was nice to get the personal aspects of his life really highlighted in the last couple of seasons. I really appreciated it.
Chris Fedak: That was a real revelation for us, to watch not only what Adam did with Josh Gomez, but also what he did with Mekenna Melvin. The more we saw of what our actors were going to do between each other, the building up [and] family part of the story was something that we really kind of wanted to follow and to see.

There's a moment in the finale [where] Casey is holding a sniper rifle, but Adam's so fantastic that it's also a heartbreaking moment. Very few people can look through a sniper rifle and also deliver something really heartbreaking. It's really a testament to what Adam has brought to the character of not [just] a stone cold sniper for the government but also a heartwarming dad.
Adam Baldwin: When Mekenna Melvin came on to play Alex, I think is when it really sparked with me. I kept bugging Chris: "Is Casey ever going to meet his mom? what's his backstory?" But there was a certain spark with her that really, it rekindled my love for the character himself, because I was looking forward to sitting down with her. She's just very inspirational to me. She's a smart young woman. I have a daughter who's not much younger than she is, and it just was a joy to play that.
Plus my evolving relationship with Morgan was just a pleasure as well. They're all so fun, but when you see the height discrepancy between me and them on camera, it's just hilarious.
Did you two get to do everything that you wanted to do with this show?
Chris Fedak: I think that we've really gotten to do a lot of it. 91 episodes really gave me the opportunity to kind of write a bunch of different types of things. There was always a chance that we could have had more money and more time. But I think that the most important thing for me was that we were able to do a lot of the character stuff that we had planned to do [like] the Chuck/Sarah relationship.
Adam Baldwin: Had we gotten a back nine and gone on to 100 episodes, would Alex and Morgan have had a kid and would that have then made Grandpa Casey? Because if that's the case, I would prefer that you just kill me.
What's something in the run of the series that you're particularly proud of?
Adam Baldwin: That's really hard to pinpoint. I'm proud of being able to keep a straight face as much as I can when Zac [Levi] is working because he's so damn funny.
Proud of surviving scenes being eaten alive by Carrie-Ann Moss. I think that was pretty great. I was really honored to work with another sci-fi icon and she's a lot like I am in the sense that she's got a family and she's grounded and is completely professional. I'd say I take a lot of pride in holding my own with Carrie-Ann Moss.

Chris Fedak: Just 91 episodes of this crazy television show called Chuck. There have been so many moments where we've just kind of sat back and looked at the show. It's been a pleasure to do it and it's been an honor to work with our cast and our crew and that's what I guess I'm most proud of.
And now thinking back, if I could have done one thing over again I think we would definitely have had to have gotten Casey into a Speedo.
Adam Baldwin: I'm proud of the fact that I didn't do that. I'm proud of the fact that didn't happen.
With everything said and done, what do you two take away from this series personally?
Adam Baldwin: First of all, a five-year run on any show these days is a true blessing and [then] to have been able to go through it with people who are nice and creative and funny and hardworking and just lovable. I mean, we're gypsies really in this business, and we travel from family to family on different projects. So to land on one for five years has been a joy and it's sad to see it go. But at least we have those five years together and we appreciated it while it was happening. So I just feel blessed and honored to have been a part of it.
Chris Fedak: That's a great point. And I think the other thing [is that] this show was a lot of fun to make, but it was also an incredible challenge. It must be one of the most difficult shows to do especially in the amount of time we have. And to do something that challenging to work with such a great team is really fantastic. To have worked with a great team like this is really one you're going to measure the rest of your career against.
My thanks to Adam and Chris for this interview, and congratulations to them on 91 episodes of Chuck. Don't miss the series finale at 8 PM ET/PT on NBC - and stay tuned afterward for my review.
(c)2012 Brittany Frederick/Digital Airwaves. Appears at Starpulse with permission. All rights reserved. No reproduction permitted.