Q&A: 'Chuck' Star Adam Baldwin & Co-Creator Chris Fedak Say Finale Is 'Epic And Special'
Tonight, NBC's Chuck signs off after five seasons - but not before I got some parting words from star Adam Baldwin and co-creator Chris Fedak.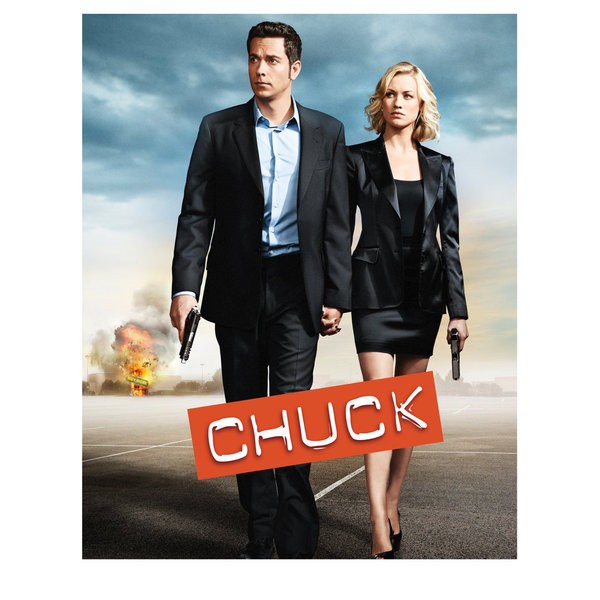 Chris, what can we expect from tonight's finale?
Chris Fedak: We have essentially an epic finale for you guys. It's going to be different than anything we've ever done before on Chuck. We knew that we were building toward our final episode, and we really wanted to put together something special.

It's going to be a two-hour finale. The first part of it is called "Chuck Versus Sarah" and the second part's called "Chuck Versus the Goodbye." Everything is at stake. All of our characters are at a crossroads, and it's going to be interesting to see how it all falls out. But it's definitely the biggest thing we've ever done.
With the show's fate usually uncertain, you've written a lot of season finales that had the potential to be series finales. Did any of that experience help you writing the real series finale?
Chris Fedak: Well, hopefully I've gotten good at it. All the finales that we've built, we were hoping to come back. And so we built them in such a way that they implied a big new season coming next year or in a few weeks.
This time we knew that this was going to be our final episode. When NBC picked this up, they were very clear that this was going to be a 13- episode run and that this would be our final season.
So when we started working on the finale, it was much more like "This will be the final chapter. This will be the final moment of this show and we need to resolve these stories that we've been working on for five seasons now." And that the finale isn't so much a finale just for season five, it's a finale to five seasons of the show. So it's definitely different.

Now, in regard to the writing of it, that was a panic attack on a daily basis because with the size and the scope of five seasons of the show, there were many days where it was hard to even look at the board in the writers room and then to consider the page. When we finally cracked the story, it was a big moment and there was a lot of emotion involved in a process that's usually pretty solitary.

Josh [Schwartz] and I had a couple of big moments that we wanted to get to in the show. We knew we wanted to do the end of season two. We knew we wanted to bring Morgan into the spy world. We knew that we wanted to explore Casey's backstory and his family. And so we had these big moments that we kind of knew that we wanted to be part of the show each season.

In regard to the very final moment of this season, it was something that we came up with at the end of last season and it was a part of our pitch to NBC for bringing us back. And so this year, we knew we were heading toward this final moment of the show. That was a year in the making.