Q&A: Cary Fukunaga And Mia Wasikowska Dish On 'Jane Eyre,' Working With Judi Dench, And More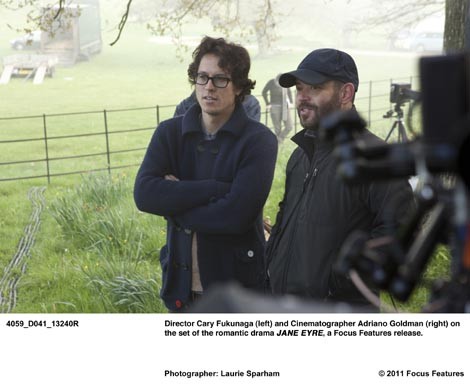 You may remember director Cary Fukunaga's 2009 hit Sundance film "Sin Nombre," for its vivid depiction of class struggles in Central America, but even if you don't recall it, you most likely know actress Mia Wasikowska, who has starred in movies like Tim Burton's "Alice in Wonderland" and the 2010 Best Picture Nominee "The Kids Are All Right." 
Fukunaga's latest project "Jane Eyre," is yet another adaptation of the classic Charlotte Bronte novel by the same name, about a shy governess (Mia Wasikowska) who falls in love with her employer, a charming man (Michael Fassbender) with secrets.  What may set this particular version apart is the darker focus of the story, emphasis on class divisions and performances from talented actors like Wasikowska, Fassbender, and Judi Dench.  
This week, I had the opportunity to participate in a roundtable interview with both Cary Fukunaga and Mia Wasikowska.  My group had a chance ask them about the film, about working with a veteran actress like Judi Dench, and about life on the road promoting films.   
Q: What was it that drew you to "Jane Eyre?"  Was it the story or the location? 
Cary Fukunaga: I've certainly never been dying to go to England my entire life.  It's just one of those things that sort of happened.  I love the story and I happened to be in the UK promoting "Sin Nombre" and I had a general meeting with the BBC and found out it was on their slate, and that's how I crossed paths with it. 
Prior to that I hadn't really thought about taking on someone else's story or screenplay, but it's a classic.  It seemed like a really interesting sort of second film, rather than spending another year or two developing the one I was already writing so it gave me the opportunity to direct another feature, which was another attractive part about it… 
Q: It's a story that's been told 27 times…
CF: How many of them have you actually seen though? 
(Laughter)
CF: I had no idea. When I signed on I knew about the black and white one and that's it.  And as I sort of started to do the research on the other ones, I kind of got addicted to that world, that style of world; I was amazed there were so many versions of the film. I was floored there were so many versions of the film. 
I've gone to press screenings and they've said the movie has been made every 5 years if you average it out, and I have no doubt that it will probably be made again.  Why?  It's the same question of why we do anything again with movies and plays.  Shakespeare is repeated around the world in different languages, just because it's good storytelling.  At this point it's a classic.
Mia Wasikowska: And classics are always relevant.
Q: Mia, were you at all intimidated to work with Judi Dench?
MW: Yeah.  She instantly disarms you so the intimidation doesn't last long, but she has a really young spirit, so she's really modern and friendly, just so cool.  She'd go missing and you'd find her in the corner making shadow puppets in the light, she's really a lot of fun. 
CF: Either that or her sewing or knitting, with what needlepoint? 
MW: Yeah. 
Q: Cary, how long did it take you to find the right Mr. Rochester?
CF: He (Michael Fassbender) was the first person that we thought about in my initial meeting with the producer and the writer to come up with ideas.  I had seen him about a year before or about nine months before in 'Hunger' and I had probably seen him before but wasn't aware of it.  So after seeing him in that role, when I read the script, I thought of him. 
Q: What makes him the right Rochester for you Mia?
MW: He has qualities of being both potentially dangerous and also really vulnerable, and loving.  So it's the right mix of excitement, and fear, and challenge.  As an actor it's so easy to work opposite him because you can completely believe it.  It's just so natural.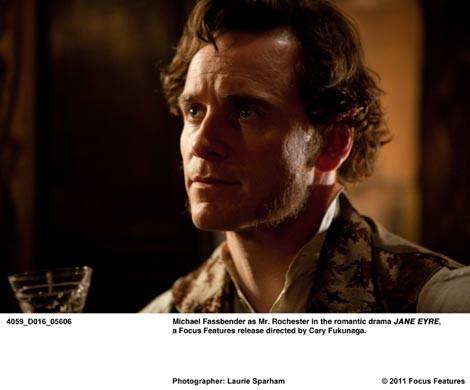 Q: In some of your roles you've acted in a very enclosed space.  What's the difference between acting in something like that and acting in something more expansive?
MW: The thing is with 'In Treatment' we had the luxury of really long takes and that's what those scenes provide.  I loved doing the scenes with Michael (Fassbender) around the fireplace, because so often acting is about action and then cut.  You have to sort of get an energy for a certain amount of time and it's dropped.  And action again and then drop.  With 'In Treatment' we would roll for like 7 pages at a time which was like 10 to 15 minutes.  That is so rare.  I've never done that since, rolling for such a long amount of time.  There's something about living in that space, for that amount of time, that allows you to explore things that you're not normally allowed to with films that are so fractured and broken up.
Q: Do you feel like that gives you more dynamic range with where you can take your character?
MW: Yeah with films usually you're jumping from this to that; this is how she feels now and then the time in between the audience doesn't see that change.  Now she feels differently the next time you see her.  With 'In Treatment' it's a half an hour in the same space.  In the end you know why she feels like that because you've lived everything in between, and in film you never live the in-between; the stuff that seems to boring to include, and that's a great luxury.
Q: I read that both of your parents are photographers and that you dabble a bit yourself.  Did you take any interesting snapshots while you were on set for this film?
MW: Yeah I had a lot of fun taking pictures for this film.  We have such an interesting perspective as actors because a lot of the behind the scenes photography is taken from the outside looking in at the clump of people setting up shots.  It dawned on me that my inside perspective being in the middle of everything is really interesting seeing all of the compositions.  So I keep a camera in my pocket, and on 'Jane' the costume department often put a little pocket in my dress, so I had my sneaky camera.  It was great.  You can get such an interesting view. 
Q: Mia what's the experience like on the road promoting a film like this?
MW: It's a big contrast from being on the film set.  It's a really interesting side bubble that everyone experiences I think, including the directors and the rest of the cast.  It's fun.  I get to see the different parts of America that I've never seen before and it's really cool being able to travel.  It's strange because it's been a year since we shot 'Jane' and with 'Alice' it had been two years since we shot it, so it would be like going back in time, and you talk about something which seems like a long time ago but it's only sort of becoming present.
Q: Do the times on the road affect how you think about the production?
MW: Kind of because when you're shooting the film you don't really know what it's going to be.  You sort of have an idea of what it's going to be and then when you see the posters and the trailers, you're like 'so okay that's what this is.'  Interesting.  It's a continuation of something you thought ended, but didn't. 
"Jane Eyre" opens in theaters tomorrow.