Q&A: 'Body Of Proof' Star Mary Mouser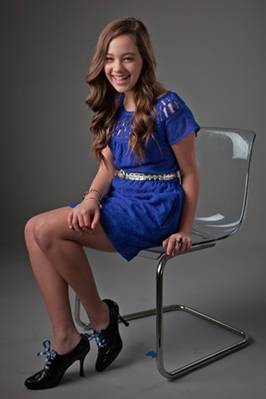 On ABC's Body of Proof, she plays Lacey Fleming, daughter of Dana Delany's Dr. Megan Hunt. Mary Mouser recently stopped by to chat about what it's really like to play someone's TV kid - and what it takes to play opposite yourself.
What's been your favorite aspect of this season of Body of Proof? What makes you excited about the show?

I think my favorite thing about this season is Lacey opening up. She's starting to trust more and recover some of that relationship with her mother. I've forgotten her as a character. She's become part of myself, I guess.
I love the show because for me, it's getting to work with amazing people. Honestly, like the nicest people you've ever met. The cast and crew work great together.
How has it been to work with the cast? Aside from having Dana Delany as your TV mom, you also have a great TV dad in Jeffrey Nordling. Both of whom starred on ABC's Desperate Housewives.

He's such a sweetheart. As a kid, I never watched Desperate Housewives until I got older, but working with Dana has been a huge inspiration to me. She's taught me a lot even just in between takes. That's my family, that's my world.
You also have some interesting guest stars on the show. Tonight is Jamie Bamber's first episode as your mom's new love interest. Is there anyone you'd love to have on the show?

I saw Sean Kingston and then later on I heard about [his guest appearance]. I was freaking out. [I'd] like Robert Pattinson. Or Nick Jonas.

Aside from the show, you recently starred as both lead characters in the Disney Channel movie Frenemies in January. What was it like to play opposite yourself?

It was a lot of running around but it was a lot of fun. There was a scene we filmed in a mall. They'd have to set up the cameras and I'd have to shoot it as one person and run and change and shoot it as another person. People were staring at me like I was crazy.

Is there another piece of work on your resume that you really enjoyed?

I'm definitely really proud of Frenemies. That was something that I loved. Parents who watch Body of Proof, their kids can watch that.
There's a show I did called Life Is Wild. I've done a lot of episodic [television]. I've been on things like CSI, Without A Trace, Lie To Me, Life and NCIS with Mark Harmon.
Have you thought about a goal for your career?

I just hope to be able to work as long as I possibly can. As long as I can keep doing this.

What do you do when you're not working?

I love to read and I love to write. I love to read. You have no idea how many books I have. I love to sing. I'm learning guitar right now.

Who are some of your favorite actors? What shows do you watch?
I love all the Twilight characters. I can watch Kristen Stewart and think, "I want to be that role someday."
I am obsessed with Vampire Diaries right now. I'm a huge Vampire Diaries fan. My sister got me into Doctor Who. Those are my biggest things.
My thanks to Mary Mouser for this interview! You can learn more about her via her Twitter and Facebook pages, and check her out as Body of Proof returns with a new episode tonight at 9 PM ET/PT on ABC.
(c)2012 Brittany Frederick/Digital Airwaves. Appears at Starpulse with permission. All rights reserved. No reproduction permitted.