Q&A: Betsy Brandt On What Makes 'Breaking Bad' So Good
When last we left Breaking Bad's Marie Schrader, she had seen her husband, DEA agent Hank Schrader (Dean Norris), shot four times. Accusing his colleagues of not doing enough to protect him, she found help in the person of her sister, Skyler White (Deadwood's Anna Gunn), who offered to pay for Hank's medical expenses...with money that Marie believes came from illegal card counting. Oh, if she only knew. Now as season four of Breaking Bad arrives next week, I sat down with actress Betsy Brandt to discuss Marie's continuing journey and what it's been like to live in her skin for this long.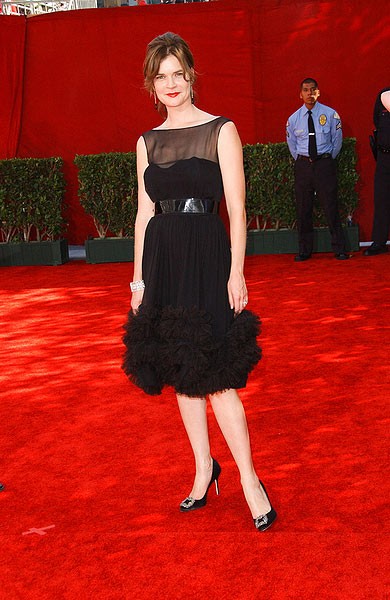 What can you tell us about where Marie is at when we catch up with her in season four?
She just got Hank out of the hospital. I say 'she' because I take full and complete credit for that. He's just out of the hospital and they're having a hard time. It's an adjustment. I think they have their roles in their relationship, and I think him not being the able man that he was is tough on her, and maybe tougher on her than she thinks it should be.
You're dealing with some pretty heavy themes this season - seeing a loved one shot and having to deal with that person's recovery. How did you prepare for the material?
I just love it. I feel like the preparation for me was the show, because the show is so consistent. Seasons one, two and three laid the groundwork [for season four]. Also, I became friends with a woman whose husband is a DEA agent, and it was great for me to talk to them. Marie's so proud of Hank and what he does. He's the good guy busting the bad guys. I thought that was a really big part of who they are.

If you had creative control, where would you like to see Marie go? Is there anything you'd like to explore with her?
I would keep her in purple. I throw this out there frequently, but pretty much every year I ask Vince Gilligan for Marie to get a gun and have really good aim. I would love to see her get in on the action. But I love being surprised by the writers. At the end of the show, I really just want all of them to have their journey, whatever that is.
What's been the biggest challenge with her character?
The biggest challenge is it's hard to see her when she screws up sometimes. She's so stubborn. I also love that about her. And I think she's getting better [because of] the things she's had to deal with.
You've played Marie for four seasons now. What have you learned from being her for so long?
Two big things. First and foremost, especially this season, is [Marie and Hank's] marriage. I've been married for over ten years. It really is "for better and for worse, and in sickness and in health." The other thing is, even from the beginning, I feel like she's not a bad person, but she is a difficult person, which makes it even harder to deal with her. You can't hate her, but she's not easy.  
Four years is a long time for any series - sometimes at this point this is where the age starts to show. What do you think keeps Breaking Bad interesting?
The material. The material is amazing and always was amazing. Everybody - all the actors and the writers and the crew and the producers - shows up and works really hard and wants to make the best show that we can. I think when you have material like this you feel a responsibility to not waste it. We get really good people on our show, and we're happy to have them.

Do you have a dream role or project that you'd like to pursue?
There are a lot of really good TV [shows] out there. It'd be great to do some other TV. Breaking Bad is definitely my home, but I'd love to have a nice hiatus gig, like a recurring role. Or to do a good film. I'd like to do a Woody Allen movie. I really didn't have a plan and that's okay with me.

What are some of your favorite TV shows? What would you recommend to our readers?
One show I'm really missing [is] Six Feet Under. I'd like to be on the next Six Feet Under, whatever that is.
I think the shows that AMC has on right now are really pretty fantastic. Bryan [Cranston] really put us on the map with his consecutive Emmys. I like Mad Men and I think The Killing is pretty great too. I like Brothers & Sisters. I love Nurse Jackie. It's phenomenal. Other than my show, I think that's my favorite show.

My thanks to Betsy Brandt for this interview! Check her out when Breaking Bad returns to AMC next Sunday, July 17, at 10 PM ET/PT.