Q&A: Ashley and David Eckstein Celebrate Fandom With 'Her Universe'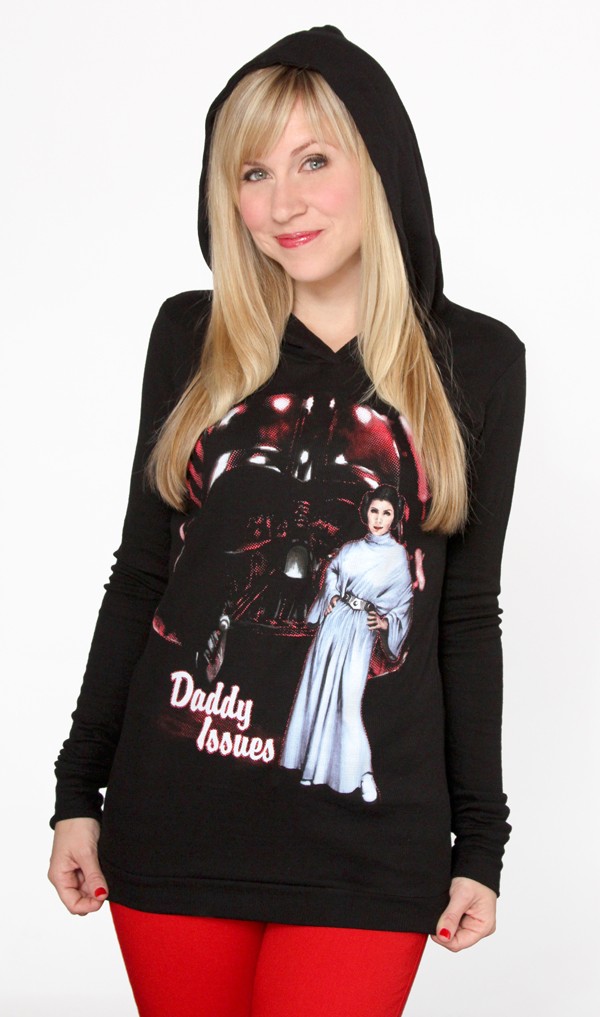 This is a company for the fans - so what would you two say that your fandoms are?

Ashley Eckstein: I've always been a sci-fi and fantasy fan. I was a Star Wars fan growing up as a kid. Playing a role on Clone Wars was a dream come true. I'm also a huge Disney fan. My dad worked for Disney. I grew up in Orlando. I love Alice in Wonderland. I'm going to put together an Alice in Wonderland room.

David Eckstein: Other than baseball, my thing is, I love wrestling. I watched wrestling non-stop as a little kid.

Ashley Eckstein: He DVR's it.
What's the biggest geek moment you've ever had?

David Eckstein: SyFy had a Christmas party and [pro wrestler] Cody Rhodes was there. And I just get so shy, I can't even speak, and Ash had to walk over there.

Ashley Eckstein: He made me watch the documentary on [Cody's father and wrestling legend] Dusty Rhodes one day, so I got the rundown and I knew how excited David was.

Give me the coolest piece of memorabilia in your collection.

David Eckstein: I've got John Cena's heavyweight title belt. It was on auction at a fundraiser and Scott Rolen bought it for me.

Ashley Eckstein: One thing that's cool that we did as a fundraiser is, Louisville Slugger was kind enough to donate bats to us for the Boys & Girls Club of America. The worldwide Star Wars fan group painted each bat to look like a lightsaber, It was David's bat painted to look like Ahsoka's lightsaber. Some of the Padres players signed it [and] some of the Star Wars cast.
You're both significant in certain fandoms, with Ashley being in Star Wars and David as a World Series MVP. Do you ever stop and reflect on your place in that history?
Ashley Eckstein: Oh, gosh. I don't think we really think about it. We've just been very blessed to have the opportunities we've had. I definitely pinch myself and think, "How did I get here?" Because we're fans, you don't take it for granted.

David Eckstein: It was more in the sense of, it was something I always wanted to accomplish. It was what I dreamed about as a kid. It was a dream come true.
Aside from the obvious, is there something in your respective careers that you're particularly proud of?
David Eckstein: It goes back to the two World Series. To look back and say that you were part of two teams that won, that was really cool to me.
Ashley Eckstein: I always wanted to work on the Disney Channel growing up, and I had the opportunity to do that on That's So Raven. I'm working on a new show for the Disney Channel; I can't really say details yet, [but] I grew up watching the Disney movies, and to be involved in this project is very similar in many ways, In front of the producers, director, and my husband, I geeked out. I rambled for like five minutes with tears in my eyes. "You don't understand, this is a dream come true!"
I [also] always wanted to play the good guy and with Star Wars: The Clone Wars, that's been really cool and rewarding. Working in children's programming, you realize you're making a difference in kids' lives. To play such a positive character for kids has been such a rewarding experience.
What shows are you currently watching?
Ashley Eckstein: We're big TV watchers. Where do we even start? We love Face/Off, on Syfy. We're big fans. We actually picked that up before anyone ever knew about it.
We watch Desperate Housewives, American Idol, The Voice, Survivor, Celebrity Apprentice, Biggest Loser. The Mentalist, Person of Interest, Being Human, The X Factor, Parks & Recreation.
My thanks to Ashley and David for taking the time for this interview! You can find more on Her Universe at the website and on Twitter at @heruniverse, and keep an eye out for them at this year's San Diego Comic-Con in July.
(c)2012 Brittany Frederick/Digital Airwaves. Appears at Starpulse with permission. All rights reserved. No reproduction permitted.