Q&A: Ashley and David Eckstein Celebrate Fandom With 'Her Universe'
One of the joys of fandom is being able to share your passions. And thanks to Ashley and David Eckstein, that just got a lot easier (and cooler) for women.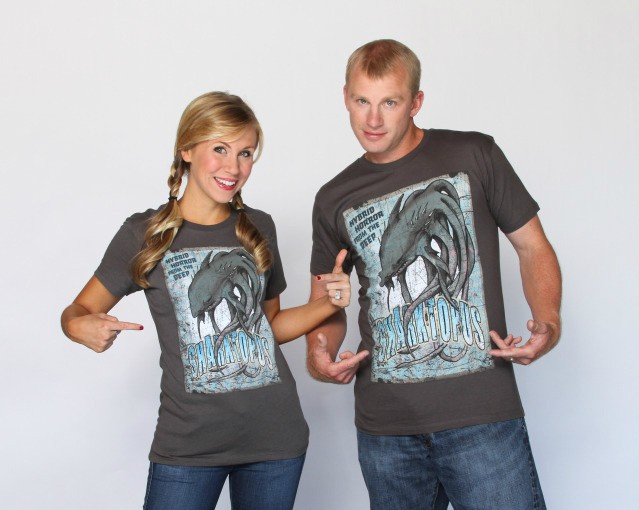 Representing one's fandoms can be a difficult task for the female gender. I say that from experience; I'm all about showing off my allegiances. One of those happens to be to the San Diego Padres, and I went on a rant when there wasn't a T-shirt for my favorite second baseman, a certain David Eckstein. You can imagine my delight to hear that someone that I am a huge fan of was making it easier for me to represent the things I love.
Ashley and David have stepped in to help out the female fan with their company Her Universe, which is oriented toward the ladies who love Star Wars, Battlestar Galactica and yes, even Sharktopus. The merchandise they've come up with is certainly different; check out these awesome Battlestar pilot wings, for example.
What makes Her Universe even more unique is that they approach the business as people who are both fans, and part of two huge fandoms: David is a two-time World Series champion and Ashley is the voice of Ahsoka Tano in Star Wars: The Clone Wars. They know what they're talking about, because they've been a part of the fandom experience in every way possible.
I recently connected with Ashley and David to ask them about the company and their own fandoms. Read on...
This is a really great concept. What inspired you to create the company?
Ashley Eckstein: It goes back to sports, because Alyssa Milano started her own line called Touch, and it's for female sports fans. She started with baseball and I know she's expanded now. Half of all baseball fans are women, and we were stuck buying the boxy men's jersey. She approached MLB [Major League Baseball] and wanted to do a line made for women. The second her line came out, I was just so grateful. I enjoyed wearing outfits made for me.
Once I got the job on Star Wars, I started going to events, and I'm a big Star Wars fan. I just wanted clothes and merchandise made for women. I thought it existed!
You're not just business partners, but also happily married. I know people who can't stand being in the same room with their relatives, let alone working with them, so what's the secret to your success?
David Eckstein: It goes pretty well. Ashley handles most of the stuff, and I just come around for the big meetings. (laughs)

Ashley Eckstein: The thing is, I respect David's opinion more than anyone. He's usually the final say when I have a question. He doesn't specialize in designing women's clothes, but I know I'll get an honest opinion from him. We just trust each other.
At the same time, Ashley, you're still a working actress. How do you two balance this with everything else that you do?
Ashley Eckstein: A lot of travel. Once David stopped playing [baseball], you'd think that the amount of travel would slow down, but it really hasn't. The nice thing is, especially last year, we were together all the time. We sometimes didn't know what city we were in, but we experienced it together.