Q&A: Andy Grammer Talks Life, New Music & More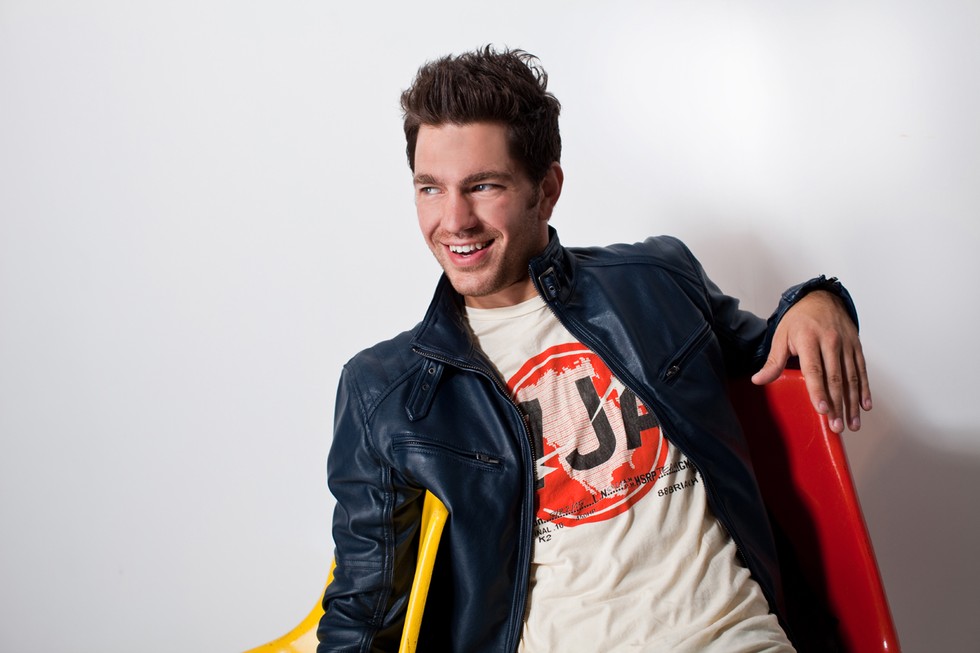 Singer/songwriter Andy Grammer is kicking off his newest tour on May 27th with pals Colbie Caillat and Gavin Degraw—but before hitting the road, we caught up with him to chat about life, new music and to find out what his top five songs are!
Check it out!
Starpulse: So what's up? Where are you right now and what are you doing? We like to set the scene for your fans/our readers. 
Andy Grammer: I'm in a hotel room in Boston. Just had a lobster. Feeling pretty good about life.
SP: Next to Ryan Seacrest, I think you may be the hardest working man in entertainment! You're popping up everywhere from tours, Jay Leno, Disney's So Random, in the studio... walk us through a typical day in your life and how you balance everything from press, creating music, fans, etc.
AG: Balance haha. Not sure there is much of that. Basically every day is a version of that TV show "The Amazing Race" and then a lot of those days have a show at the end. The shows are probably the biggest rush I have experienced in life and I am addicted to them. :)
SP: What goes into creating a track for you, from lyrics to the acoustics, even producing?
AG: I just want to make something inspired and great. Sometimes that's simple, sometimes it's complex. Basically you just keep shifting everything around until it all feels authentic and right. Like this lyric isn't connecting, or that snare sound is too heavy. Basically trying to make something that will move people.
SP: Have any rituals before hitting the stage?
AG: It changes each tour. On the last tour it was making a 'bro' pun before we went on. There some really solid ones. 1. A-bro-ham Lincoln 2. Tim Te-bro 3. Supercalagradulisticecpiala-bro-cious. 
SP: You're hitting the road with Gavin Degraw and Colbie Caillat; have anything cool planned that your fans haven't seen you bring during a performance yet? Maybe a live, A.C.G collab? :)
AG: I mean that sounds awesome, I'll work on that. We haven't rehearsed for this tour yet but you gotta keep it fresh. I have ideas and tricks up my sleeve.

SP: Whose someone (producer and vocalist) you'd like to collaborate with that your fans wouldn't expect? 
AG: I'm a big fan of a Somalian Rapper K'naan. I think me and him could make a killer track.
SP: What are your top 5 songs on your ipod right now?
AG:
1. Run Everytime - Gavin DeGraw
2. Ray Charles - Chiddy Bang
3. Marvin's Room - Drake
4. Mountain And The Sea - Ingrid Michaelson
5. Sooner Or Later - Mat Kearney
SP: How do you handle all the screaming women that just throw themselves at you? It must be tough!
AG: Haha, it's not that hard. My fans aren't too screamy. They are more the type that show up and scream the words. And that is the coolest thing in the world.
SP: Its been about a year since your full length album release and less than a month since your LA unplugged EP. I'm sure you've got something up your sleeve your working on. Give us any deets?
AG: Lots of ideas and scribbles. Nothing to share quite yet but of course its coming. :)
SP: We're seeing a lot of artists now who are being versatile with their music--putting all types of genres together instead of sticking to one specific category. Can we see you crossing over or even meshing, with say dubstep, hiphop, classical, country even?
AG: I love that the rules are out the window right now. It's just gotta sound fresh. I'll pull inspiration from anything as long as it sounds awesome. My favorite is to pull from hip-hop, piano rock and acoustic guitar but I'm not closing any doors to other influences.
SP: How can your fans connect with you.
AG: Hit me on twitter @andygrammer and on Facebook/andygrammer I respond a lot. Often I'll respond to everyone for an hour or two.
Click here to find a complete list of Andy Grammer tour dates!