Q&A: 'America's Got Talent': The Top 10 Speak Out!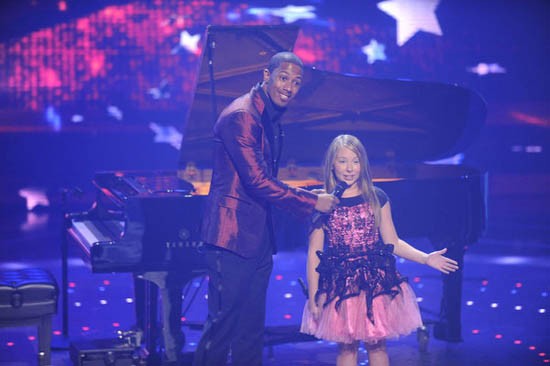 America's Got Talent has narrowed down its field to the ten best acts of the season, from singers and dancers to motorcycles and magicians. Before they take the stage for the finale rounds, AGT's top ten sat down with me to discuss what a long, crazy trip the NBC show has been.
Anna Graceman
Act: Singer/pianist
Favorite AGT act: "I love everybody here. I would go see anybody in Vegas."
Who's her biggest competition? "I think everybody here is huge competition. All of the singers are great, all the dancers, all the other acts...they're just all amazing. I could go up against any of them and I don't know what would happen."
What's been her biggest challenge? "There's a lot of excitement and a lot of hard work, and I think, being a kid, it's really hard to work with all of that. That's something that I've had to work on."
More intimidating: Piers Morgan or America's vote? "That's a hard one. I think both of them. Piers, he gives some pretty scary comments sometimes. America, they're the one that makes the choice, so I think they're both pretty tough on you."
What would her Vegas show be like if she won? "I haven't thought [about] that very much at all."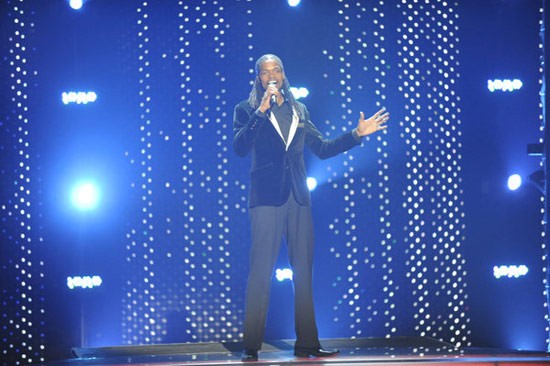 Landau Eugene Murphy Jr.
Act: Singer
Favorite AGT act: "My personal favorite was Snap [Boogie], because I started out as a dancer, trying to be Michael Jackson."
His origin story: "Singing came about by me playing basketball. Instead of me talking trash to guys, because I'm not big enough to do that, I'd sing to them. And then Married With Children came on, and they had that opening song, 'Love and Marriage,' and that's how I picked up Frank Sinatra. I wanted to do something classy. To bring chivalry back. It's been shot and stabbed. People don't have dinner with their families. They don't open doors for their wives or their girlfriends. I want to bring all that back."
His reaction to being not-eliminated last week: "I've recovered from the heart attack that Nick Cannon gave me. For him to do that to me was a big emotional roller coaster. I had to [be] like, 'Pull it together. Congratulate her. Okay, I'm supposed to go off these steps over here.' And then I'm like, 'Oh, Nick, why did you do that to me?' He got me really good."
Who are some of his musical recommendations? "I like Steve Wonder, Marvin Gaye, Curtis Mayfield, Frank Sinatra, Dean Martin, Ella Fitzgerald, Beyonce, Sade, the Temptations, the whole Jackson 5...the list goes on and on. It's a big list."
More intimidating: Piers Morgan or America's vote? "My biggest competition is America. I've got to get America to continue to love me. That was my biggest obstacle, just being an African-American singing Frank Sinatra songs. Everybody told me that I couldn't do it."
What would his Vegas show be like if he won? "It would be more like bringing back old memories for all my peers and creating new memories for the generation to come. You want to give them that old Rat Pack, Frank Sinatra, classic smooth, suave...all those personalities. That's what I'd try to bring."
Landon Swank
Act: Magician
Finale prediction: "There's four singers, four dancers, and me and [the Smage brothers]. I think that America's going to want to see a variety act in the top four. We're all so different. Any given night, any one of these guys can have a great performance."
How much does the 1:30 time limit affect his performances? "A lot. A lot of the magic that I do - that I've done my whole life, really - is about building a character. Setting up a whole presentation. It's very tough in 90 seconds to establish any kind of a character or real story. It's probably the hardest thing to have to overcome in the whole show."
Does he think about how a magician has never won AGT? "I don't think that I think about it as much. I try to be creative and different and unique every time. A magician hasn't won because it's a very tough format for a magician to win on. 90 seconds is very tough to be creative and put on a good performance."
What did he learn from being eliminated and then brought back as a wild card? "I definitely learned, especially from Sharon [Osbourne]'s comments. She said that she was confused about the presentation, and I wasn't sure how anybody could have been confused. Going back and looking at it again, really thinking about it, that helped me a lot and it really influenced how I presented the last two illusions that I did."
More intimidating: Piers Morgan or America's vote? "At this point, America. Piers has been so nice to me throughout the whole competition. He's the one who brought me back. I feel like Piers is my buddy."
Has he thought about his Vegas show at all? "I've thought a lot about how my Vegas show would go. It's been my dream since I was a kid."
Lys Agnes
Act: Singer
Favorite AGT act: "I really like Team iLuminate. I think they're really cool. And the Silhouettes. They have such a tremendous positive energy and it's just really cool to see."
Who's her biggest competition? "Team iLuminate. They definitely have the popular vote. There's no question about that."
Who are her musical recommendations? "I love Led Zeppelin. Pink Floyd. I like the classic rock."
On dealing with the attention: "It's intense. When I first came into the competition, there was all this tabloid stuff that started to happen, these rumors and made up stuff. It was kind of a shocker. I wasn't ready for that. I'm a sensitive person, so I've kind of had to buck up through this whole process. Personally, it's been very volatile. I'm discovering a lot about who I am as an artist and who I am as a person."
More intimidating: Piers Morgan or America's vote? "America."
What would her Vegas show be like if she won? "I just really want to fuse a lot of different genres together. Bring that operatic vocal presence, but with more accessibility behind it. I love that big orchestral sound."
Miami All-Stars
Act: Dance company
Favorite AGT act: "I have a favorite, but I'm not going to say," says co-founder Manny Castro. "If we don't win, I hope that person does."
How do they fit everyone on the stage? "A good choreographer must handle the stage - the size, the height. So far, the stage is perfect for us," says Manny. Adds his wife and co-founder Lory, "There's such depth to the stage, so actually, we do have a pretty good size. We've had more people on smaller stages."
What about the time limit? "You have to put a punch in every second. It makes you take out a lot of things you want to put in. You hope you didn't cut the wrong thing," says Lory.
On what they'll take away from the show: "A lot of these students, I've been teaching since they're three, four years old," says Lory. "Now they're thirteen and fourteen. The things that we're passing together now, those memories are the things I'm going to take away." Agrees her husband: "It's a beautiful ride, beautiful experience, everything has been a blessing."
Have they started thinking about their potential Vegas show? "He's been dreaming about it. Are you kidding me? He's got names," laughs Lory. Adds an enthusiastic Manny, "I have the name of the show, I have the cast, I have the costumes, I have it all ready to go."
Poplyfe
Act: Teen band
How they got their name: "We were actually named after a Prince song. He's not even pop," says singer Kehlani Parrish.
Don't call them a pop band: "We want people to be able to listen to us and everybody enjoys us. We want your grandpa and your mom and your little cousin to say, 'I like this whole album,'" says Kehlani. "We don't want to be a pop band." Clarifies keyboardist Dylan Wiggins, "We want to be a band."
Reflecting on the set mishap from their last performance: "They went up there and removed the latch [to the ladder] and then walked back down the ladder and forgot that [bassist Jaden Wiggins and guitarist Dillon Ingram] were up there," says Kehlani with a laugh. "We were just in awe that we got to play on something like that [set] because we're used to playing on the street."
On if their age factors into the competition: "We've grown together as a band.Not a lot of kids get this opportunity. We're doing what we love to do at such a young age," says Kehlani. "They go crazy because we're kids, but we play like we're 40," agrees Dylan, adding, "Don't underestimate us, man."
Who are their musical inspirations? "I went to a Katy Perry concert. She sang and danced the whole time. That girl is my idol, I love her," enthuses Kehlani. "We listen to everything. You can look at our iPods and probably not understand half of the things. There's different languages on there."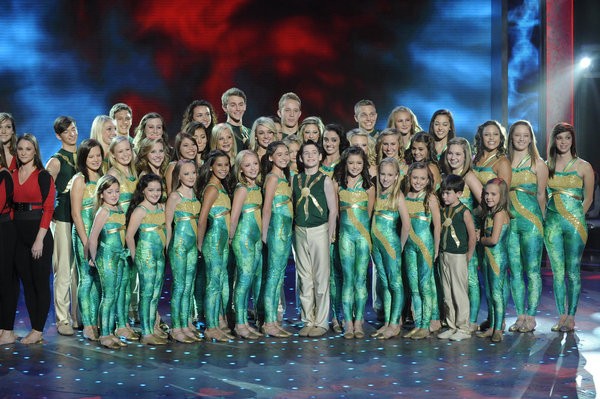 Silhouettes
Act: Shadow storytelling
On making it to the finale rounds: "We've been pinching each other. I have bruises, actually," laughs director Lynne Waggoner-Patton, "because we're all living the same dream. We keep thinking we're going to wake up at some point, but it just keeps going."
Stage parents, take note: "I'm working with children. I don't want them damaged by this process. We're certainly not going to keep them up till one, two in the morning. They asked us if we wanted an additional rehearsal later tonight, and I said no. These children need their rest, they need to play in the pool, they need to relax. We're not going to do that to the children."
How tough is it to put together their act? "That's the roughest part. Our act cannot be rehearsed unless it's on stage with the light, with the projector and with the screen. You can't see what you have until you have the screen [and] we can't monopolize all the stage time."
On dealing with stress: "It's really nuts. My husband's a firefighter, and that's one of the most stressful jobs out there. He came out for this last week and he said that was one of the most stressful things he's ever been through. He couldn't deal with the stress and the multi-tasking. You just take a deep breath and you go with the flow."
What would their Vegas show be like if they won? "I certainly have," admits Lynne. "I've had to. To have the budget of a Vegas show, so for me, if that's where it's leading me, it feels like I'm home. We've talked about doing like a children's day, where they come and learn to be Silhouettes and then they're in the show in the evening. We've talked about an in-house voting system where they get to choose their own ending of the show, so there's an interaction."
Smage Bros. Riding Shows
Act: Motorcycle stunt riders
Favorite AGT act: "We have to go with Landau. He's the man," says Phil Smage. "We had to say goodbye to our other best friend Snap Boogie. We almost wanted to give him our spot in the competition because we respect what he does so much."
Who's their biggest competition? "We've paid attention to the show. We know, most likely, a singer or a dancer is going to win, and we're okay with that. We joined this show just for the adventure. We don't expect the million [dollars]."
Secret weakness: Frozen yogurt from Yogurtland. What's Phil's flavor of choice? "Every flavor is great when you add the fresh toppings that they have. I'm going to go with strawberry mixed with chocolate milkshake and then throw in some New York cheesecake in there."
On the limitations of the AGT stage: "It's a huge hindrance. We're used to being out on open mountainsides where there's plenty of space. I hope it shows to the public how difficult it is to bring the skills that we are onto the stage, because it hasn't been done before, really."
It's not that dangerous: "Riding motorcycles is not safe, but you can get hurt in the shower just as much as you can riding a motorcycle...okay, maybe a little more in the shower," concedes Phil. "We get to see all the blogs about how we're going to kill everybody with our exhaust fumes and all that crap. It's uneducated people saying that we should die because we're killing people with our exhaust fumes."
Team iLuminate
Act: Glow suit dance group
Their origin story: "I had a background in software development," says team leader Miral Kotb, "I had an idea to let the lights be on the dancer, instead of the dancer being lit externally, so you could really see the movement and take away some of the preconceived notions about what dance is - telling stories in a whole different way."
Do they realize that they're the favorites? "We're our own worst critic. We just want it to work. We're so busy - rehearsing twelve to fourteen hours - that we're just focused on the show. It's more about the performance at this point."
What's it like to be in those suits? "It's actually fun," says team member Flipz, "but once we're in those suits and you turn the lights off, you feel like a superhero the entire time. You feel visually stimulated, and then once we put the piece together, it's like an out-of-body experience."
More intimidating: Piers Morgan or America? "Piers has actually been pretty supportive, to be honest," says Miral. "I think at this point it's a tie. If the judges aren't happy, they're going to make sure America realizes that."
But now, a few words for America: "Hopefully if we get the Vegas show or we find ourselves in different cities, we want to meet [our fans] in person," she adds. Flipz concurs: "I don't care where they are, I want to say a huge thank you and I would love for them to meet us in person, not just the content that they see but the people behind these suits. I wish we could meet them all."
How interesting are the Christmas lights at their houses? "My dad is the craziest guy when it comes to Christmas lights," admits Miral with a laugh.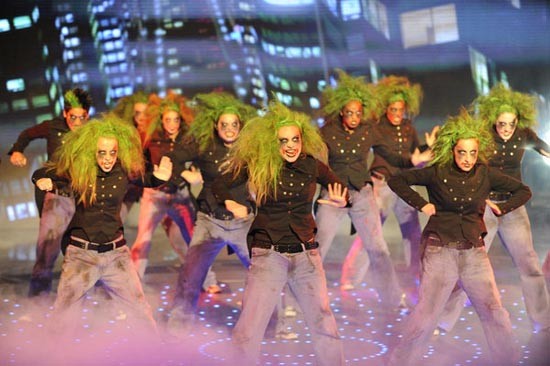 West Springfield Dance Team
Act: Dance group
Favorite AGT act: "We really love everybody here. We love all the acts and it's going to be so sad to see another person leave."
On their not-really-elimination: "We were like 'Aw, we're going home...oh, we're coming back? Okay, cool. What are we going to do?' It's like a roller coaster. There's no words to explain it. We're just from a high school in Virginia and now we're here in front of millions of people."
Did they give any thought to Sharon Osbourne's suggestion about changing their name? Nope. "We don't think we should because it shows where we come from. West Springfield is the name of our high school and that's what we're representing right now."
On how much they really scare people: "At one of our routines at our school, we actually got an email from a mom who said her daughter was terrified and didn't want to come to any more basketball games. It was kind of funny."
More intimidating: Piers Morgan or America? "It's scary what Piers is going to say, because he's really tough. Every time we go on stage, we're like 'I hope Piers doesn't buzz us.' It's kind of amazing how he hasn't buzzed us. Does he really like us?"
Have they thought about their Vegas show at all? "To be honest, we actually haven't thought about our show just yet. We definitely want to bring what we've been doing on the show. Same themes, maybe bigger and better. It's hard to think that's even possible right now."
Now that you've met the top ten, who will you choose to win it all and headline the tour at Caesars Palace in October? Don't forget to vote! The America's Got Talent finale rounds begin tonight at 9 PM ET/PT on NBC.