Q&A: 'Alphas' Star Malik Yoba
On SyFy's new original series Alphas, veteran TV actor Malik Yoba plays former FBI agent Bill Harken, the team member who always operates by the rules. As the show rolls out its second episode tonight, Malik sat down with me to discuss his new role and how it fits into his small-screen career.
You can also check out my recent interview with Alphas co-star Laura Mennell.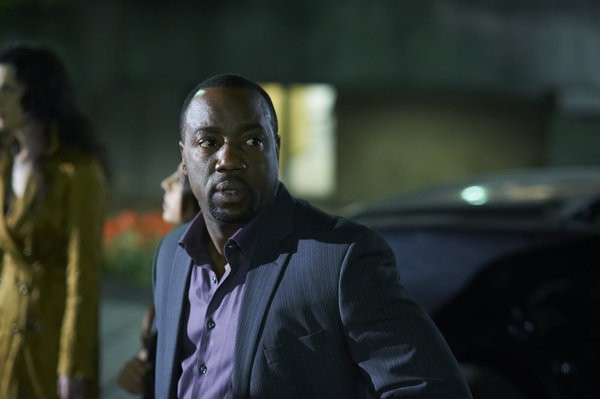 Let's start at the beginning. What drew you to Alphas and the role of Bill?
I thought he was cool. I didn't really get what the show was at first; I didn't realize how cool it actually was until we shot it. They aren't always clear, and then [when] you get into the room with the other actors, it kind of comes to life.
Without spoiling too much, what do we have to look forward to for him this season?
A good time. My favorite episode right now is number five, "Bill and Gary's Excellent Adventure," with me and Ryan Cartwright - the savant running around with the FBI guy. I think we can interchange who's the straight guy.
Every episode is so different from the other ones. We're shooting a scary one now. It all takes place in our office [and] Brent Spiner is in it. Overall it's just a good time.
Science-fiction shows tend to be heavy with special effects and fantastic concepts, sometimes at the expense of character development. As an actor, how do you keep from getting lost in all that?
The green screen stuff we've done has always been us in a car driving. It's not like doing Avatar. You don't really see the special effects when you're shooting it, so at the end of the day, you take it back to doing black box theater, when there's just you and minimal props. It falls on the story.
You also seem to have assembled a great cast for this show.
I think we're blessed. The older I get, the more I realize how much of a blessing it is to have the opportunity to work as an actor. The tendency is to develop an expectation that of course you'll still work.
We've got a good group of people. We're a good bunch and we get along, and that's what people get. We had to do a reshoot the other day for the second episode and we're on episode nine. It was a trip to kind of go back there and say, "Wow, we've come a long way."
We enjoy shooting it, and that's the best part. When you work on a series, every other week or so you get a new script, and even though you're on the show, you can be a fan of it objectively. That's what you want. You want to come to work every day excited, because that's where you get the best performance.
What's been your biggest challenge with the character?
The biggest challenge so far was the night before. We did this episode where there's a cult leader Alpha. He has the ability to essentially make everybody feel at peace. He's this angel of light. How do you portray that without it seeming hokey? You know that's going to be special effects, so how do you play that? How do you play a feeling you don't really know? When you do a role for awhile, it gets into your DNA. You know what their quirks are. And then to have to go completely against that but still be the character, that was the hardest part so far.
If you could have a superpower of your own, what would it be and why?
I'd have the ability to change my power into anything I want it to be at any given time. But I'm fascinated by language. So one of them would be the ability to understand any language, anywhere in the world.

You've done quite a few TV shows over your career (like New York Undercover, Thief, and Defying Gravity). Did you learn anything from those series that you've brought to working on Alphas?
Absolutely. The rhythm of television's very different from film. I'm happy to be 43, working on a series, and be able to take 20-plus years of experience, whether it's discipline on set or understanding storytelling. I'm also a director so I'm always picking around and being part of that conversation. The other thing I'm concerned about is how shows are marketed. It's so important to engage people.
For me, it's the best film school in the world, working on episodic television. We've already had nine different directors. You get to work with a lot of different people.
I know you appeared on one of my favorite shows, Justified (in the ninth episode, "Hatless"). What was that experience like?
Justified was cool, although in real life, that guy would've never beat me up. [Producer] Graham Yost was someone I worked for before, on a show called Raines. Graham was great to work for. They just called me up and said, "Would you do an episode?" which is always a nice phone call. I don't even think it had premiered yet when I did that episode. But I'm happy for all those guys over there with all those [Emmy] nominations.

My thanks to Malik Yoba for this interview! Alphas airs Monday nights at 10 PM ET/PT on SyFy.