Pussy Riot Star Maria Alekhina Hospitalized Over Hunger Strike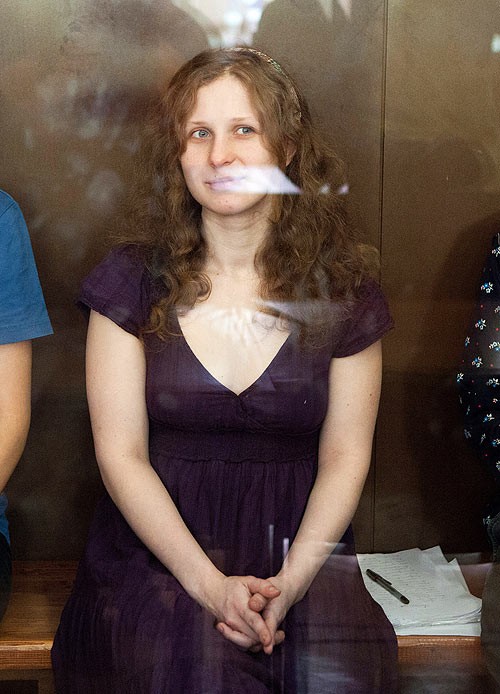 Jailed Russian punk trio member Maria Alekhina was hospitalized on Tuesday because of the hunger strike she began nearly a week ago to protest being banned from attending her parole hearing.

Alekhina, Yekaterina Samutsevich and Nadezhda Tolokonnikova, of the band Pussy Riot, were convicted of "hooliganism motivated by religious hatred" last year and sentenced to two years in prison after performing a protest song against Russian president Vladimir Putin inside a cathedral in Moscow.

Samutsevich was released in October after an appeal.

Alekhina, who began her hunger strike last Wednesday and was transferred to a prison colony hospital for treatment, was denied parole at last week's hearing; and she and Tolokonnikova -- who was denied parole last month -- remain behind bars.

Tolokonnikova's husband, Pyotr Verzilov, visited the penal colony where the girls are incarcerated and broke the news via a message on his Twitter page.

Alekhina claims that the prison is running a persecution campaign against her. "I see no other way of bringing pressure on the administration to negotiate other than starving myself," she said prior to beginning her hunger strike.

The star's lawyer's released a letter on Monday claiming that prison officials have been trying to get inmates to turn against her and encouraging them to intimidate her, according to USA Today.

Irina Khrunova, Alekhina's lawyer, filed a complaint in January claiming that her client was put in the part of the penal colony reserved for hardened criminals and officials had encouraged them to threaten her. She aslo claimed that false psychiatric reports were filed and that Alekhina was forced to violate some of the colony's rules.

Alekhina spent five months in solitary confinement after making the claims.