Puppy Love! Bar Refaeli Shares Sexy Pink Bikini Pics On Twitter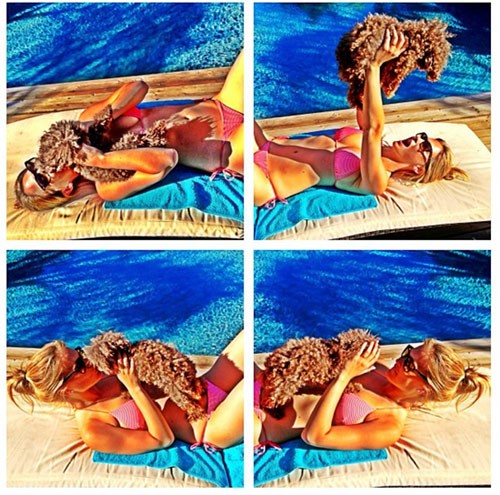 Bar Refaeli shared some adorable bikini pictures on Twitter on Tuesday. The model is pictured snuggling up to her pet pooch while wearing a bright pink two-piece swimsuit.

The Israeli star, 27, shows off her toned ab in the poolside snaps while spending quality time with her poodle MishMash. She tweeted four pics with the caption "A dogs life."

The supermodel is famous for posting sexy shots online. Last year she posed topless, tweeting a photo of her behind with the caption: "Watch your back!" She also put on a sexy black lace catsuit in a separate post. Meow!
She recently made headalines after Israeli military officers wanted her banned from a new campaign that promoted the Middle Eastern country. The officers were not happy she didn't complete her military service when she wed in 2007.  She later divorced and has since dated actor Leonardo DiCaprio.