'Psych' Recap: 'Dead Man's Curveball' (6.05)
Psych goes out to the ballgame this week, and treats us to a fantastic time. The only way this episode could get better is if it had come with a box of Cracker Jack.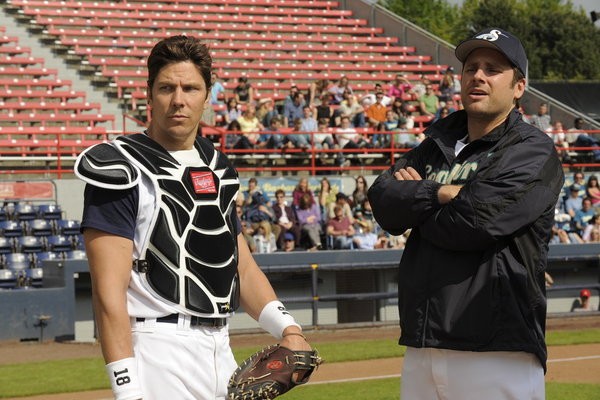 Minor league manager Mel Hornsby (the always fantastic Danny Glover) comes to Shawn asking him to look into the death of his hitting coach. To do so, Shawn and Gus join the team - even if Gus has to be the mascot. It's clear pretty early on that the victim was drugged, because Shawn makes the mistake of drinking a water bottle in the dead guy's house and likewise gets high on speed. (And James Roday does a pretty good job at playing someone accidentally wired and subsequently crashing.)
The investigation reunites him with ex-Texas Ranger Cal Eason (a very welcome Michael Trucco from USA's Fairly Legal), whose major league catching career was cut short by injury. Shawn's bubble gets burst when he suspects Cal might have done the deed to frame a hotshot in front of him on the depth chart. Trucco was underrated and underused in the first season of Fairly Legal; he's got a great combination of charisma and attitude that makes even the most basic scenes he's given interesting. I'm glad to see him here - and because I like him, I have to admit I'm glad that his character isn't the guilty party.
That's the team's general manager, who signed the hotshot to an expensive contract and is watching his career go down in flames because of it. He was willing to do anything to get the dead weight off the team. He wants to shoot Shawn and Gus, but Cal - and the sudden arrival of Wade Boggs - frightens him off. Henry knocks him out cold and then asks when Steve Garvey is going to get in the Hall of Fame. Touche, Mr. Spencer.
"Dead Man's Curveball" pleasantly reminds me of Major League - which is funnier because Corbin Bernsen was one of the stars of that classic comedy - from the unscrupulous GM to the on-field fight amongst teammates. For baseball fans, it's the gift that keeps on giving. It even includes a cameo from twelve-time MLB All-Star Wade Boggs (and as a football fan, I'd be remiss if I didn't also mention Shawn's name-check of former San Diego Charger Darren Sproles). And as if that's not enough, there's Woody (Kurt Fuller) going Gallagher on a watermelon and claiming he embalmed legendary Tigers manager Sparky Anderson.
Whether you're a fan of baseball, a fan of Psych or both, there's something for everyone in this episode, bolstered by the great guest cast. I would call it my second favorite episode of the season behind "Last Night Gus." Now when will the show do an NFL Draft episode?
(c)2011 Brittany Frederick/Digital Airwaves. All rights reserved. No reproduction permitted.