'Psych' 5.14 'The Polarizing Express' Review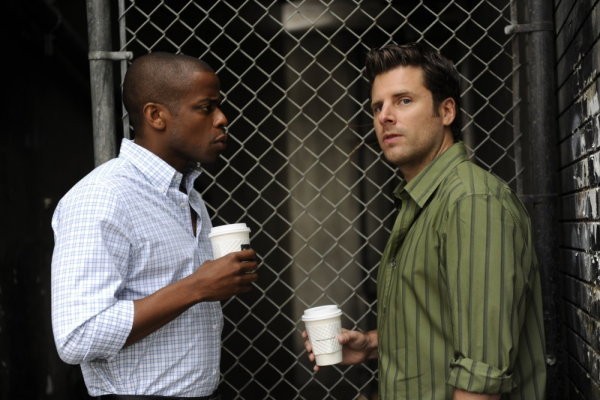 Shawn apparently didn't learn anything from his academy crash course last week, because he's gotten the Santa Barbara Police Department in further hot water in Psych's holiday episode. You know what that means - it's the perfect setup for an It's A Wonderful Life scenario that shows Shawn what things would have been like without him (at least how he perceives it), guided by actor Tony Cox (playing himself).
Henry becomes an overweight, pathetic shadow of himself, still pining over Maddie. Gus's new life resembles a bad sitcom (and that's exactly how it's presented). Lassiter is Chief of Police and presiding over a crazed department that includes Vick yelling into a megaphone. Juliet is still in Miami, riding a patrol car and dating Dwyane Wade. The alternate reality sequences give all the main cast license to cut loose and be wildly different, and they're all hilariously strange. The real scene-stealer, though, is Cox, whose smart mouth and sour attitude put Shawn in his place at every turn.
In the present time and place, everyone is trying to salvage what's left of their case. This gives Tim Omundson a chance to be Lassiter at his disgruntled best, whether it's unintentionally revealing that he'd like to be played by Powers Boothe, or admitting that a lack of animosity between him and Shawn actually freaks him out. Omundson's interactions with James Roday seem to especially pop this episode. (As a fan of that show, I enjoyed the Clean House reference.) Roday himself is especially energetic; anyone who doubts his comedic abilities should be silenced by this outing.
The plot isn't particularly novel (really bad guy kills a woman and her fiancee seeks revenge, then there's a last-act reveal that the bad guy's been extorting the entire neighborhood), but this is the rare occasion where that's not the point. The highlights of this episode are the little moments here and there, whether it's the fake sitcom credits or the neighborhood coming together to testify against the bad guy. There are lines here that are going to be quotable after the fact (I enjoyed the quip about Gus ending up in a dodgeball league) and as long as an episode sticks in my memory for some good reason, I consider that a win.
Need to catch up with Psych? Check out full show coverage in the Psych category at my blog, DigitalAirwaves.net.