PSY Teaches U.N. Secretary General 'Gangnam Style' Dance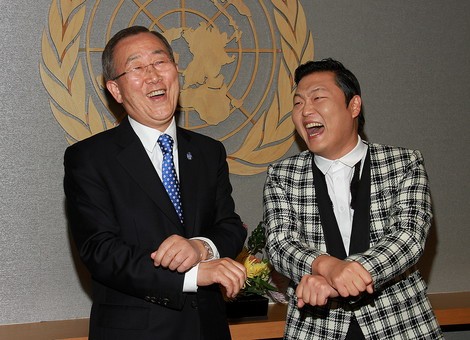 Pop sensation PSY headed to the United Nations Headquarters in New York on Tuesday to share his unique dance moves with U.N. Secretary General Ban Ki-Moon.

The rapper gave his fellow South Korean a one-on-one lesson in the famous Gangnam Style dance and the U.N. official even shared a few jokes with Psy.

Ban told reporters he felt overshadowed by Psy's sudden global success, saying, "I'm a bit jealous. Until two days ago someone told me I am the most famous Korean in the world. Now I have to relinquish. I have no regrets."

And Psy admitted meeting the Secretary General was a dream come true: "For all the Koreans he is the guy, you know, in everyone's heart in Korea, the best among the best.

"To be here and he knows me... is so touching right now, and he's saying he saw my video... This is much more better feeling than when I did (reached) number two on Billboard."

Ban joins Psy's ever-growing list of celebrity fans who he has taught how to dance Gangnam Style - Britney Spears and Hugh Jackman have also learned the moves to the catchy tune.