Proud New Dad Simon Cowell Shares Photos Of Baby Eric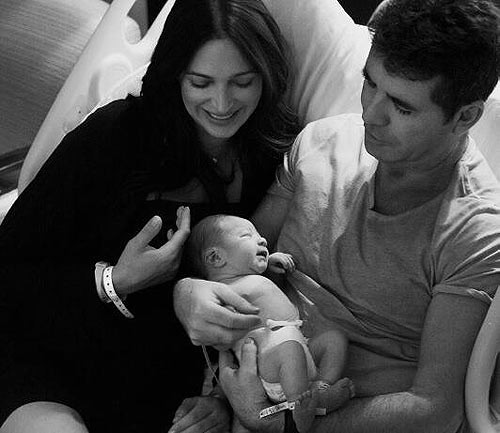 Simon Cowell's world has changed since becoming a dad for the first time over the weekend.

The music mogul shared a few photos of his newborn son on Twitter on Sunday, leading us to believe he'll have no problem with changing diapers after all.

Cowell posted a photo with his new son and girlfriend Lauren Silverman on Sunday, writing, "I never knew how much love and pride I would feel."

According to Britain's Sunday People newspaper, the first thing Simon told the baby was, "I've waited all my life for you."

A source told the newspaper that Simon and Lauren are "completely obsessed" with their new child.

Simon hopped a plane from London to New York on Friday immediately after learning Lauren had gone into labor, where she gave birth at the Lenox Hill Hospital. He gave an update on how they're all doing on Sunday.

"The last three days have been incredible. Eric Lauren sqiddly and diddly all happy," he said.

Squiddly and Diddly are his two dogs.


Mum, Dad and Eric. Now two days old. pic.twitter.com/ChWlrXmtmO

— Simon Cowell (@SimonCowell) February 16, 2014
…. now you can see how very handsome little Eric is. pic.twitter.com/cF5fhaFXqR

— Simon Cowell (@SimonCowell) February 16, 2014
I never knew how much love and pride I would feel. pic.twitter.com/bjwhJvrFBd

— Simon Cowell (@SimonCowell) February 16, 2014