'Project Runway' Season 12 Premiere Recap
Season 12 of "Project Runway" kicked off on Thursday, and I have to say it's already better than Season 11 (aka The Boring Season I Totally Bailed on Recapping Until the End). For one thing, the designers aren't being forced to work exclusively in teams — a format instituted last season that I hated from the get-go. Another welcome change is Tim Gunn's presence at the runway shows. Although he won't actually be able to judge since he's the group's mentor, he will get the power to use one American Idol-esque "save" on an eliminated contestant. He also will be bringing the models down to the judges' area after each runway so they can get a closer look at the designs.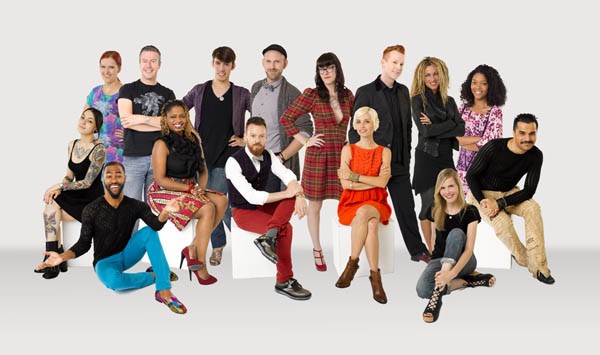 Back row, L-R: Karen Batts, Jeremy Brandrick, Timothy Westbrook, Justin LeBlanc, Miranda Kay Levy, Alexander Pope,  Sue Waller, Dom Streeter. Front row, L-R: Helen Castillo, Ken Laurence, Kahindo Mateene, Bradon McDonald, Angela Bacskocky, Alexandria von Bromssen, Sandro Masmanidi.
Some other interesting changes include a new sponsor (that thoughtfully-used accessory wall is now provided by Belk) and new digs (the designers moved from the Atlas apartments to the Refinery Hotel). The contestants also have individual GoBank accounts and are responsible for managing their budgets for each challenge. (If at least one person doesn't run out of money and throw a fit, I will be shocked and disappointed.) And speaking of cash, this year's prize is the biggest in "Project Runway" history, with a winner's package valued at over half a million bucks.

There are a few leftovers from Season 11, including designer Kate Pancoke, who was chosen by fans to get a second chance on the runway. From what little I remember of her, I have no issue with this. However, I'm not really thrilled that Zac Posen is still on the judging panel. Don't get me wrong; it's not that I dislike him. He seems like a nice enough guy. He's just not Michael Kors! Although he tries really hard to be in this episode, with some runway zingers ("Tinkerbell at Burning Man," "slutty cat toy") that someone else probably wrote for him. That's just irritating. (I spent much of the latter part of the episode chiding my TV, "I know Michael Kors, Mr. Posen, and YOU ARE NO MICHAEL KORS.") Fortunately, previews reveal that Kors will guest star at some point this season.

As is often the case, the first episode was the "unconventional materials" challenge, and this time the designers were tasked with showing their point of view with garments made from parachutes (used by skydivers who plopped down right in front of them, no less).

Let's meet this season's designers...

The Fierce
Bradon McDonald, 38 - This former dancer won over the judges and no doubt viewers everywhere with his gorgeous gown: a show-stopper with a fitted blue bodice (with cool cording details) and a flowing white-to-pink train. He also seems like one of the nicest guys in the competition, although I fear he may be a cryer.
 
Helen Castillo, 25 - I think Helen plays the "yeah, I'm a tattooed tough chick who rubs everyone the wrong way" card way too much. You know what's not hardass? Telling everyone what a hardass you are. But I think she has the potential to be one of the standouts this year. Her design aesthetic is nearly the complete opposite of her personal style, which she showed in her first design — a pretty white dress with green and blue accents.

Jeremy Brandrick, 41 - Although I didn't love Jeremy's design (well, actually I adored the blue/green pants but not the blah white shirt) he is just about the most delicious thing I've seen on this show since I don't even remember when. He's originally from England (hello, sexy accent!) but is now a U.S. citizen...and of course he's gay and happily married. They don't make straight and/or single men like him anymore. *sigh*

Justin LeBlanc, 27 - This North Carolina-based designer has been deaf since childhood, although he has an earpiece that allows him to hear. He keeps joking that he may need to turn it off at some point, but that's no joke. He definitely will, judging from some of the previews. I thought Justin's hot pink cocktail dress looked the least like it was made from parachute material, so I'm excited to see what he'll do next.

Ken Laurence, 24 - I'm not a fan of the sob story contestants on ANY show (Ken has been homeless four times), but there's something about this guy I like. While I thought his orange dress with the ruffled neckline was just OK, I put him in the Fierce category because I think he could potentially have a crazy outburst in the workroom.  

Sue Waller, 45 - I tend to like the designers who are self-taught (like Ken), but I wasn't sure what to think of Sue until she sent her first piece down the runway. Her elegant pink and orange gown was really the only garment that could've won out over Bradon's.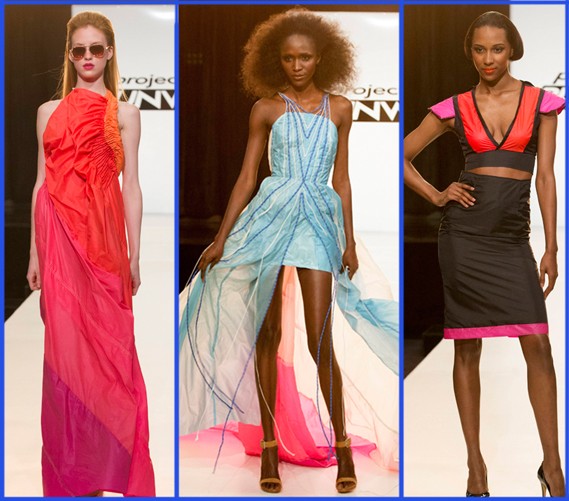 The Top 3 designs from (L-R): Sue Waller, Bradon McDonald and Miranda Kay Levy

The Whatever
Alexander Pope, 38 - Another guy who looks like he could shed a tear or two...or three thousand. I wasn't wild about his diamond-pattern dress, but he's a costume designer, so I expect to see some fun, over-the-top, Chris March-territory designs from him.

Alexandria von Bromssen, 38 - This former model from Sweden seems poised to be the "bitch" of the group (sorry, Helen). However, she did have my favorite quote of the night during her critique of wackadoo Timothy (more on him in a bit): "America's next designer needs to use electricity." Indeed.

Dom Streater, 24 - Dom is a bubbly young gal from Philly who wears amazing earrings. That's really the extent of my assessment at this point. She says she makes "flirty" clothes, but her first design didn't reflect that. She'll need to step it up if she wants to break free from the middle of the pack.
Kahindo Mateene, 34 - Originally from Uganda, Kahindo was a former marketing exec who went back to design school after losing her job. I like her but didn't like the skirt pleating on her purple/pink (can you say Easter egg?) mini-dress.  
        
Karen Batts, 29 - Karen seems like a decent person but I hated her runway dress AND the dress she was wearing. I get the feeling she won't be around for too long.

Kate Pankoke, 23 - Helen mentioned early in the episode that she remembered Kate as being bitchy on Season 11. Weird, because I didn't get that vibe at all. I remember her being a little unwilling to compromise on designs, but she had a nice partnership/friendship with Tu Suthiwat Nakchat. She doesn't seem bitchy now, either. Her yellow and white sundress was cute, but the judges will be expecting more from her in later challenges since she has a competitive advantage.

Miranda Kay Levy, 29 - If you forgot that Miranda was the designer who was in the Army, wait a few seconds and she'll tell you again. She claims that her clothes are military-inspired but I really didn't see that in her first design, even after she explained the story behind it. (Something about the red and pink accents resembling runway landing lights. *shrug*) After landing in the Top 3, Miranda came close to being disqualified when the judges learned that the majority of her garment was made from the supplemental materials. Heidi gave her a stern German warning, so let's hope Miranda's learned her lesson.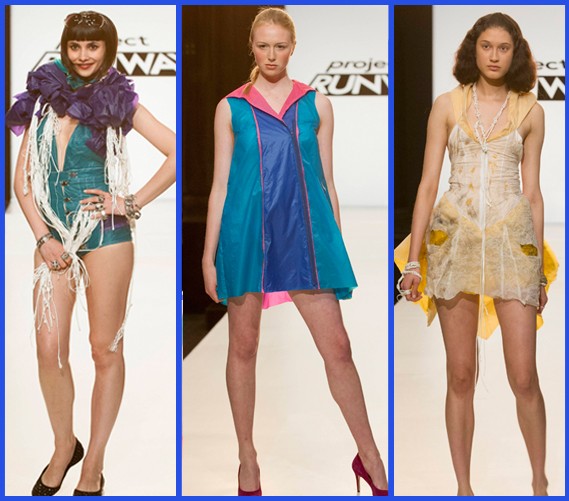 The Bottom 3 designs from (L-R): Sandro Masmanidi, Angela Bacskocky and Timothy Westbrook

The Hot Tranny Messes
Sandro Masmanidi, 28 - This guy. Oh my God, I love him. He's a crazy Russian who sent his model down the runway in a bathing suit that was well-made, but left out one small detail: the part that's supposed to cover her vajeen. And he sure used the Belk accessory wall, but not thoughtfully!

Timothy Westbrook, 24 - OK, Timothy is insane, and that's all there is to it. He is all about sustainable, eco-friendly design, so he won't use electric-powered sewing machines, nor will he allow his models be styled with anythting that's plugged in (hair dryer, curling iron, etc.) or use ANY of the makeup. So obviously, his model hates him. Especially since he tried to force her into doing some sort of weird interpretive bondage dance down the runway. She half-assed it, and I applauded her for it. I also applauded Zac (once) for calling Timothy out as a bit of a hypocrite after discovering that he burned his synthetic fabric with a lighter (fumes, anyone?) to achieve a crinkled effect. Timothy's carbon footprint wasn't looking too hot at judging. Neither was his mangled excuse for a dress.

The Auf'd
Angela Bacskocky, 33 - The former rock chick turned in some kind of sleeveless poncho and no bottoms. It was a pretty easy elimination.

Which were your favorite looks this week? Which looks did you hate? Who among the remaining 15 designers has the potential to be this season's big star (for the right or the wrong reasons)?

Auf wiedersehen - see you next week!