'Project Runway' Recap: Season 9 Premiere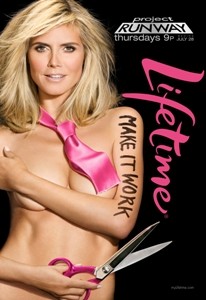 It's back! And a lot has happened in the nine months since the last season of "Project Runway" wrapped. Heidi Klum somehow managed to not get pregnant, I bought a pair of Michael Kors skinny jeans (best-fitting jeans EVER), and we've all tried our best to forget who was crowned last season's winner. Who was that again...Wheatgrass? Wretched? Whatever...the one who wasn't Mondo. Let's all hope that Season 9 will be the one in which the judges regain their collective sanity. (Not you, Heidi. You saw that terrible Chadwicks of Boston-looking collection for what it was.)
Last year, I bemoaned the fact that the competition starts with too many designers, so I nearly threw my remote through the TV when it was revealed that the judges invited 20 (instead of the usual 16) to NYC. However, Heidi and the ever-dapper (and dearly missed) Tim Gunn quickly announced that they, along with Kors and Nina Garcia, were going to take a peek at everyone's designs again before deciding which 16 they actually wanted to keep. That's kind of a tease, isn't it? Well, hey, at least four people got a free trip to the Big Apple (provided they weren't already from there). 
During the initial stages, the judges made a lot of "yuck" faces at the clothes, which I didn't understand, because didn't they already know what these designers were about before making them schlep all the way to NYC? It seemed odd. How did some of these people even get invited to compete if their designs weren't that impressive? I don't know, perhaps I just misinterpreted concentration for disgust? And I guess Nina's face kind of looks like that all the time.
Of the 20 designers, a handful jumped out as possible stars. There was Anya, a former beauty queen who just learned how to sew. Like, seriously just learned four months ago. The judges made a big deal out of this, but isn't there one designer every season who has no idea how to work a sewing machine? Laura, the high maintenance blonde, seems most likely to take a run at being this season's villain, although I also have my eye on Danielle for that title, for reasons I can't quit put my finger on. (You watch, that Midwestern sweetness is hiding something evil!) I'm excited to see Kimberly's stuff because she said she works out in a sequined tank top. And while I think that is completely idiotic for the gym, I think it bodes well for her here because it probably means that she won't send anything down the runway that doesn't look impeccable. I'm intrigued by both Anthony and Joshua C., as the former is a sassy, color blind cancer survivor and the latter can't possibly be gay because he's a Mormon. Mmm-hmm. And then there's Bert. I LOVE BERT. He had me at hello, when he introduced himself as 102 years old. He's actually 57 and recently returned to designing after a period of alcoholism (spurred on by the death of his partner). Go, Bert! Show these crazy hipster kids how it's done!
None of the people I just mentioned were cut. Among those who were, I guess we were supposed to feel sorry for promising New York designer, Serena de Somethingorother, who postponed her Icelandic wedding for this. But I can't feel sorry for a woman who says, "I can fly to Iceland any time." She's probably doing shots of Brennivin with Björk right about now. Boo hoo.
The 16 remaining contestants were sent off to their swanky Atlas apartments while Heidi got drunk. Then, around 5:00 am the next morning, Tim delivered a wake-up call by breaking in to everyone's apartments. (Who do I call to get that service?) He announced that he was having a "come as you are" party, meaning that the designers only got to take one bed sheet and the PJs on their backs to Parsons, where their first challenge was to create a fashionable look out of whatever they were wearing. Luckily, no one slept naked and scrubs were supplied so that no one had to work naked.
The designers quickly got to work for this one-day challenge. Josh and Laura both ambitiously decided to make three pieces. Fallene was excited about repurposing the puking clown logo from her tee-shirt. Cecilia had dyeing problems, while Anya had sewing problems, natch. Bert revealed that he was using his boxers in his dress design, to which Kimberly made a joke about "nut juice." Whoa, nut juice on the first episode? Before 10:00 pm? On Lifetime??
Tim arrived to do his rounds and zeroed in on Rafael, whose indecision worried Mr. Gunn. He let Rafael in on a little secret: the judges almost cut him the day before! That bit of info didn't really light a fire under Rafael's butt; it just put a lump in his throat. That he had a cool, patterned scarf on his head but refused to use it in his design because he didn't want to take it off and reveal his bed head certainly showed a lack of committment to his craft. And I thought Laura was the high maintenance one!
Several model fittings and product placements later, the day of the fashion show arrived. Joining Heidi, Kors and Nina on the panel was guest judge Christina Ricci. I'm not really sure what makes her a great judge of fashion but I like her. And I'm just thankful for anyone they bring in who's not January Jones.
After the runway show, one winner was crowned and three designers stood on the chopping block.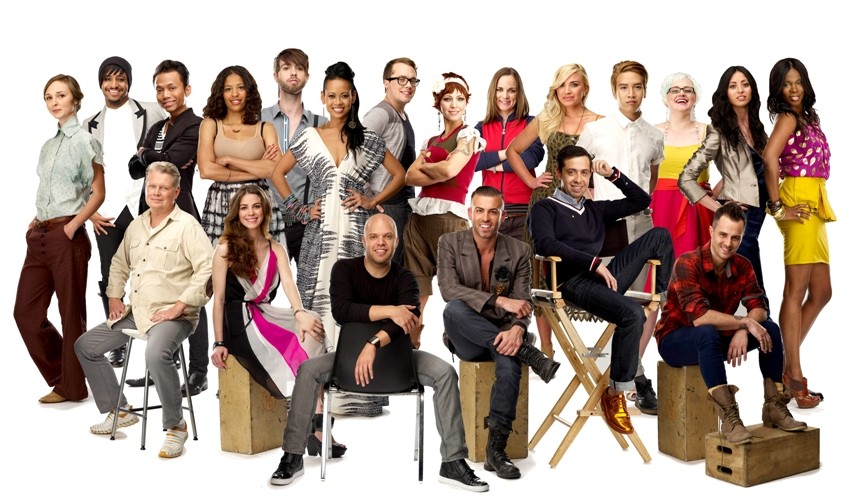 (L-R, Back Row) Danielle Everine, Rafael Cox, David Chum (eliminated), Serena de Conceicao (eliminated), Gunnar Deatherage (eliminated), Anya Ayoung Chee, Bryce Black, Fallene Wells, Julie Tierney, Laura Kathleen, Olivier Green, Becky Ross, Cecilia Motwani, Kimberly Goldson; (L-R, Front Row) Bert Keeter, Amanda Perna (eliminated), Joshua Christensen, Joshua McKinley, Viktor Luna, Anthony Ryan Auld

Let's meet this season's designers and find out how they fared with their first creations:

Anthony Ryan Auld, 28 – The cutie from Baton Rouge seems sure to be a fan favorite. Anthony's first design for PR was a striped top with lace accents and a mini-skirt with columns of crotch and butt lace. Somehow, this made the Top 3. Not that it was terrible, but there were probably more deserving ensembles. Sure, the shirt was cute and he really transformed the sheet and PJs, but that skirt was just weird. My Grade: B-

Anya Ayoung Chee, 29 – It's only the first episode and I can't help but root for this girl. She's some kind of designing savant. With four months of sewing experience behind her, she cranked out a fabulous printed halter and perfectly fitting trousers. The judges were amazed. Definitely deserving of her Top 3 status. I just hope she doesn't turn out to be a complete fraud. My Grade: A

Becky Ross, 38 – As a 38-year-old Becky myself, I immediately felt a kinship with this Portland gal. (Hey, I used to make my own Barbie doll clothes, too! I coulda been someone!) Her aqua one-shoulder dress was pretty, but I'm sure she can do better (and more bad-ass).  My Grade: B-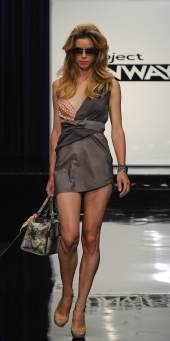 Bert Keeter, 57 – Never underestimate the power of the elderly. Or nut juice! Bert easily won the first challenge with an adorable brown cocktail dress with a pop of pink checkers (thanks to those boxers) in the neckline. I want that dress! And I want Bert to win!!  Kors made a legitimate complaint about the dated styling, but like Christina and Heidi, I was too in love with the dress to notice the model's '70s hair. My Grade: A+

Bryce Black, 26 – Yet another designer from Portland. (Is that the new fashion capital of the world or what?) He seems to specialize in glam rock-inspired designs, so I am really looking forward to seeing what he can do. His first design here was a little tamer, but I guess we can't expect a full-on Lady Gaga stage outfit to come from pajamas. What he did make was a very chic, oversized top/mini-skirt ensemble that was better than Anthony's design. My Grade: B+

Cecilia Motwani, 34 – This self-taught designer seemed sure that she was going to be cut at the top of the show, but she got the last spot over Ms. Iceland. I probably wouldn't wear her design (short jacket, tube top, poufy orange skirt) but I thought the pieces looked really well made and it definitely wasn't boring. My Grade: B-

Danielle Everine, 26 – As I said earlier, this girl seems too nice. There's an uber-competitive crazy-pants in there somewhere, I just know it. Anyway, I'm not sure I loved her overall design's color palette (brown and black top paired with blue shorts) but as separate pieces, they weren't bad. My Grade: C

Fallene Wells, 29 – This Denver native certainly has the look of a fashion designer. She's just one of those indie chicks who always looks impossibly cool, no matter what she throws on. Appropriately, she sent a pretty funky dress down the runway, and yes, the puking clown was prominently featured. I wouldn't wear it, but that's only because I'm not impossibly cool and, therefore, could never pull it off. My Grade: C+

Joshua Christensen, 29 – Joshua C. likes to design menswear, and maybe he should stick to that. His shabbily made three-piece running outfit (although Kimberly sure wouldn't be seen running in it) landed him firmly in the Bottom 3 and almost got him auf'd. (When he said that he wished that someone had told him his garments looked bad, Kors nearly had a hissy.) However, another design was actually worse. My Grade: F

Joshua McKinley, 25 – The other Josh fared much better, although his design—a black top and skirt topped with a cute white vest—only got him as far as the safety of the waiting room. Again, I liked this design better than Anthony's. My Grade: B

Julie Tierney, 35 – A sportswear and outerwear designer from Colorado, Julie made the mistake of wearing gaudily patterned pajama pants. Well, that and poorly constructing a new pair of pants with pockets placed so close to the crotch that Kors was prompted to make a masturbation joke. Nut juice...masturbation...this program will be moving to Showtime before you know it.  My Grade: F
Kimberly Goldson, 35 – Another self-taught designer, Kimberly likes bold colors and vintage designs. I was expecting her to do well in the first challenge, but she just made some tight pants and a shirt that kind of looked like a deflated neck pillow. Meh. My Grade: C

Laura Kathleen, 26 - Blonde, girly, inspired by Marilyn Monroe, can't go anywhere without makeup, actually says things like, "Are you speaking foreign?," two first names like she's a romance novelist, blah blah blah. I'm already not a fan of Laura's but I have to say that her first design for PR—jacket, silk top, flowing pants—was really pretty. My Grade: B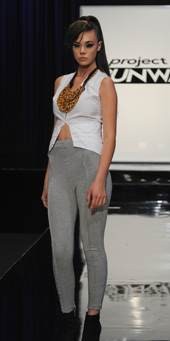 Olivier Green, 22 – I found it hard to pay attention to Olivier's designs because I kept trying to figure out what kind of accent he had. He was born in Cairo, studied in London and Milan and now lives in New York. Also, he made an ugly, boring suit, so I found it more pleasing to listen to him "speaking foreign."  My Grade: D

Rafael Cox, 27 – Rafael's outfit was ill-fitting and skanky-looking. After he finally took his head scarf off, he quickly transformed it into a terrible necklace, which Kors called a "Flintstone disco patch." (Oh, how I've missed my Kors-isms!) The judges had a hard time deciding whose design was worse—Josh C.'s or Rafael's—but in the end, Rafael was shown the yabba-dabba-door. My Grade: F
Viktor Luna, 30 – So far, the quiet New Yorker doesn't seem to be dripping with personality, but I thought his black and white sundress was cute. It wasn't really that imaginative, but it was a solid design for a first challenge. My Grade: C
As the challenge winner, Bert has immunity so he'll be around at least another week. And, based on the previews, it looks like a few of the young bucks are going to be stirring up some drama with him.
Auf wiedersehen - see you next week!