'Project Runway' Recap: Season 10 Premiere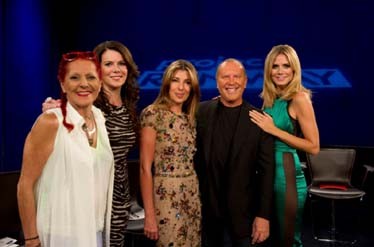 "Project Runway" returned last night, and with it came all of our favorite faces – the always-fabulous Tim Gunn, host Heidi Klum, judges Michael Kors and Nina Garcia, and of course Mood's adorable Swatch. As for the sponsors (and the product pushing started within the first seven minutes), HP and L'Oreal Paris have returned, but that thoughtfully-used accessory wall is now provided by Lord & Taylor instead of Piperlime. The big question is: are the L'Oreal Paris folks doing hair now, too? I didn't see or hear any mention of Garnier. No Garnier?? Come on, it's not an episode of "Project Runway" without at least 42 references to Garnier. GARNIER!
Anyhoo…with 16 designers, the first episode usually lacks any real meat, and this episode is no exception. Each designer brought an already-finished garment with them to NYC, and the challenge was to create a companion piece for a flashy Times Square fashion show judged by the panel and guests Lauren Graham and Patricia Field. It wasn't the most riveting stuff, and everything (including the final designs) fell a bit flat for me, but I'm sure things will get better as the season progresses.
Let's meet this season's designers and find out how they fared at their first runway show: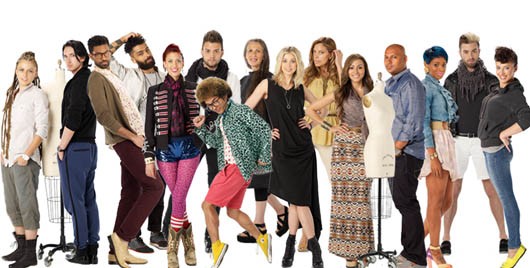 (L-R: Alicia Hardesty, Dmitry Sholokhov, Nathan Paul, Fabio Costa, Buffi Jashanmal, Christopher Palu, Kooan Kosuke, Andrea Katz, Melissa Fleis, Lantie Foster, Beatrice Guapo, Ven Budhu, Sonjia Williams, Gunnar Deatherage, Elena Slivnyak.)
Alicia Hardesty, 27 – Right out of the gate, we learned that Alicia is a lesbian, which I don't find particularly newsworthy, however, in everything I've read about her so far she's always referred to as a "lesbian designer." That's so weird. I'm sure she doesn't introduce herself at parties with, "Hi, I'm Alicia the lesbian designer." I think her super-long dreadlocks are a bit more interesting. And I like Alicia the "dreadlocked designer," as she seems pretty chill and has a whole tough-chic thing going on. I thought both of her pieces were fun and modern, although I'd never feel comfortable in that hooded romper (despite how comfortable it looked). My Grade: B

Andrea Katz, 58 – The "old lady" of the group, Andrea's credentials and experience will most likely shield her from much of the disrespectful attitudes that some of the young bucks can often hurl at the elder designers. I didn't have a ton of respect for her first two designs, though. She's into those weirdly-constructed, stiff, angular garments that always end up looking like they're made out of papier-mâché. My Grade: C-
Beatrice Guapo, 28 – I was looking forward to calling this girl "El Guapo" all season long and burning through about a million Three Amigos references, but unfortunately for me and the Singing Bush, Beatrice was the first one to be auf'd. And while I agree that her knitwear was uninspired, I don't think she turned in the worst designs. I'll get to that in a bit.  My Grade: D

Buffi Jashanmal, 32 – If you were casting a movie for a "quirky, NYC art student," you'd end up with an audition room full of girls who look like Buffi. I like this girl. She seems fun and easygoing. And thanks to her half-Indian, half-Australian heritage, she's got the best accent I've ever heard. I'm not sure I like her clothes as much as I like her, though. Her style is very loud, but her runway pieces didn't really provoke any strong reaction from me one way or the other. My Grade: C

Christopher Palu, 24 – Christopher is clearly the frontrunner for "fan favorite" this season, with his cute face, soft-spoken demeanor and construction skills. I wasn't at all surprised that he ended up winning the challenge on the strength of his fluttery gown, although I was a bit put off by how short his second dress was. My Grade: A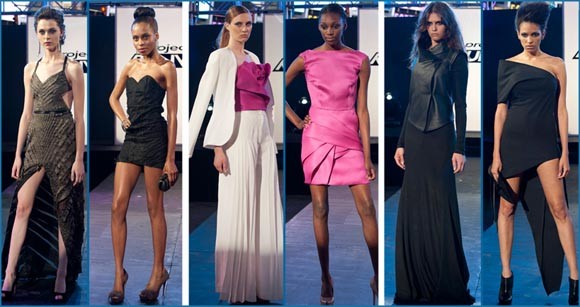 (L-R: Christopher's winning looks; Ven and Melissa's designs also rounded out the Top 3.)
Dmitry Sholokhov, 33 – Dmitry is a sour-faced Russian who enjoys talking smack about the other contestants, but there might be a bit of a language barrier there. He described Buffi as "a diarrhea" and of Melissa he said, "She looks like groupie…is that the word? She just needs a gee-tar." (Uh, hello, Dmitry, groupies don't play the guitars, they sleep with the guys who play the guitars.) My initial assessment was that this guy will probably be a major pain in the ass, but I actually found his runway designs to be rather nice. My Grade: C+
Elena Slivnyak, 28 – Originally from the Ukraine, Elena clearly worships at the altar of Lady Gaga. She has very severe bangs, so she gave her models very severe bangs to accompany her very severe designs that looked like something out of a sci-fi movie. Elena seems sweet, but so far I'm not a fan of her style. My Grade: D
Fabio Costa, 29 – I'd expect a lot of the – how you say – sexy from a Brazilian designer, but Fabio dresses himself and his models as if they're street urchins. Very sloppy and very unsexy. My Grade: D-

Gunnar Deatherage, 22 – Death Rage made it to last season's Top 20, but was cut in the first episode. Evidently, he's returned with the knowledge that playing the "evil gay" cartoon character will keep him in the competition and get him way too much camera time. The immature little shit's designs weren't anything worth writing about. My Grade: D     

Kooan Kosuke, 30 – For the sake of time and accuracy, I will henceforth refer to this guy as "Kooky." Another one who could easily be a cartoon, Kooky's clownish clothes landed him in the Bottom 3 and prompted Nina to question whether he was being outrageous just for the sake of being outrageous. I don't think she's far off. Still, Kooky might be the source of some comedy relief this season, like the weird, guttural, anime character noise he let out after being let off the chopping block. My Grade: D

Lantie Foster, 47 – Also in the Bottom 3, I thought that Lantie should have been the one sent packing. Her designs were, as Patricia Field put it, were "one step below design," as she mainly just re-works vintage clothing. Actually, it's more like she de-works vintage clothing. Her dresses were frumpy and unflattering, especially her second look, which was one of the more hideous things I've ever seen on this show. My Grade: F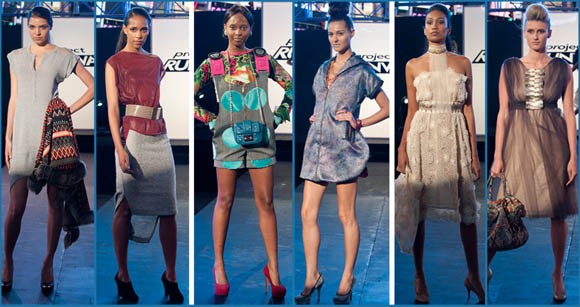 (L-R: Beatrice's losing looks; Kooan and Lantie's designs also rounded out the Bottom 3.)
Melissa Fleis, 31 – Melissa reminds me of Season 8's April Johnston: blonde, always wears black, designs mostly black garments, is always deadly serious even when she's having fun. Even though her designs were a bit dominatrix-like, she ended up in the Top 3. I did kind of like the shorter dress she created, but I can't imagine any real person ever wearing it anywhere. My Grade: B-

Nathan Paul, 33 – I'm pretty sure this guy wasn't introduced along with everyone else at the beginning of the show. Maybe he missed his flight to New York? Who knows. I wish he'd been highlighted more though, because I really liked his runway designs. Nathan is clearly not afraid to play with color (bright pinks, greens) and seems to know how to make figure-flattering, feminine styles. My Grade: A
Raul Osorio, 27 – OK, all I really remember about this guy was his ridiculous small hat that sat atop his ridiculous vampire hairdo. I forgot his designs about a millisecond after they were shown. My only note on him during the runway show was, "eh." So there you go. My Grade: D+

Sonjia Williams, 27 – Sonjia seems really nice and sweet, so I'm sure she'll end up in the bathroom crying at some point this season, probably because of something Death Rage or the Mad Russian says. Maybe not though…she does have blue hair, so she may have a bit of punk spirit in her. Her designs were also very hip and fresh, so she should do well. My Grade: B-
Ven Budhu, 28 – This one seems to be the egomaniac of the group, so I have no doubt he'll have a lot of behind-the-back nasty remarks for his fellow designers' looks. Ven's impeccably crafted pieces landed him in the Top 3, and received much praise from Nina for making his garments look expensive. I appreciated the work that went into his designs,  but honestly I thought that first look – the white suit with the pink "rose" bustier – just made his model look fat. My Grade: B   
Which were your favorite looks this week? Which looks did you hate? Who among the 16 designers has the potential to be this season's big star?
Auf wiedersehen - see you next week!