'Project Runway,' Other Bravo Programs To Be Available on iTunes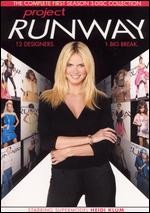 Beginning Tuesday, Feb. 28, viewers will be able to download the entire current season-to-date episodes of
Project Runway
on iTunes. In addition,
Inside the Actors Studio
featuring this season's interview coups with
Dave Chappelle
and
Angelina Jolie
will also be available.
"iTunes gives our passionate 'Project Runway' viewers the first chance to watch premiere episodes on their iPod," said Lauren Zalaznick, President, Bravo. "Marrying the coolest technology to a really cool show lets our loyal viewers watch the best and buzziest Bravo shows in a completely new way."