'Project Runway' Names Its Season 9 Winner
Well, "Project Runway" finally announced this season's winner, and although it wasn't who I would have picked, the judges' decision wasn't at all surprising. However, I'll take predictable over just plain horrible any day, so in that way, this finale is certainly more satisfying than last season's.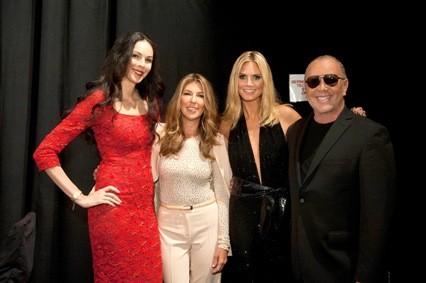 In last week's episode, the judges decided to put all four finalists (Viktor, Joshua, Kimberly and Anya) through, despite Anya's lackluster collection. Whether she deserved to make it to Fashion Week based on her past performance is debatable, and I'm sure that Joshua would be willing to take the "anti" stance in that debate if you really want to have it. Even Anya knows that her final collection was not up to par, so in the days leading up to the big show, she not only makes adjustments, but also creates three whole new looks (thanks to Tim Gunn's last-minute gift to the designers of a $500 Mood shopping spree). For a lot of designers, this would be incredibly difficult, but since Anya doesn't have to make any pants, jackets or really anything that requires major sewing skill, it's a Caribbean breeze.
Anya is still left feeling like this isn't her best work, and practically gives Tim a concession speech. (For those of you who watch this program or any reality show regularly, you will immediately recognize this as some serious ironic foreshadowing.) In contrast, the other three designers feel pretty confident after making some adjustments to their collections. So, it's off to Lincoln Center! 
Heidi, Kors and Nina take their places alongside the runway. Joining the panel as guest judge for this final show is L'Wren Scott (designer, Amazon woman and Mick Jagger's main squeeze).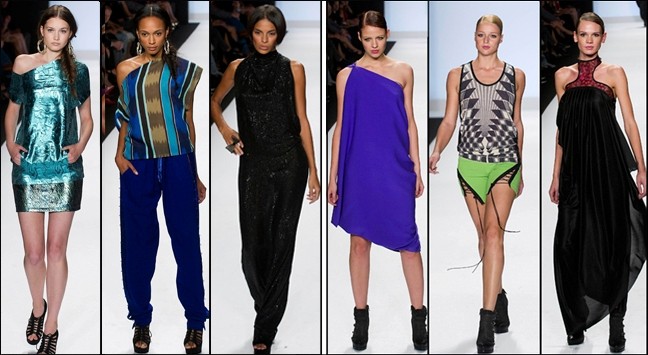 Three pieces from Kimberly Goldson's collection (left); three pieces from Joshua McKinley's collection (right)

Kimberly's collection is shown first and it's like getting punched in the face by color...in a good way. The judges were not all that thrilled with her styling during last week's preview, so she has toned it down a bit. Like Tim, I actually liked all the big earrings and "urban" accessories that she originally used, but the simpler approach works just as well.
Joshua follows, and with the exception of his first piece (the purple dress pictured above), his collection is just not my bag. And that's putting it nicely. I mean, is he serious with those ripped, neon green shorts? His model looks like she was out for a jog and got mugged. That's really a look every woman wants.
Viktor is up next, and his collection makes me forget all about Josh's nonsense. I LOVE just about everything he shows, especially his prints. And as always, everything is perfectly constructed.
Anya gets the pimp spot, and uses it to showcase her neverending supply of flowing dresses and cabana wear. Don't get me wrong; I like Anya, personality-wise and design-wise. She makes pretty clothes and clearly has good taste, but she's very one-dimensional. And she's obviously unaware that not all women are flat-chested.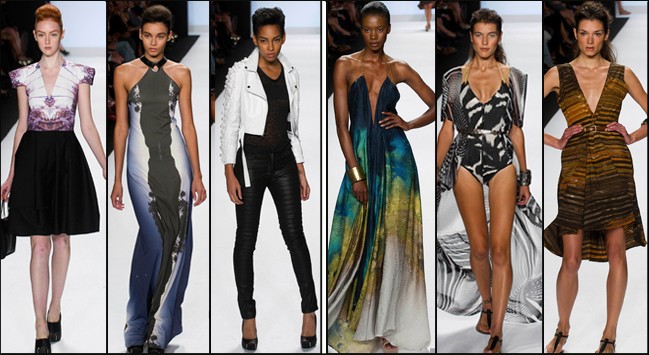 Three pieces from Viktor Luna's collection (left); three pieces from Anya Ayoung-Chee's collection (right)
During judging, it's pretty apparent that Kimberly is the panel's least favorite. They do have some nice things to say about her "cool vibe," but Kors isn't sure that her collection is cohesive enough. Nina feels that Kimberly is a good designer, but needs a little more time. Therefore, Kim is the first to be auf'd. 
The judges discuss each of the three remaining designers' pros and cons. Nina is happy that Joshua has tons of ideas and has finally learned to edit them, but everyone thinks he's still a bit over-the-top. Kors is certain that Viktor could be very commercially successful, but Heidi and Nina are concerned about the disconnect between his collection's pretty prints and the sexy, hard-edged pieces. Everyone agrees that Anya has a great eye for patterns and can make clothes that most women want to wear, but also realize that not every woman could wear them.
After Heidi points out that out of Anya's 10 looks, 8 have the same neckline, I begin to wonder if Anya doesn't actually have this in the bag, after all.  But after all the talk about how "variety is important," the judges dump Viktor, whose collection apparently has too much variety. Once Viktor is out, Anya's victory is guaranteed because there is no way the judges are giving this to Josh. Especially after they pissed everyone off last year by making a similar designer (read: ugly clothes, uglier personality) the winner.
Like I said before, I like Anya and I'm not upset by her win, but I just don't get how she can be rewarded for making the same dress over and over (with a few exceptions). Certainly, those dresses are pretty and I would totally want to buy an Anya design if I were going on a tropical vacation. But for every other week of the year? I'd want to wear Viktor's or Kimberly's clothes.
Anya's win is even stranger if you remember Season 3, and how the judges had concerns about Uli Herzner, who had a similar "beachy" vibe. In response, Uli stepped up her game and showed some versatility with her final collection...only to end up losing to the villainous Jeffrey Sebelia anyway. Yet Anya not only gets away with turning in easy, breezy island wear every week, but also wins the whole shebang? These judges are weird. Tim Gunn and I (and Swatch!) should be running this thing.
Auf wiedersehen - see you next season!