Project Runway Finalist Justin LeBlanc Aspires To Inspire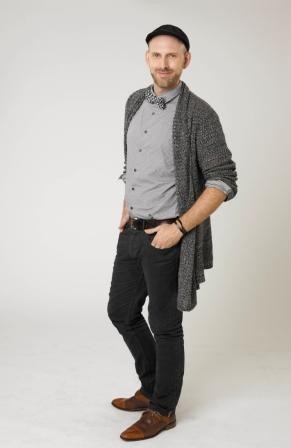 "Project Runway" Season 12 finalist Justin LeBlanc recently sat down with Starpulse.com's Jeza Belle to share his thoughts on receiving the first ever Tim Gunn Save, his next steps in the fashion world, and what host Heidi Klum really looks like in person!
What was it like being on Season 12 of Project Runway?
It was an amazing experience for me and I never thought something like this would happen other than in my dreams!
Tim Gunn used his first ever "Tim Gunn Save" on you; how did that make you feel?
I respect Tim very much and he had only one "Tim Gunn Save"!  I was in complete shock when he used it on me and I am forever grateful that he decided to keep me on the show. This save made me work harder to show him that he made the right decision. Tim had the unique opportunity to see the designer's work from the start to the end; while, the judges only see the final products on the runway, not what actually goes on behind the scenes. I personally think that he saw my work ethic and the positive impact that I had on the other designers.  I think that he may have felt that my presence helped to maintain a healthy creative environment in the workroom.
What were your thoughts on the designs of the other finalists?
The finalists for Season 12 of "Project Runway" were all unique in their own ways and they all were EXTEREMLY talented! I do agree with the Judges that it was their most difficult finale runway show to judge because we all have our strength in design; it was just a matter of taste. I was very impressed with all the work and I am just glad that, together, we gave them an incredible show!
Have you remained friends with any of the other designers after the show?
I didn't think I would become so close to the designers on the show. It is one of the best things that I have taken away from the experience.  I know that I have made some lifelong friends and it is something that I will cherish forever. I do remember my semifinalist interview with Mondo before going onto the show and Mondo asked if I had any question for him. One question I asked him was what was the best thing that he took away from the show?  He said that he felt like he has a family… a big crazy fashion family. I have to agree with him after going through the experience and say that I have a big crazy fashion family too!  I am staying in touch with the designers and I am sure I will be seeing more of them !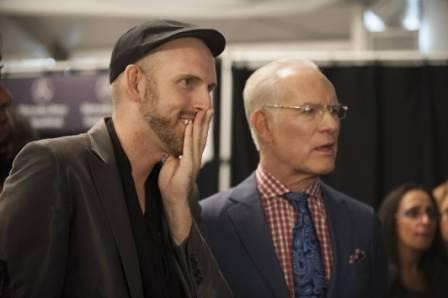 What are you working on now in terms of design?
I am currently an Assistant Professor at North Carolina State University, where I teach in the Art and Design Department with a concentration in Fashion. I am also the Faculty Advisor for NC State's Art2Wear program . It's an amazing show where new innovative designs in fashion are showcased and we have students ranging from product design, architecture, and fashion who get involved in this show. I am also currently working toward to my post-"Project Runway" Fall/Winter 2014 line and opening a line of merchandise very soon.
Where can our readers find and buy Justin LeBlanc merchandise?
Products and merchandise are currently in development and they will be available very soon (for example, 3-D printed items)! Merchandise will be available on-line.  Updates will be provided at: JLeBlancDesign.com and/or follow me on Twitter: @JLeBlancDesign.
Ok, we have to know…is Heidi as gorgeous in person as she is on television and in print?
She is! And taller than I thought, I am 6'1" and she was just hovering over me with her heels on, she certainly has a presence.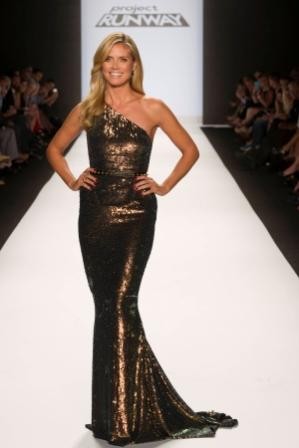 Aside from your beautiful work, your story had an emotional impact on viewers. What message do you hope people get from your time on Project Runway?
The main message that I wanted to get across is that each person is unique in their own way and we all have a different ways of communicating ideas and goals. My mode of communication is through fashion/art and that is how I tell my story. I want people know that their story is important and to not be afraid of judgment and oppression that we are all faced with on daily basis. I want people to stay true to themselves and really aspire to inspire others.
At one point you talked about others dismissing you in the past because of your hearing. With that in mind, do you have any words of wisdom or advice for other people struggling with the way people view them?
My advice is to view what makes you unique as a gift and not a handicap. Figure out how to be your best, set goals, figure out what resources you need, get those resources, and work, work, work to attain your goals!  Don't worry about what other people think (I know….that's hard to do), but if you're the best that you can be, others will respect you. I am always inspired by this quote from John T. Caldwell, a former North Carolina State University President and founder of the Caldwell Fellows program at North Carolina State University: "You just don't know how magnificent you might be. Think big. Think big about your possibilities in this world." So the best words of wisdom that I can give are to THINK BIG and it will take you to places!!!
Time to dish with the drag queen!
What's one must-have accessory that makes an outfit?
The most important accessory that makes an outfit would have to be SHOES!  I've recently developed a passion for shoes and I will soon have to build a new closet to keep up with my shoe collection.  Shoes can make or break an outfit.  You can make a real statement with a simple outfit like jeans and a tee matched with the right shoes.  Plus, you can change that statement just by changing shoes. But don't sacrifice comfort for style.  You have to keep those tootsies happy!
Who made the "Loudest" design that screamed at and assaulted your eyes this season?
That award, hands down, goes to Sandro from the first challenge where Zac Posen said,  "slutty cat toy." I respect Sandro and his passion for fashion but his taste can be questionable sometime.
A celebrity you would LOVE to design for:
Oh goodness, there's too many celebrities that I would love to design for!  Anne Hathaway, Angelia Jolie, Daphne Guinness, and Marlee Maltin to name a few.  Ladies, please call me and we can work something out!
What are your future plans?
I will continue to do what I love to do and I will be making my next collection very soon! Leveraging the exposure that I have received from "Project Runway", I would like to continue to be an advocate for the deaf community.  I would like to inspire deaf and other kids to stand up to their challenges and be successful.  I also plan to advocate for the LGBT community in order to educate others and promote equality.  I currently live in North Carolina where members of the LGBT community cannot get married due to Amendment 1 to the State Constitution. This regressive mentality needs to, and ultimately will, change!  I would like to do whatever I can to help make this change happen. I will also continue to teach the next generation designers at North Carolina State University as well as assisting the students for their upcoming runway show, NCSU Art2Wear.  This is where I presented my very first collection, several years ago. Make sure you check it out! 
For more on Justin and the other Season 12 contestants, visit the Official Project Runway website.