'Project Runway': A Little Bit Country, A Little Bit Rock n' Roll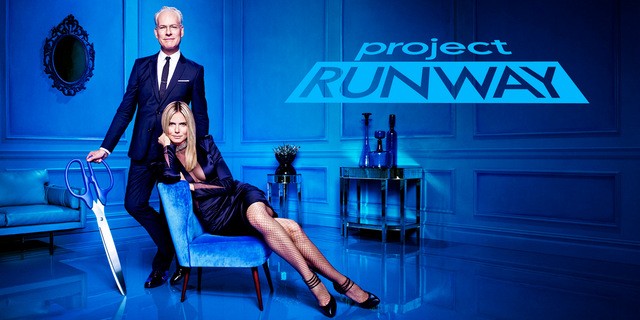 Last week, the judges got all soft on us and couldn't declare a real loser from the challenge. Still, it was enough to cause Team Keeping it Real (I still think it's a stupid name) to topple from the top spot and for Joe to get the boot. But just when you thought episode four was over, Tim Gunn appeared and said there was some unfinished business to attend to. What could it be? Will the teams get mixed up? Will Daniel trim his moustache? Only time will tell.
Okay, not a lot of time, because Tim gets right to the point. He pulls all of the designers back out to the runway with Heidi and they have the dreaded button bag on hand. Heidi announces that it's time to switch things up and wants smaller groups – as in, partners. Heidi and Tim want the designers to choose their own partners, advising them to choose a designer that they'll work well together. As the winner of the challenge, Samantha is the first to choose. She goes with Daniel, which makes sense; he's one of the strongest contenders. Heidi hands it to Richard, who chooses Stanley without a second's thought. Next up is Patricia, who goes with Layana – weird pairing. Michelle and Matt team up and Kate choose Tu. That leaves Benjamin and Amanda as the last pair. I kind of love the idea of pairs rather than teams, as it makes it harder for good designers to get lost in the shuffle and bad ones to coast on others' shoulders.
Amanda is still a little upset from having her entire team cheerfully toss her under the bus during the last judging. She's excited to work with Benjamin, if it only means getting away from her cutthroat team. Believe it or not, if Ben and Amanda can get over themselves, they could have one of the stronger partnerships.
The next day, the designers meet up at Johnny Utah's bar, where Tim is waiting to intro the next challenge – a country-western take on outfits for country singer Miranda Lambert. Each team needs to create a performance and a red carpet look for the star. Miranda likes a country and rock n' roll look for the stage and chic for the carpet. She also wants to show off her curves and will choose a look that really embraces them. With 30 minutes to consult, the teams are off and running and super excited about the prospect.
Benjamin and Amanda split up the look 50/50 – Amanda is taking the casual look while Ben is going for the red carpet look. Amanda actually hails from Nashville, so Ben counts himself lucky that he has a real-live cowgirl as a partner. Meanwhile, Tu and Kate play nice and create a look while high-fiving each other. Matt and Michelle have a chance to shine, which would be nice – poor Michelle has been ignored from day one because she's always on the losing team.
The designers all head off to mood to grab their fabric and do the usual accessories shuffle. Daniel and Samantha are looking for leather, while Michelle and Matt are put out because Daniel is choosing navy and they change their plans so they're not the same. Matt decides to go for denim instead, which could be a little bit of a caricature of country music. With time up, they all head back to the workspace to get started.
Benjamin and Amanda came in way under budget and worry that they haven't grabbed enough stuff. They chat up their design and hope they haven't completely missed something. Over at Stanley and Richard's table, they're working on a fringe dress for the performance garment, while Kate is trying to prove that she can do more than tea party dresses. Luckily, Tu is on hand and he's pushing her in a Gaga direction that she probably wouldn't try herself.
Samantha and Daniel have the chance to be frontrunners for this challenge and they seem to be working well together, even though Daniel is worried about using leather – he hasn't used it much before. He wants to do a braided trim that could be a little tricky. Benjamin is learning from his past mistakes with time management and put himself on a schedule so he doesn't run out of time. Amanda is worried, but if he can stay on task, he could make something crazy gorgeous.
Tim comes calling to check out what the designers are working on and reminds them that because they're working as teams, the top two will yield a winner and the bottom two will yield a loser. He makes a beeline over to Samantha and Daniel, who show off their moto vest and tiered skirt, which Tim likes. Daniel is creating his ruched leather trim which seems to impress Tim until he talks about how he's using it. Tim thinks there might be too much and talks Daniel out of it. Layana is doing a ruched red carpet dress, which Tim likes – over at Patricia's form, Tim says she's "not boring," which may or may not be a compliment. Tim seems the most worried about Tu's crazy performance garment and can see that he's going for Gaga, but that it's not going to be great for Miranda's body type. Tu wants to go ahead with it anyway, despite Tim's reservations. Kate and Tim band together to talk him out of his crazy design ideas; even if Tu doesn't seem completely on board. Over with Richard and Stanley, Tim warns Richard to take care with his mess dress, because it's not exceedingly modest. When he visits Amanda and Ben, he gives his thumbs up on her fringe skirt while showing shock and awe over the fact that Ben is getting his work done.
Matt has a bit of a breakdown when he realizes that he's still confused as to what he wants to do and his insecurity starts to get the best of him. He doesn't have a lot of time to wallow though; the clock is ticking and the day is almost done. Tu is having his own identity crisis reworking his entire design around Tim's critique.
Michelle provides a little comic relief for the tense situation by bringing out her best Nina Garcia impression, which is spot on. It helps to diffuse the situation and endears Michelle to anyone looking for a ray of something other than despair during the show. Unfortunately, her one woman show is cut short by model fittings. Matt's dress is a little too short and Richard's dress still doesn't have any lining, which looks pretty questionable on the model.
Daniel starts driving all the other contestants insane by gushing over his leather trim. Kate wishes he'd clam up and stop letting his wins go to his head. Amanda is sewing on fringe by hand, which is taking time. We also find out that her brother is in Maroon 5 and she admits that she feels a little overlooked by her overachieving family. As time runs out on day one, there's a lot of uncertainty, especially when it comes to time management. The theme is one teammate being done with another lagging behind.
On day two, Michelle and her gargantuan earrings are worried about Matt's skirt – or lack thereof. Ben reminds Richard that he needs more coverage on his mesh dress and all the designers get back to work, insecurities and all.
Matt gives in and makes a basic pleated skirt to go with his finished top. Richard wants to make a lining for his dress, but there's no extra fabric. As a master of bad timing, Tim pops in to remind the designers that they have two hours to finish up and fit their models. Meanwhile, Daniel is attacking the hem of his skirt with a fork, which might look a bit cheap. Richard finally finds a T-shirt that he can cut and use for a dress lining in tube dress form for his mesh – voila! You gotta hand it to the guy; he managed to pull a rabbit from his hat – or at least a shirt from his bag.
With time up, Tim ushers the designers downstairs with the models in various states of undress. Down at the runway, Heidi introduces the guest judge; Miranda Lambert herself.
Amanda and Ben are the first to show their looks. Amanda was in charge of the performance look, creating a fringed dress that has a ton of movement, but might not be considered a real showstopper. Still, the way she's styled the outfit looks very Miranda, so that'll be in her favor. Ben's red carpet look shows next and he's created a strapless beaded gown and it's gorgeous. He's added a fringe detail so the two looks are cohesive.
Next up is Tu and Kate. Tu's Lady Gaga dress looks a little more toned down as the final project, but I'm still not sure it's what a country singer would wear – how is she going to match it to her boots? Kate's red leather gown proves that Kate can do more than cupcake dresses. It has a fit and flare mermaid skirt which makes the leather less overpowering and it has country flair without being too obvious.
Samantha and Daniel are next to go. Samantha's moto jacket looks cool, but I'm not on board with her fringe skirt. Next to Amanda's it looks a little sloppy and home-sewn. Daniel, who we all know I love, has created his leather manipulation dress. While the actual technique looks cool, the shape isn't great – to me, it comes off as a little Mother of the Bride rather than cool country music star. I guess we'll have to see what the judges think.
Matthew and Michelle go next and Matthew's top looks urban and cool with mesh panels. The problem is that his pleated skirt is so very short. It's simple and sweet, but it might not be enough to keep him off the chopping block. Michelle has done a moto vest, much like Samantha, only in a gray textured leather. It's meant to be a red carpet look but with the way she's styled it, the look is very casual.
Patricia – oh, Patricia, Patricia, Patricia. She's created a dress that looks like it's right off the frames of Disney's Pocahantas, complete with braiding and fringe. It might be cool enough to wear on stage – or at least to a pow-wow. I will give her props for having the most original garment on the runway. Layana's dress is much more classic, but it might be too simple for the runway – the lights are too bright to show off the work in the bustier.
Richard and Stanley send their models down the runway next. Thank goodness for the last-minute lining, because Richard's mesh dress looks 100 times better with it intact. There's a ton of movement and you can see how it would be an ideal show dress. Stanley's gown looks like it would be seriously flattering on any woman and it looks like something you'd see as part of any high-end collection.
With the show over, Heidi asks Patricia, Layana, Kate, and Tu to step forward and sends them backstage as safe for the week. Those left on the runway are the highest and the lowest scored for the week. It's Amanda and Ben and Richard and Stanley as the highest scores, putting Daniel, Samantha, Matt, and Michelle in the bottom. The higher-scored teams are asked to stay and be judged first.
The judges talk to Stanley and Richard first and Stanley points out all of the hand-cut details that he used to create the fringe.
Zac loves that the model can move around in the dress.
Heidi thinks it looks expensive.
Nina thinks the dress would look great on Miranda's curves.
Miranda says it's a dress she would actually wear on stage.
Stanley talks about his gown and says that he wanted a pretty dress, which he thought would be comfortable and glam in photos.
Miranda loves the plunging neckline but is concerned about the amount of fabric in the bottom half.
Zac thinks Stanley highlighted the right places.
Nina thinks it's a nice dress but doesn't know if it's right for Miranda.
Heidi says the dress is intimidating because of its volume, but thinks it's beautiful.
Benjamin intros his red carpet look next, telling the judges that he was going for super chic and three dimensional.
Nina calls the look elegant and beautiful from every angle.
Zac's impressed by the styling.
Miranda doesn't love the fabric for her body.
Heidi likes the look for Miranda, particularly because it doesn't have a lot of seams and is streamlined.
Amanda tells the judges that her look was her ode to Nashville, and admits that it made her a little homesick. She was going for ease and powerful elements.
Miranda thinks it's really cool and likes the shape.
Zac thinks it's great that it's a jersey dress, but more chic that a T-shirt.
Nina loves the ease of the dress and how easily it can be accessorized.
Heidi reminds Amanda that she was in the very bottom last week and should feel pretty good about clawing her way to the top.
The teams with the lowest scores are led out next. First, Michelle says that she wanted to go for rock and roll rather than glam, thinking of MTV rather than the Grammy's.
Heidi thinks it would land Miranda on the worst dressed list.
Miranda says the necklace is too distracting and would rather put the top with a leather skirt or skinny jeans and boots.
Zac says the necklace makes her look like she just ate linguine and thinks it's too casual.
Nina calls it "Rock of Ages" and very dated – bad rock n' roll.
Matt sounds so dejected when he explains that he had too many ideas and not enough time.
Heidi can see the detail, but reminds Matt that it wouldn't be visible up on stage.
Zac wishes Matt would have made bolder gestures in his design, like his last design.
Nina doesn't love that it's missing shine, movement, and star quality.
Miranda doesn't even want to say anything about the outfit because she senses that Matt hates it too. She wants Matt to have more confidence. Michelle goes to bat for him and tells the judges that Matt had a hard week.
Daniel has to face the firing squad for the first time ever as he explains the process for his ruched leather bodice.
Miranda says she couldn't tell it was leather and would have liked it more if she had known. She calls it "someone's interpretation of what a country star would wear."
Heidi thinks it looks like tin foil from far away. She also thinks it adds weight on the model.
Nina thinks it looks inexpensive and says it looks like a cross between a tablecloth and a napkin and is surprised at Daniel.
Zac knows Daniel has the technique but wants Daniel to evolve more.
Samantha was going for more rocker than country and used moto elements for her design.
Heidi thinks that Samantha is lucky that she has immunity.
Zac wishes there was more "wow" and prefers Samantha's outfit to her model's.
Miranda would wear Samantha's outfit before she would wear the one she put on her model.
After the judges chat it up and break it down, they ask all of the designers to head back out to the runway. There, they award Richard top honors for his rock dress. Miranda will wear his dress at a performance and he laughs maniacally with excitement. Stanley, Benjamin and Amanda are also safe. Samantha has immunity and is automatically safe – it's Matt that gets auf'ed this week, leaving Daniel and Michelle to sew another day.
Matthew clearly knew that it wasn't his best work and that his look was sad. The judges aren't only looking for a good designer, but also a designer with solid point of view and the ability to know who they are as contestants. Let's just hope next week isn't such a breakdown-fest.