'Project Runway' 9: What Would Nina Wear?
While "American Idol" only gets kinder and gentler as the years go by, "Project Runway" keeps finding new ways to make its contestants miserable. Case in point, this week's mission: MAKE NINA HAPPY. Could it be done? Nina's previously flashed something that resembled a smile, but I'm pretty sure it signified smug condescension, not joy.
The designers were both excited and horrified to learn that they had to design a day-to-evening look for Ms. Garcia. Excited because, well, she is kind of a big deal in the fashion world (or so this show tells me) and getting on the good side of the fashion director at Marie Claire can't be a bad career move. And horrified because, well, she is Nina. And Nina knew exactly what she didn't want. NO voluminous clothing. NO pleats. NO loud colors. NO loud patterns. She wanted "classic with an edge." But not too sharp of an edge. And for God's sake, not so classic that it looks dated!!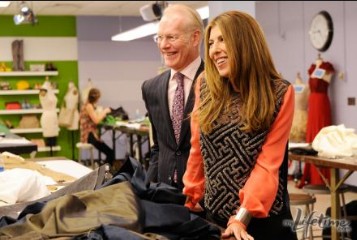 As the designers waited for Nina's next demand to drop, they got some good news: the winning design would not only be worn by Nina, but it would also be featured on taxi ads all over the city. I guess that's better than getting subway rats to model smaller versions of the outfit.
Armed with only rough sketches of their plans, each designer consulted with Nina, who had a lot of opinions. (Imagine!) Among other things, she questioned Anya's ability to sew a jumpsuit, thumbed her nose at Cecilia's "Dynasty jacket," and begged Kimberly to make pants instead of the dress she had planned.
With everyone feeling super-confident about their designs, it was off to Mood to blow $200. Oh-oh, Anthony and Becky picked the same fabric. CATASTROPHE! Anthony was sure he saw it first, while Becky said she didn't know who saw it first and really didn't care. And I really didn't care about this silly drama because I was on Swatch watch, and ended up deeply disappointed that my little doggie friend didn't get any screen time.  
The designers barely had time to start bringing their garments to life before Nina returned to the workroom for another soul-crushing session. She wasn't happy with where Danielle's design was heading, but nixed every other suggestion the poor girl came up with. She prodded Anya to come up with a "Plan B" after getting a gander at her mustard-colored fabric. As for Cecilia's color palette—gray and camel instead of the intended purple and yellow—Nina could only make a frowny face and say that it looked "a little sad." Cecilia looked a little sad as well.
Perking everyone up was Nina's announcement that, in addition to the other prizes, the winning look would be featured in a Marie Claire editorial. Anthony perked up a little more by having a short Skype session with his fiance. That perked me right up too, because that boy was C-U-T-E.  
Early on Day 2, Tim entered the workroom to find it...empty! Everyone was in the sewing room, which nearly sent him into a tizzy. He told the designers that their time management skills were making him "sweat through his suit," but we all know that La Gunn doesn't sweat. He shimmers. 
In some last minute acts of kindness, a defeated Cecilia helped Julie finish her coatdress, while Laura helped Anya sew her jumpsuit together. (Hmm, I guess Nina had some right to be worried that Anya might not be able to do it!) Viktor confided in the camera man that he thought "helping" and "cheating" are the same thing. Would he keep biting his tongue or out Anya as a dirty little non-sewing cheater on the runway? After being chided last week for trying to throw Bert under the bus, it wouldn't be a very smart move.
At the runway show, two guest judges joined the usual suspects: Nina's boss, Marie Claire's Editor-in-Chief Joanna Coles, and actress Kerry Washington.
Auf-immune Laura was sent back to the waiting room along with several others, including the fabric twins, Anthony and Becky. Turns out, two designers using the same fabric isn't a crime punishable by stoning. Crisis averted.
The judges'—and more importantly, Nina's—favorite designs belonged to Viktor, Kimberly and Anya.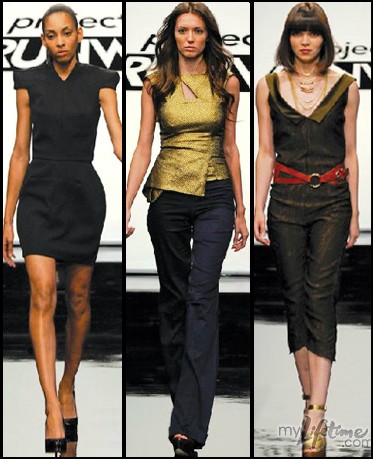 Viktor's little black dress wowed Kors with its architectural touches. Joanna thought it was very elegant and Nina thought it was versatile enough to easily take her from work to after-work party.
Kimberly's pants once again got thumbs up all around. But it was the gold top that got massive raves from Joanna, who called it "special" and "what 'Project Runway' is all about." 
Earlier, after discovering Nina's aversion to mustard, Anya decided to dye her fabric, resulting in a cool olive shade. Nina was amazed with the transformation. Heidi also loved the jumpsuit, and praised Anya for pulling this outfit off with limited sewing skills. She just smiled sweetly and said she was a fast learner. Viktor bit down so hard that he probably needed stitches in his tongue after the show.
Viktor may have tattled had Anya been named the winner, but that well-deserved honor went to Kimberly. 
The Bottom 3 designers were Julie (again), Cecilia and Danielle.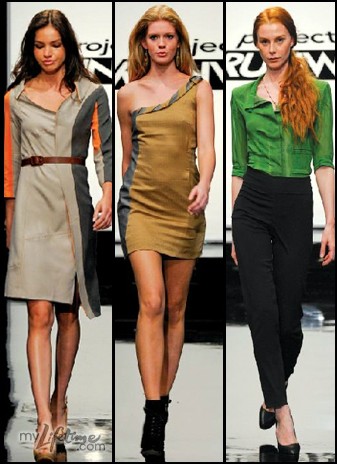 Kors wrote Julie's color-blocked coatdress off as a bad housecoat that looked like it should have "Kleenex in the pocket." Trying to keep up with Kors, Heidi said Julie's model looked like she wore the outfit on "a 12-hour plane ride and rolled around in it." All the judges were confused as to whether it was a dress or a coat, prompting Joanna to make up a new word: "droat." And then she called the droat "unwearable." Ouch.
Cecilia knew her dress was terrible and didn't bother trying to defend it. Joanna said she wouldn't let Nina in the office if she ever showed up in something like that. Kors couldn't decide what he hated more: the fabric or Cecilia's attitude. 
Kerry "didn't hate" Danielle's green chiffon blouse and black pants ensemble, but didn't think it was right for Nina. Kors thought it was just right for a "Joan Crawford St. Paddy's Day party." (One of Kors' best disses ever!) Nina was just annoyed that Danielle didn't listen to her when she warned her that her design was too ambitious.
Danielle was let off the hook pretty quickly, leaving buddies Julie and Cecilia on the chopping block. It could have gone either way, but it was probably Julie's repeat appearances in the Bottom 3 that got her auf'd. Backstage, Cecilia told the gang that she felt bad because Julie really wanted to be there, and she wouldn't have minded leaving herself. That she didn't try to switch places with Julie didn't seem to sit too well with Laura. Foreshadowing of a future smack-down, perhaps?? 
On the next episode, the designers are thrown back into another dreaded team challenge. Pajama challenge, pet store challenge, team challenge, Nina challenge, another team challenge...what's next? Designing a look for Michael Kors without using black?
Auf wiedersehen - see you next week!