'Project Runway' 9 Recap: What Women Want
The latest episode of "Project Runway" kicks off with Bryce moaning that he's yet to win a challenge. As soon as he starts talking about "proving himself," his odds of being auf'd this week increase to about 90%. Oh, and then Bryce mentions how he desperately misses his boyfriend. Odds of elimination increase to 95%.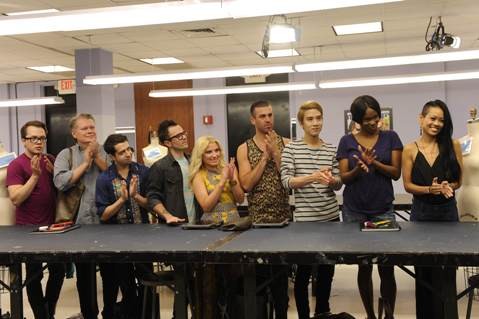 Heidi appears with the velvet bag of doom, which can only mean one thing: the regular models are getting the week off. The contestants' collective fear of having to design for—gasp—regular people only grows when a bunch of dudes stroll out onto the runway. Client challenges are bad enough but a menswear challenge might kill some of these people.
Since Anya won last week, she gets to choose her client first. (And I'm sure that's not the first time Anya's had her pick of men.) Heidi picks the rest of the order from the bag at random. As the "prime picks" start to disappear, Laura makes snotty remarks about some of the guys' looks and Olivier whines that all that's left are "all these fat people." Awww. How sad for them.
Tim Gunn comes to the designers' rescue by swooping in to reveal that this is NOT a menswear challenge. Instead, everyone must create a look for their client's significant other, relying on the men to accurately describe their woman's style. Cue montage of men looking generally clueless and talking endlessly about how much they like boobies.
Olivier still isn't happy because his client's wife has large breasts. Olivier doesn't like breasts. He doesn't like fat. He doesn't like curves. Nothing would make Olivier happier than to spend the rest of his life making clothes for one demographic: skinny, androgynous 15-year-olds. Good luck with that, Fakey McAccent.
After the men accompany the designers to Mood, everyone returns to the workroom, where they're eventually joined by the ladies. The guys must really know what their women want, as the initial fittings go pretty smoothly overall. Still, Olivier can't quite get a handle on how to work with clients and Bryce keeps second-guessing himself and his bright pink fabric. 
During Tim's rounds, he is particularly impressed by what Viktor and Joshua are doing. Viktor seems psychically connected to his model, as the pieces he designed for her look exactly like her regular wardrobe. Joshua fights his usual urge to bedazzle and creates a simple black dress for his non-adventurous client. Tim notes that Bryce's and Bert's models seem very happy with their outfits, but he doesn't seem wowed by them. He warns Anthony not to veer into Minnie Mouse territory with his design, while proclaiming Laura's look "full-tilt Barbie." Laura takes that as a compliment, but I'm not sure it is one.
On the way to the runway show, Olivier and Kimberly are still trying to sew their garments onto their models. Although that seems like a bad sign, both of them are sent to safety, along with Laura. The rest of the gang gets split into the Top and Bottom 3.
The judges' favorite designs belong to Anya, Joshua and Viktor. The panel praises Anya's Asian/African-inspired kimono for its originality. Nina hates that it's one-sleeved but guest judge Malin Akerman loves it and wants to steal it for the red carpet. Everyone loves Joshua's little black dress, especially when paired with fabulous, bright sky blue shoes. Kors thinks that Josh's client looks like "a modern Grace Kelly" and everyone applauds Mr. Bedazzler for editing himself. The judges are also impressed with Viktor's outfit, although Kors realizes that Viktor may have lucked out by getting paired with the most "fashion-obsessed" couple. And he and Heidi think that Viktor may have gone a tad overboard with the accessories. The LBD ultimately prevails, and Joshua is named the challenge winner, becoming the first two-time champ this season. I'm sure that won't go to his head at all.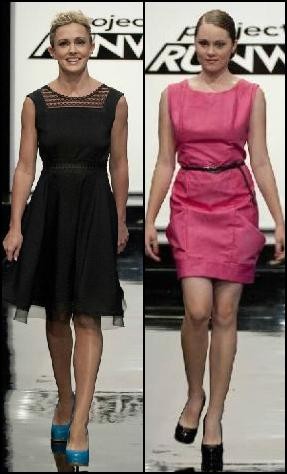 In the Bottom 3 are Bert, Bryce and Anthony, whom the judges critique more delicately than usual, so as not to offend the clients who clearly like what they are wearing. In Bert's case, everyone agrees that the dress is pretty and well-made (and prominently displays his model's cans, just like her husband wanted) but that it looks like an off-the-rack dress from any department store. With Bryce, everyone loves the pink color (which was the one thing he was always unsure about), but Nina thinks the dress gets swallowed up in too many details. Malin likes the oversized thigh-level pockets, but Kors says the only time that dress would come in handy is when you're going to the buffet table—you could put a lamb chop in one pocket and a beer bottle in the other. The panel seems to dislike Anthony's design the most, with Malin comparing it to a cigarette girl or cheerleader costume, Kors labeling it "superhero ice skater" and Heidi bluntly calling it "super-safe and super-boring." Although Anthony appears to be in trouble, I remember back to all the Bryce-centric stuff at the top of the episode and, therefore, am not surprised when Bryce is the one sent packing. 
By the way, does anyone else think that Bryce's model looks a lot like Adele?? Especially after she had her hair done!
The next episode will feature a team challenge. Yes, another one. Obviously, TPTB are trying to make one or more designers completely SNAP. Oh, and this one will be a menswear challenge! Here's hoping that Olivier's model is 300 pounds.
Auf wiedersehen - see you next week!