'Project Runway' 9 Recap: The Final Four!
The latest episode of "Project Runway" begins with Joshua mad that Anya is still around and sad that Bert is gone. If you missed a few weeks, you're probably really confused. But I swear this is still Season 9.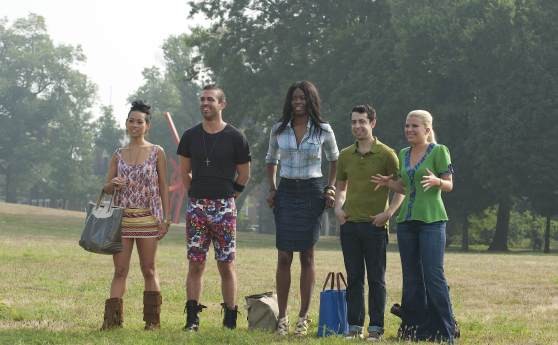 Angry Josh and the rest of the Top 5 hop on a ferry to Governor's Island, where they meet up with Tim Gunn. With the help of some boring business-y types, he reveals that each designer will have to create three looks that demonstrate their range, taking inspiration from the landscape and a current sculpture exhibition. Some of the designers find inspiration in the artwork and some find in the surroundings (including the battery, which Josh brilliantly calls the "artillerary"), while Laura is all about CIRCLES! Ugh. That girl is the worst.  
After their trip to Mood, Tim enters the workroom with the velvet bag of doom (hey, doom is Mood spelled backwards!), which turns out to be a good thing for once, as the buttons inside select the order in which the designers get to pick their assistants. Yes, assistants! The last five designers to be auf'd return, reuniting Kimberly and Becky, who worked well together in the past, and Laura with her pal Anthony. Viktor picks Olivier for who knows what reason, Anya is quite happy to work with Bert, and Josh is left with Bryce.
Bryce immediately notices that all the love that was in the air during his time in the workroom has been sucked out. Well, except the sudden love that everyone has for Bert. And Bert is giving plenty of love back, at least to Anya, whom he thinks is the most talented designer in the bunch. Joshua still has no love for Anya, and complains out loud that last week's $20K should have been his and implies that Anya has been getting by on her looks. Not getting or giving any love is that fake accented, pasty skinned beanpole Olivier, who, within minutes of returning begins complaining that he's "a slave." But he BRAVELY continues as Viktor's indentured servant.     
Josh's anti-Anya stance spreads to Viktor, who is also annoyed that she hasn't made a tailored piece like a jacket during the competition. Both men wonder how she will do in this challenge, which stresses design range. They clearly want her gone and it's hard to tell if it's all just because they think she's one-dimensional or if it's because they think she's their biggest competition.
During the first model fitting, Kimberly, who usually excels at pants, realizes she's inadvertently made Prince pants (i.e., assless) and decides to scrap them at close to the last minute. Laura scraps her pants, too. Anya seems to be doing fine, aside from some draping issues with one of her pieces. Joshua and Viktor are happy with their designs and are convinced that they will be going to Fashion Week.
At the runway show, guest judge Zoe Saldana gets to make a grand entrance for some reason. It would be more interesting if she'd worn Avatar garb.
The judges seem to like Anya's and Viktor's mini-collections the best, but have some good things to say about everyone…
The panel sees a lot of diversity in Josh's collection, but Kors thinks it might be too diverse. Nearly everyone likes his little white dress, while no one is thrilled about the too-big majorette outfit. They're split on the gown, which may have benefitted from being a different fabric.  Kors warns the Bedazzling King once again that too much "glitter and shine can look cheap."
Zoe is happy that Kimberly took some risks with her collection, but Kors isn't wild about the orange/silver color palette. Heidi doesn't think the collection is cohesive enough, but unsurprisingly likes the ultra-short dress. Kim gets a little defensive and almost sounds like she's resigned herself to being sent home.
Laura, on the other hand, can't stop blubbering about how she belongs at Fashion Week and how this is her destiny. If this is her destiny, then why are her designs so horrible? Heidi finds Laura's circle-crazy collection a bit too "complicated," and no one seems wowed. Everyone kind of likes her gown, but hates the pillowcase cocktail dress.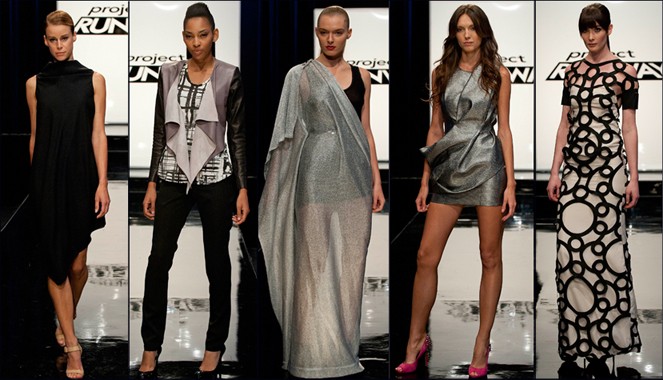 Designs by (L-R): Anya, Viktor, Joshua, Kimberly and Laura
Nina applauds Anya's "modern, cohesive collection," and everyone raves about the asymmetrical black dress. The only negative feedback comes from Zoe, who thinks the white column dress looks like a condom.
Viktor's collection also gets raves for designing the most commercial and well-constructed collection. But even though the judges love Viktor's execution, they think he needs to "turn up the volume," especially when presenting pieces on the runway.
When Heidi asks all of the designers why they should go to Fashion Week and which two designers should go as well, everyone – even Joshua and Viktor – names Anya as one who should move on. Viktor is named as the other deserving designer by everyone but Kim, who picks her fellow females. Anya, meanwhile, votes for the two men who have been bitching about her all episode.
Despite Laura's "passion," the judges decide to send her home (finally!) and send the rest on to the finals. I imagine that, as usual, all four will design collections, but only three will actually show at Fashion Week. Unless one of them chokes terribly, I think Anya and Viktor are guaranteed to get a spot at Lincoln Center. The third spot is up for grabs, and I hope Kimberly snatches it right out from under Josh's self-important little nose.
Auf wiedersehen - see you next week!