'Project Runway' 9 Recap: Rock That Look
On this week's episode of "Project Runway," Heidi cryptically tells the designers that "image is everything." This is the part that Bert hates, when everyone is left trying to put the clues together to figure out the challenge. If anyone guessed that the challenge would be a giant promotional push for someone or something, they'd have been right! But they could pretty much guess that every week and be right. (And now I'm contractually obligated to say, "GARNIER!")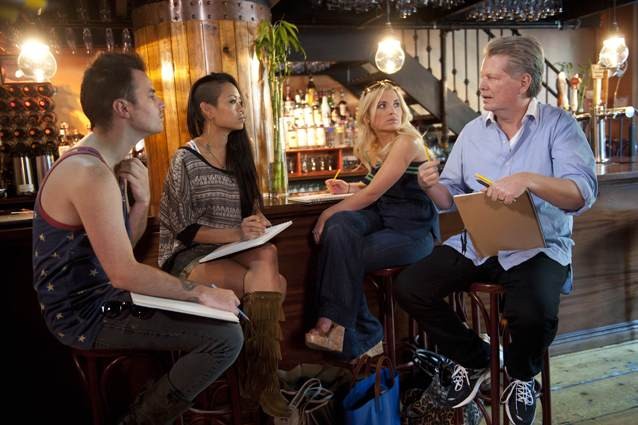 Yes, Garnier is featured pretty prominently throughout this episode, which I suppose is fitting considering that the designers' clients are disheveled, hairy rocker dudes. (Unfortunately for at least one of the rockers, Garnier doesn't make a chest hair pomade. Yet.)
Said rockers are an unsigned band called The Sheepdogs, who won some sort of Rolling Stone contest to be featured on the cover. So, Rolling Stone is partnering with Garnier (because, why not?) to get these Sheepdogs looking more like show dogs for their big close-up. And now Project Runway is getting in on the act by having their designers create an image for the band. The winning designer's look will be featured in both Rolling Stone and Marie Claire, and will be worn by a band member at a Rolling Stone event.  
The weird thing is that, although this is originally presented as a team challenge, it's really not a proper team challenge. Although Tim says that the band members should all look like they "come from the same planet," each team isn't required to create a cohesive collection, and there is only one winning look. So, the designers may be working in groups, but they're still only focusing on their own garments. I'm not really sure how four separate designs can be defined an overall "image," but whatever.
Tim picks the teams at random, putting Olivier, Viktor, Kimberly and Joshua together in the lazily named Team Untitled. That leaves Anya stuck with Laura, Bert and Anthony. Interestingly enough, despite the drama that went down the last time Laura, Bert and Anthony were on the same side, they call their group Team Harmony. It's musical AND meaningful. Awww.
The Sheepdogs – Ewan (vocals), Leot (guitar), Ryan (bass) and Sam (drums) – give the designers a taste of who they are by performing their song, "Who," the sound of which apparently rips Olivier's eardrums up like so much tissue paper. (You know what they say, if it's too loud, you're too delicate.) Everyone picks a band member they want to design for and heads to Mood with $300 each. Olivier heads right for the wall of beige (what else) while Laura just starts grabbing everything she can. When she goes over budget, it's team member, and frequent butt of her barbs, Bert to the rescue, as he's well under budget.
Back in the workroom, Olivier blathers on about how "massive" Ewan is, just because the guy isn't a mannequin (or an 80-pound art school kid with an accent of undetermined origin). Olivier continues to prove to everyone around him that he can't work well with clients, especially if they have normal human bodies.
All that coming from Olivier isn't surprising. What is surprising? Catching a glimpse of Joshua's ass and legs and seeing a ton of hair. I totally imagined him as being waxed head to toe.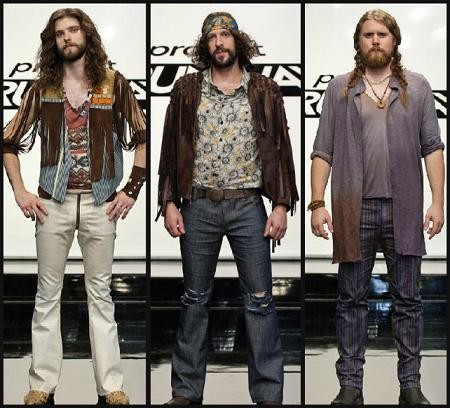 Designs by (L-R): Joshua, Viktor and Bert
Day 1 comes and goes, and most of the designers find themselves really behind on Day 2. Kimberly and Anya are especially having problems, as neither have experience with menswear and Anya really doesn't know how to sew. (A fact everyone keeps forgetting because she always manages to pull something amazing together.) Olivier, who DOES have menswear experience, is having problems for a different reason: OHMYGOD EWAN IS SO BIG. He's plus size. When Ewan sits around the studio, he really sits around the studio, you know? I mean, that guy's at least 200 pounds. That's CRAZY. What does he eat? Actual meals??
On the day of the runway show, we learn that there really is no runway. Instead, The Sheepdogs perform two songs, with a Diana Ross-style wardrobe change in between. Adam Lambert joins the panel as a guest judge. I feel like there's a lot of eye-boinking going on between him and Joshua. Maybe I'm just imagining it. But when it hits the tabs that they're dating, I'll get to say I told you so.  
The judges talk to Team Harmony first. Thank God someone (Kors) finally tells Laura that the red and white tye-dyed shirt she made for Leot made it look like he was bleeding. Although Heidi and Adam like Laura's look, neither Kors nor Nina are impressed. And what makes the little princess even more angry? Bert's outfit ends up as one of the judges' top 3 favorites. Besides just the outfit, Nina praises Bert for giving Ewan a real LOOK, including his Viking-like pigtails. While Bert gets top marks, Anya gets her first bad critique for Sam's "Reggae Jesus" shirt with the "suede lobster bib." (God, Kors is on fire tonight.)
Next up is Team Untitled. Viktor and Joshua are both praised for their looks. Kors and Heidi are in love with the expensive-looking, pleather fringed jacket that Viktor gave Leot, while Adam and Heidi approve of the look-at-my-crotch pants that Joshua made for Ryan. Olivier gets called out for being boring and putting Ewan in what Heidi calls "Dad jeans." But the worst outfit has to be Kimberly's, which literally has me in tears from laughing so hard. I immediately think poor Sam (who got TWO bad outfits) looks like an elf who works at Burger King. Who will come closest to my critique? Let's see. Kors: "Peter Brady at an autumn harvest!" Nina: "Old man's pajamas." Adam: "Scooby Doo, where are you?" Heidi: "Forest elf…Tinkerbell's boyfriend." Ding, ding, ding! Heidi's close enough. Seriously, those giant buttons down the front of the shirt just scream elf.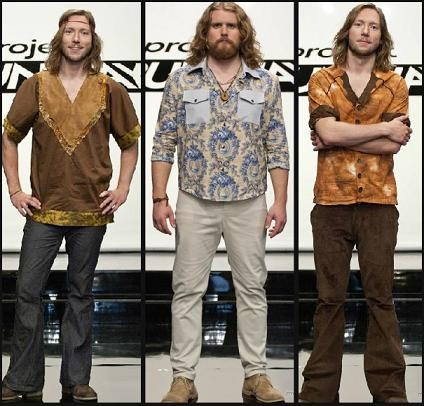 Designs by (L-R): Anya, Olivier and Kimberly
After deliberation, the judges name Viktor the winner. Finally, the two designers left standing are Olivier and Kimberly. As terrible as Kimberly's design was this time, she has done consistently well throughout the competition. She's a much better designer than Olivier, who is limited to beige size 2 pieces. And, as Kors rightfully points out, Olivier's forte is supposed to be menswear and he still turned in a bland outfit. Happily, Kimberly is given another chance and Olivier is sent back to his planet, where everyone is thin and there is no loud music or bright colors.     
Auf wiedersehen - see you next week!