'Project Runway' 9 Recap: For The Birds
This week, the "Project Runway" Wheel of Pimpage lands on L'Oreal Paris, and the designers are asked to "spread their wings" and "elevate their designs." Oh, enough with Heidi's clues, everyone's designing looks inspired by birds.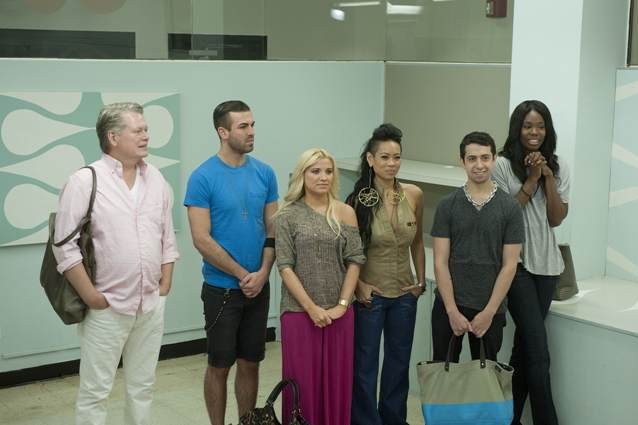 Luckily, the designers' muses aren't the countless flying rats, er, pigeons that dive-bomb innocent people on the New York sidewalks every day. Tim, joined by L'Oreal's Collier Strong, introduces the gang to a trio of pretty birds from which they may draw inspiration. Everyone's feathers are ruffled when Tim announces that the group is being randomly split up into teams of two – until he clarifies that this is not a team challenge, but rather a head-to-head challenge. Each pair will have a winner and loser, and the overall winning look will be featured in a L'Oreal Paris advertorial in Marie Claire. And there's also the little matter of a $20,000 check that will be awarded to the winner, courtesy of – that's right – L'Oreal Paris!! Isn't that exciting? Doesn't it just make you want to buy a year's supply of eyeshadow?? 
Anya and Laura face off in their quest to create the perfect raven-esque look, new bosom buddies Joshua and Bert take on the colorful Amazon parrot, and Viktor and Kimberly try to bring the spirit of a cockatoo to life.
As everyone works feverishly, Tim appears with a mischievous grin. He's decided that these birds are so nice, the designers should create an outfit twice.  Kimberly is especially frazzled by the news that she has to create a second look, and sews right through her finger. (Exhibit #1 why I never touch sewing machines.) She has a bit of a breakdown, but eventually dries her eyes and soldiers on.
After Tim's rounds, both Joshua and Kimberly decide to scrap their first dresses. Josh asks Anya if she has any spare fabric and she sort of evades the question, slinking off to the lunchroom to gab with Laura about how it's too late in the competition to be nice. Apparently, one week makes a big difference, as she wasn't turning anyone's help away on the last challenge when she lost her fabric money. Surprisingly, Josh doesn't freak out on Anya, but he is feverishly making mental notes. An explosion is on the horizon. Josh will not forget this.
Kimberly impulsively  makes her decision very late in the game, allowing herself only three hours to whip up something new.
Viktor complains that Kim is "copying" his look (a claim he's made about nearly everyone now), since it's a cream-colored, one-shoulder dress. The big difference is that Viktor's dress is adorned with feathers while Kimberly's has a peek-a-boob window. 
At the runway show, Calvin Klein's Francisco (that's fun to say!) Costa joins the panel as guest judge.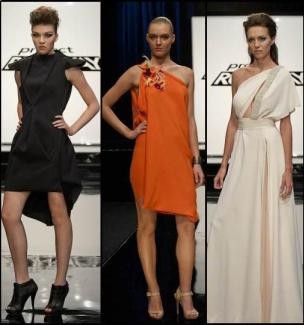 Winning designs by, from L-R: Anya, Joshua and Kimberly
In the battle of Anya vs. Laura, Anya emerges victorious with her structured black dress. Francisco is very impressed with the cut, while Nina says this is her favorite of Anya's designs so far. Everyone agrees that Laura's feathered jacket/tight pants ensemble is a too literal representation of a bird.
The clear winner between Bert and Joshua is the youngster, who thrills the panel with his non-literal depiction of the bright green parrot with a bright orange, drapey dress. Kors loves the shape of the dress, but addresses Josh's issues with editing by calling the front flower detail a "drunk in the Caribbean corsage." Everyone is disappointed with Bert's dress, although Heidi likes the idea of the pop of color hiding beneath the skirt.
Much to Viktor's dismay, the judges like Kimberly's three-hour dress better than his gown. Although Heidi can see some mistakes in Kimberly's execution up close, Nina doesn't seem to be as bothered by that as Viktor's copious use of feathers.
Much to Joshua's dismay, the judges name Anya the challenge winner. Honestly, I disagree with that call as well. I thought Josh's dress was really beautiful. He also has a point about Anya's shortcomings as a seamstress: if Anya can't design a garment that a client can get in and out of without her having to cut it, that's a problem.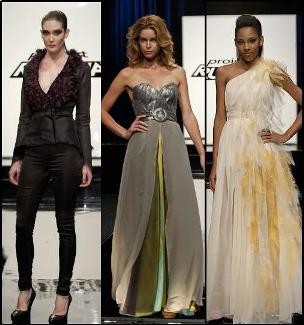 Losing designs by, from L-R: Laura, Bert and Viktor
Bert and Laura are the last two standing and, while I hope that Nina's dislike for Laura will win out, Bert is sent home. Aw, just as Bert was starting to feel liked and accepted by the group. We liked you Bert; we really liked you.
Auf wiedersehen - see you next week!